Six Books Exploring the Early American Captivity Narrative
A Rare Female Perspective on the Old West
My favorite stories have always been ones where people are pushed to extremes, living an ordinary life one moment only to quickly find those lives turned upside down. People on the edge, people in trouble, are that rare, raw thing—fully alive in the moment. As an English literature major, I remember the week we breezed through early American captivity narratives—I was fascinated. The war against the Plains Indians during the mid-19th century saw hundreds of captives taken in reaction to the government's scorched earth policy against the Native American tribes. The sensational aspects of the captivity narratives made them popular in their time, readers curious about the experience of living amongst Native Americans and then returning to white society.
When I decided to write a story about the closing of the American frontier, I knew I would at last return to the captivity narratives because they provided that singular thing for the time period—a woman's point of view. In The Removes, I wanted to tell the story of the Old West through a female perspective, and these stories gave me a blueprint for that kind of narrative. The stories of female abductees were sought out because they provided a unique source for an inside view of the tribes, though most were heavily biased. Catering to audiences of their time, some of the narratives leaned on the idea of being saved by faith; others were shaped (usually by men who edited and promoted them) into object lessons for the wisdom of Manifest Destiny; yet others reinforced negative stereotypes in order to justify government policies. A few women used the platform of captivity to write about their lives in a broader context rather than solely focusing on their abduction.
Regardless, in almost all of them we hear a unique woman's voice come through: her strength, intelligence, and resourcefulness, and in some cases a veiled critique of the white culture and an exploration of the Native American one. These women had to walk a fine line between telling an audience what they wanted/expected to hear and telling them the truth as they experienced it. Some of them, like Mary Jemison's story, were written specifically with the goal of righting disinformation about Indians. Others, such as Cynthia Anne Parker's story, were scandalous because she didn't want to return to her white family; she preferred her Indian one. The following six narratives—some factual, some fictional—all appealed to me for different reasons.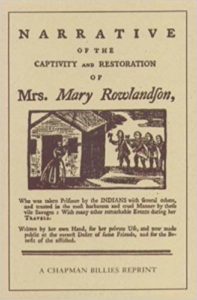 Mary Rowlandson, Narrative of the Captivity and Restoration of Mrs. Mary Rowlandson
This is the granddaddy of them all, one of the earliest and a bestseller of its time. It is the story of Mary Rowlandson and her three children taken hostage by Narragansett Indians in February 1676. Each section is labeled "Remove" and then numbered, starting with her abduction and ending with her being ransomed by her husband. "Remove" refers to her physical journey, but also to the psychological and spiritual toll of her experience. It keeps reminding us that she is being taken farther and farther from all she has known in her original life.
Fanny Kelly, Narrative of My Captivity Among the Sioux Indians
Kelly's narrative is a much longer, detailed account of her captivity during the last period of the Indians wars. She was taken by Oglala Sioux outside Fort Laramie, Wyoming, in 1864 and was freed five months later. Kelly shows real insight into the clashes between frontier settlers and the Native Americans they were displacing. She also is a perceptive writer: "We silently glide along, little dreaming of the waves which will so soon sweep over us, dashing us against the rocks, or stranding us forever."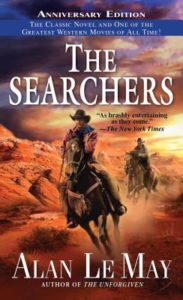 Alan le May, The Searchers
This is loosely based on the captivity of Cynthia Ann Parker, taken at age ten in Texas by the Comanche. Both the book and the movie focus primarily on a fictional uncle (in the movie, he is played by John Wayne) who is obsessed with finding his niece and spends years searching for her. Cynthia Ann, largely absent in the book and movie, in real life is the fascinating one—for 24 years she lived among the Comanche, made a love marriage to the chieftain, Pete Nocona, and had three children. This story is a turning point in captivity narratives because when she was "discovered" at age 34 and forcibly relocated to white society, it was against her will. It was scandalous that she found Native culture preferable to the one she was born into. After her rescue, there is a picture of her nursing her baby daughter Prairie Flower that haunts me and that I looked at every day while writing my book.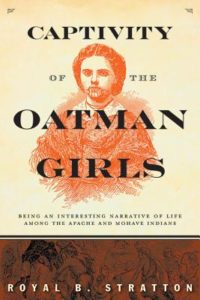 Royal B. Stratton, Captivity of the Oatman Girls: Being an Interesting Narrative of Life Among the Apache and Mojave Indians
Olive Oatman and her sister were taken captive by the Yavapai Indians after the massacre of her family as they were making their way through Arizona to California. Several things are interesting in this story. First, the girls were harshly treated and used as slave labor by the Yavapai, but a year later they were traded to the Mojave where they were adopted and treated as family. The most sensational aspect of the Olive Oatman story is the appearance of the chin tattoos that she was marked with. Later on the lecture circuit, she wore a veil to hide the marks, and claimed they were to identify her as a slave. The truth was that most Mojave women were thus marked, it being a rite of passage from puberty to adulthood. Equally fascinating is that after being ransomed, Olive disavowed her affection toward her Mojave family, presumably to fit in better back home. After marrying a wealthy cattleman who burned all the copies of the Stratton book he could find, she rarely discussed this part of her life, but always kept a jar of hazelnuts in the kitchen, a staple food of the Mojave.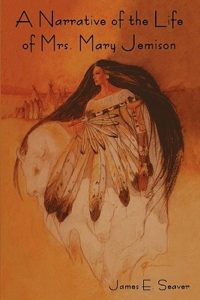 James E. Seaver, Narrative of the Life of Mrs. Mary Jemison
This is perhaps the most radical captivity tale in that Mary Jemison, captured in her teens by the Seneca in 1758, assimilated into the tribe and went on to live with them for over 60 years. Her story is a critique of white culture and a defense of Native Americans. Jemison sets up her choice of remaining in the tribe as one of embracing an alternate and superior culture in which she experienced more freedom and power than she could have in white society.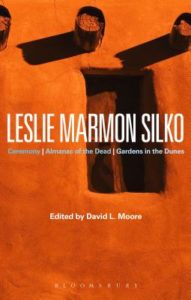 Leslie Marmon Silko, Gardens in the Dunes
This is a reverse-captivity narrative. It is the story of Indigo, a young girl who flees the turmoil of Arizona with her grandmother at the turn of the century in the aftermath of an aqueduct being constructed to feed water from the Colorado River to Los Angeles. Soldiers capture Indigo, and she is sent to a school in Riverside. Although fiction, this story describes the brutal acculturation process many Native American children were forced to undergo.
---