Six Bleak Futurescapes for your Earth Day Reading List!
Doomsday, eco end-times, or post-apocalyptic war: you choose
We hadn't meant for our Earth Day coverage to be quite so bleak (drive north and you're fucked; fly south and you're fucked) but hey, here we are in the 21st century. Perhaps these six books—and their grim depictions of post-apocalyptic life on earth—will cheer you up, insofar as they make life as we know it seem pretty OK.
Umm, happy Earth Day everyone!
The Wind from Nowhere, J.G. Ballard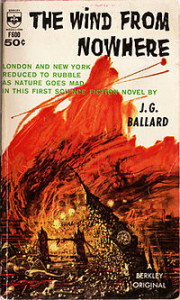 The wind came from nowhere … a super-hurricane that blasted round the globe at hundreds of miles per hour burying whole communities beneath piles of rubble, destroying all organized life and driving those it did not kill to seek safety in tunnels and sewers—where they turned against each other in their desperate struggle to survive.
From his first book, The Wind from Nowhere (1962)… Ballard has been depicting the dark underside of civilization, a darkness that seems to increase in the human psyche in inverse proportion to what we call progress. His novels are complex, obsessive, frequently poetic and always disquieting chronicles of nature rebelling against humans, of the survival of barbarism in a world of mechanical efficiency, of entropy, anomie, breakdown, ruin. Yet his focus is always on the human—there are no extraterrestrials in his fiction—and the blasted landscapes that his characters inhabit are both external settings and states of mind.  –The New York Times


The Road, Cormac McCarthy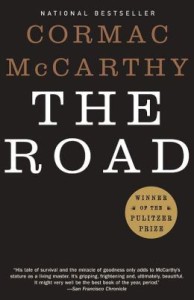 When it was light enough to use the binoculars he glassed the valley below. Everything paling away into the murk. The soft ash blowing in loose swirls over the blacktop. He studied what he could see. The segments of road down there among the dead trees. Looking for anything of color. Any movement. Any trace of standing smoke. He lowered the glasses and pulled down the cotton mask from his face and wipes his nose on the back of his wrist and then glassed the country again. Then he just sat there holding the binoculars and watching the ashen daylight congeal over the land. He knew only that the child was his warrant. He said: If he is not the word of God God never spoke.
Have all of Cormac McCarthy's fictional odysseys been leading to this, a world blasted gray and featureless by human folly and cosmic indifference, inhabited only by pitiless predators and (arguably) lucky survivors?… It's McCarthy's purest fable yet. The troubled bond that links the man, a compulsive isolationist tyrannized by his fading memories ("The names of things slowly following those things into oblivion. Colors. The names of birds. Things to eat. Finally the names of things one believed to be true"), and the boy, who longs to stop and make contact with other "good guys" on the road, is key to the book's mythic scope: Its argument exists in the tension between the rank self-centeredness necessary to survive as an individual and the altruism required to survive as a species. As such, it seems as much McCarthy's second response to the West's accelerated social erosion (the frankly bewildered No Country being the first) as a heartsick accounting of irretrievable extinction.  –The Village Voice
The World Without Us, Alan Weisman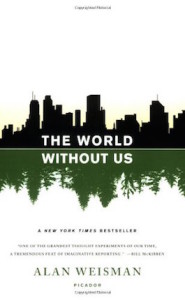 On the day after humans disappear, nature takes over and immediately begins cleaning house—or houses, that is. Cleans them right off the face of the Earth.  They all go… After we're gone, nature's revenge for our smug, mechanized superiority arrives waterborne.  It starts with wood-frame construction, the most widely used residential building technique in the developed world.  It begins on the roof, probably asphalt or slate shingle, warranted to last two or three decades—but that warranty doesn't count around the chimney, where the first leak occurs.
In his morbidly fascinating nonfiction eco-thriller, The World Without Us, Weisman imagines what would happen if the earth's most invasive species—ourselves—were suddenly and completely wiped out. Writers from Carson to Al Gore have invoked the threat of environmental collapse in an effort to persuade us to change our careless ways. With similar intentions but a more devilish sense of entertainment values, Weisman turns the destruction of our civilization and the subsequent rewilding of the planet into a Hollywood-worthy, slow-motion disaster spectacular and feel-good movie rolled into one.   –The New York Times
The Children's Hospital, Chris Adrian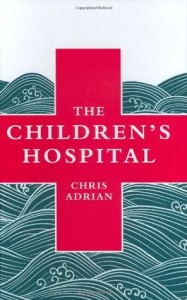 She didn't know what she expected to see, on the other side of the shattered glass. Maybe the city on fire, or all the buildings fallen down. Or maybe just a group of soggy policemen. "We've been knocking for hours," they would say. Something had happened—that much she certainly believed. You could not feel that violent disjointment which had unsettled her off her feet, and unsettled the kids out of their tenuous grasp on health, and think otherwise. But a new ocean, and them in the hospital the only survivors? They were more likely experiencing some cruel experiment—black out the windows and blow in some aerosolized LSD and get Phyllis Diller to hide somewhere with a microphone and claim to be a sweet, creepy angel—than the end of the world.
Miles of water have flooded the Earth. Nothing appears to have survived this cataclysm—no plants, no mammals, not even any fish. Only the children's hospital floats across this eerie marine wasteland, its patients and residents and support staff miraculously preserved by a small but hard-working supernatural cohort ("it takes four angels to oversee an apocalypse")… Adrian's account of the medical staff's day-to-day battles—with disease, with each other, with the demanding parents of their young patients—is gripping and intensely humane, despite the frank and often horrific descriptions of the disorders that brought these children to the hospital in the first place.  –The Washington Post
Jamestown, Matthew Sharpe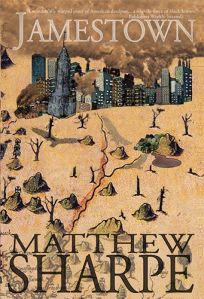 There sure are a lot of enormous houses here that aren't houses anymore.  It seems eight of nine of these is so crumbled and fallen-down and vacant-looking and grim that can't nobody possibly live in them or use them but for scrap or a place to crap.  And then you've got that one of nine, it too in disrepair, browned by bad air, windows thick with smudged dirt…
"I don't feel so good."
"Me too."
"What is that enormous pile of debris, stretched as far as the eye can see."
"I don't know.  Smith, what is that?"
"That is what I think we once would have called the Chrysler Building."
In Matthew Sharpe's strange and strained Jamestown, set in the post-apocalyptic future, everything is ruined, even the country, even the people. Brooklyn and Manhattan are fighting each other; the Indians have, inexplicably, retaken the South. The East River is goopy (or goopier). The Chrysler Building is rubble. Hares stalk the dead landscape biting off the heads of rodents. If Sharpe's book had come out in the '90s, Kevin Costner would be looking to direct.  –The New York Times
Heroes and Villains, Angela Carter
Marianne lived in a white tower made of steel and concrete. She looked out of her window and, in autumn, she saw a blazing hill of corn and orchards where the trees creaked with crimson apples; in the spring, the fields unfurled like various flags, first brown, then green. Beyond the farmland was nothing but marshes, an indifferent acreage of tumbled stone and some distant intimations of the surrounding forest which, in certain stormy lights of late August, seemed to encroach on and menace the community though, most of the time, the villagers conspired to ignore it. Marianne's tower stood among some other steel and concrete blocks that, surviving the blast, now functioned as barracks, museum and school, a number of wide streets of rectangular wooden houses and some stables and market gardens… It was self-supporting at the simplest level and exported its agricultural surplus in return for drugs and other medical supplies, books, ammunition, spare parts for machinery, weapons, and tools.
Heroes and Villains is a strange, compelling book. Though set in the future, its imagery and references are continually to the art of the past, and usually a past more remote than D. H. Lawrence. The first sentence of the book—"Marianne had sharp, cold eyes and she was spiteful but her father loved her"—is like the beginning of a Jane Austen novel (Emma, for example: "Emma Woodhouse, handsome, clever and rich . . . was the youngest of two daughters of a most affectionate, indulgent father.") Marianne herself is a rebellious girl, rather like Maggie Tulliver in The Mill on the Floss, and like Maggie she cuts off all her long hair so that she looks like a boy.  –The New York Times
---