Sister Helen Prejean:
My Faith Began With a Fear of Leaving Home
Life Before Dead Man Walking
It's a very ancient rite of passage I'm now performing, leaving home and everything familiar to be initiated into a new way of life, much like the young boys in ancient times who were taken from their mothers and put through frightening, painful ordeals that forced them to face their fiercest fears and learn to tap inner spiritual resources they didn't know they had. That's what I'm doing now.
And I'm handling it all okay until the subject of the parakeet comes up. Everything is packed in the station wagon, ready for the trip to New Orleans, all my new black-and-white nun clothes in my trunk, Louie and Mary Ann already in the car, Daddy and Mama ready to turn their daughter over to God, me in my white, tiny-blue-flowered dress with the puffy sleeves, dressed up pretty and poised for leaving the nest, holding it all together until Mama has to go and ask if I fed Billy Boy, and that's what undoes me and I lean over the deep freeze in the kitchen and start bawling.
I'm leaving home today, leaving all my young Helen years, leaving my precious family, my house, my bed, the spacious yard with the big oak trees where we could go barefoot in summer and play softball with the Barbay boys. I'm leaving all that, leaving my home with the tall grasses in the back lot where you could make a hideaway and stay for hours if you wanted to and no one could find you.
I'm leaving home. Forever.
When you become a nun, you can never again step into your family home—not for a meal or a family reunion or a marriage or anything except for the death of one of your parents, and even then, if they live in a city away from the convent, you may have to decide whether you'll visit before they die so you can say farewell or wait and attend the funeral. As a nun you are strictly forbidden to sleep away from the convent. 
I'm leaving Mama and Daddy's bedroom, where we gathered each evening for the family rosary, the bedroom where one late afternoon I waited for Daddy to get home from work so I could show him my exciting new skill—"Hey, Daddy, look at this," and I slowly, deliberately tied the brown laces of my oxford shoes into a perfect little bow. I'm leaving the special Daddy-Helen times—I was always his little petitsie—and I'm leaving Mama and her lavishly affectionate love. I am leaving the sweet, sweet sleep in my double bed there in the bedroom with Mary Ann always by my side. 
I'm leaving everything: the fireplace in the breakfast room, where late one night when all the others had gone upstairs to bed, I stayed at the round oak table and wrote in a feverish frenzy my first short story—under the constraint of having to weave ten spelling words for Mrs. Herthum's class into the narrative. It was a very, very dramatic story, about a man who went to war where "bullets fell like rain," but the man by a miracle of God survived and returned home. True, he had lost one leg, but he was alive, not dead, only one leg but alive! 
The car pulls up, and I get out and bound through a side door near the chapel and announce, "I'm here! I'm here to become a bride of Christ!"
Alive! I couldn't wait to read it in spelling class. When unsuspecting Mrs. Herthum asked who would like to read the sentences composed from spelling words, up I shot and read my piece with as much fervor as I had written it, and all went well until Janice Calabrese let out a loud, disrespectful cackle at the part about bullets falling "like rain." 
And now I'm leaving the oak table and the breakfast room and everything I've known of home—now on this eighth day of September, the birthday of Mary, the Mother of Jesus: a perfect day to give your life to God. 
I'm crying my eyes out as I get into the car, but deep inside myself I'm calm and resolute and, in a way, I've already left, already given myself over, already sealed the decision in some deep soul place beyond thinking or even willpower, a place inside with a call so deep that all I can do is say yes, and I am all aflow in the yes, not whining and afraid like a coward (a state I struggled against all through childhood). I'm ready, I'm doing it, I'm leaving—only to be brought to tears by a little yellow-green parakeet named Billy Boy. 
We were bonded, Billy Boy and me. I taught him to talk—first, his name, which he rumbled in his throat perfectly, like a little old mustachioed man. But soon it was clear the bird was capable of saying anything I whispered into his little parakeet ears: Billy Boy Prejean is a dir-r-r-ty bird . . . Hi ho, Silver . . . Hail Mary, full of grace, the Lord is with thee . . . drop-dead stupid (though the bird sometimes mixed it up: dirty Billy Boy . . . Hi ho, Mary . . . and the Lord is with Prejean). The thought of leaving this feathered, articulate wonder—knowing that without me his vocabulary will freeze and there will be no more new words for him—is all too much to deal with. But it's time to get into the car; it's time to go. 
I sit between Mama and Daddy in the back seat and we all say the rosary and cry all the way to New Orleans. Mary Ann drives, her eyes straight ahead, with Louie, now in eighth grade, sitting up front with her, unusually quiet, subdued by the import of it all. 
By the time we reach the novitiate building, on Mirabeau Avenue in New Orleans, I have cried away the tears, and as we cross the overpass on Wisner Boulevard, I see the novitiate building in an empty field, and I say, almost to myself: "My new home." The car pulls up, and I get out and bound through a side door near the chapel and announce, "I'm here! I'm here to become a bride of Christ!" 
"Lord, help us—who is this character?" wonders one of the novices who happens to be standing near the chapel entrance. Her name is Sister Christopher (family name: Ann Barker), and she is standing there because she is the sacristan, preparing the chapel for benediction, the culminating event of the day. Six years later, when she becomes my closest friend, she will recall my arrival and laugh and tell me about it in vivid detail. 
Thus, on a September day, the stream of my Helen-life joined the wider river of women by showing up for novice training with the Sisters of St. Joseph. 
*
As far back as I can remember, I've had a vivid sense of being alive. I'd close my eyes and there it was, the feeling: I am. I'm me. I'm alive, having all these thoughts in my head, which only I know. It still amazes me that I'm alive and thinking—I am always thinking—and I can't get over it when I open a book and I'm allowed to descend into the inner sanctuary of another's thoughts. It still amazes me.
I also have a strong sense of family. I am Helen Theresa Prejean, the daughter of Louis Prejean, Sr., and Gusta Mae Bourg, and my older sister is Mary Ann and she was born ahead of me on May 13th, 1938, but I was born the very next April 21st, so I turn a year older before she does, and for 22 days every year we're the same age. For a little sister this is a Very Big Deal. Louis, Jr.—we call him Louie—was born five years after me, but when he was a little baby he caught pneumonia and almost died, and one night, when all the doctors said his life hung in the balance, Mama prayed all night long and marked little crosses all over his stomach and chest with water from the miraculous spring at Lourdes and promised Mary, Mother of Jesus, that if Louie lived, he would be dedicated to her and wear blue and white until he was six years old. Which is exactly what happened.
In a way, I've already left, already given myself over, already sealed the decision in some deep soul place beyond thinking or even willpower.
Our family always had a fierce devotion to the Blessed Virgin Mary. We said the rosary every night, and on long family trips we said three rosaries a day—that's over 150 Hail Marys and 18 Our Fathers and Glory Bes—which, along with the purely spiritual benefits, proved to be a surefire Catholic Prozac for three squabbling kids in the backseat. This backseat Peaceable Kingdom was put in jeopardy by the goal Mary Ann and I set to make Louie cry in every state we traveled through, and there were a lot of them—about 30 over the course of 10 summers. You can see why we had to say a lot of rosaries. 
When Mary Ann and I go to play in the front yard, Mama warns us that we must never cross the ditch onto the highway. I especially need dire warnings because I'm a dreamy kid, always sort of looking around without seeing things. I'd like to say it's because I'm deep in thought. Maybe that's part of it, because it's still true about me that what I'm thinking about is almost always stronger than what I'm taking in from the outside world. So you can understand that as a kid I needed a lot of parental protection. 
We call our house "Goodwood"—that's also the name of the neighborhood because of the big trees. It's a big two-story house on five acres of land with oak and gum and sycamore trees towering close by our bedroom windows on the second floor, and at night we can hear crickets and tree frogs—when they're loud, Mama says they're singing for rain—and sometimes an owl, which is verrry scary (they can see you but you can't see them). Mary Ann and I don't want the owl to see into our bedroom, so we two little girls in pink nightgowns bury our heads under the pillows with our two little behinds pointing upward. 
Summer sounds: whir of the attic fan, cool breeze coming through tall windows, clink of ice in the water pitcher as Mama in her nightgown brings it up the back stairs to us in our beds, and once in bed with lights out, a healthy dousing with holy water from Mama "to keep the devil away." Always night prayers. Always morning prayers. Faithfully, without fail, kneeling by the side of my bed. 
______________________________________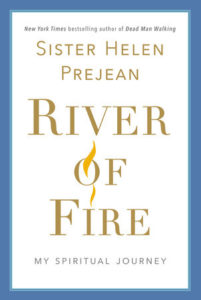 From the book River of Fire by Sister Helen Prejean, CSJ. Copyright © 2019 by Helen Prejean, CSJ. Published by Random House, an imprint and division of Penguin Random House LLC. All rights reserved.
---