Lit Hub is pleased to reveal the cover for Critical Hits: Writers Playing Video Games, edited by Carmen Maria Machado and J. Robert Lennon, which will be published by Graywolf in November. Graywolf executive editor Yuka Igarashi shared the table of contents a few weeks ago, and it's full of winners like Hanif Abdurraqib, Alexander Chee, Larissa Pham, Charlie Jane Anders, Elissa Washuta:
Table of contents for Critical Hits, an anthology of essays about playing video games, edited by Carmen Maria Machado and J. Robert Lennon. Coming in November 🎮❤️ pic.twitter.com/Z7c8OxIKvi

— Yuka Igarashi (@yignarski) February 20, 2023
More about the book from the publisher:
Video games have been on our screens and part of our lives for over fifty years. Critical Hits celebrates this sophisticated medium and considers its lasting impact on our culture and ourselves. In these pages, writer-gamers find solace from illness and grief, test ideas about language, bodies, power, race, and technology, and see their experiences and identities reflected in—or complicated by—the interactive virtual worlds they inhabit.
And here's the cover, designed by Adam Bohannon: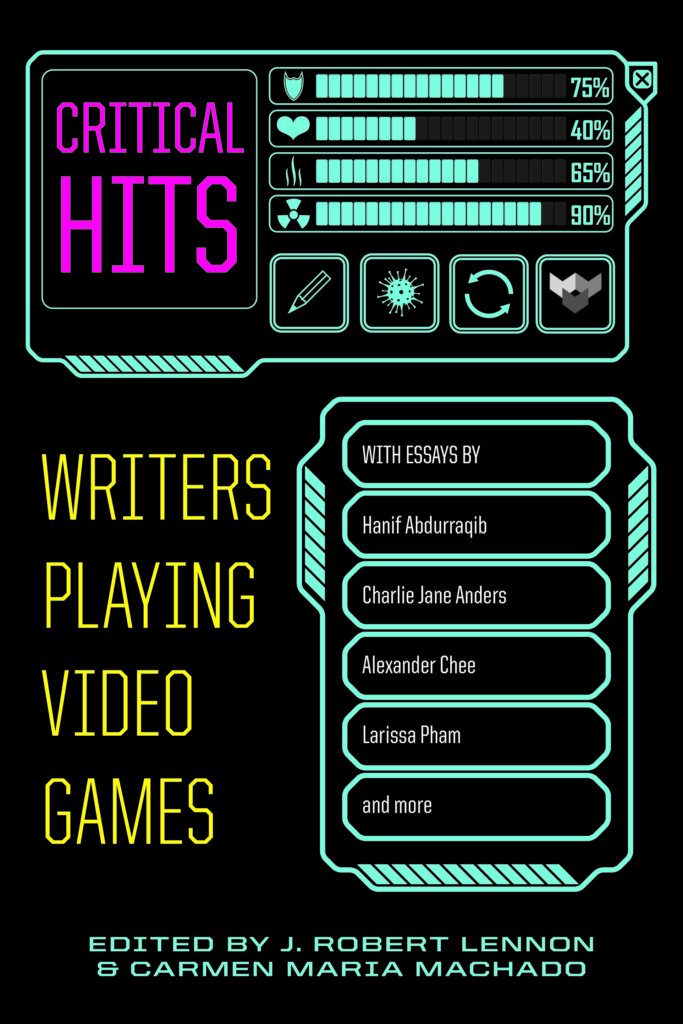 Bohannon writes, "This one had me up at odd hours thinking about the right kinds of art. The book discusses games from the 80s up through the present day, so that's a lot of ground to cover! The volume editors pointed us in the direction of 8-bit + pixel art, so that gave me some focus, while also really opening up where to explore. There are piles of 80s type + video game fonts + neon vectors all screaming at arcade noise levels still pinballing around the design lab here! In the end, the flatness of the image feels like it can live anywhere from the 80s to the present day. And how about the easter egg Graywolf logo here in the control panel? Headed to the mall if you need me, you can find me at the arcade."
Co-editor Carmen Maria Machado says she "loves the playfulness of this cover, which reminds me of the HUDs of some of my favorite games. And the way it collects—authors' names, player stats, the little coronavirus, the Graywolf logo. So good." And J. Robert Lennon writes, "It's appropriate that the cover of Critical Hits looks like the Mass Effect HUD, because it's also got action, adventure, intrigue, grief, friendship, betrayal, romance, and violent aliens who impulsively break into show tunes lying in wait directly behind it. Most of those, anyway."
Critical Hits: Writers Playing Video Games, edited by Carmen Maria Machado and J. Robert Lennon will be published by Graywolf on November 21, 2023.