Literary Hub is pleased to reveal the cover for Alissa Hattman's Sift, which will be published by The 3rd Thing in September. Here's a bit about the book from the publisher:
Two women set out through the haze of social and environmental collapse in search of fertile soil. As they travel through deserts, burned-over forests, and lightless mountain caverns, they learn to navigate the terrain of their evolving connection. An invocation, an elegy, a postcard home, Sift is a story about family wounds, humanity's failures, how to care for one another at the end, and how to make a new beginning.
And here's the cover, which was designed by Anne de Marcken, featuring art by Barbara Earl Thomas: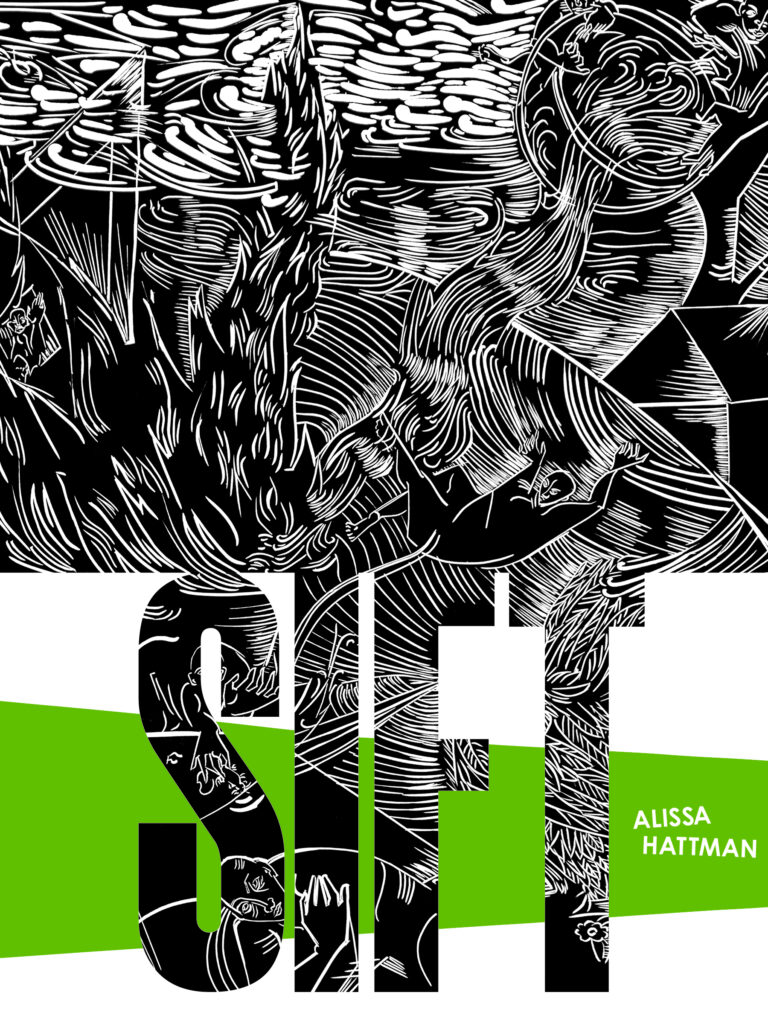 "I love a book cover that suggests without illustrating the writing within—that is a kind of puzzle that is solved by reading," Anne de Marcken told Lit Hub.
Every year The 3rd Thing invites an artist to be part of the "cohort"—their work appears on the covers of all four projects. In 2023, that artist is the extraordinary Barbara Earl Thomas. It is a special challenge to design covers that do justice to both the writer and artist, and that feel as singular and essential as the individual books while also uniting them as a cohort in conversation with one another. In designing the cover for Sift, I discovered surprising and powerful harmony between the delicacy and force of Alissa Hattman's writing and Thomas's relief prints. From their different perspectives and with singular vision, both are working with a kind of assembled narrative. Together, the stories they each are telling about catastrophe and resilience resonate with combined potency.
"Sift is a story about social and environmental turmoil, and Barbara Earl Thomas's work beautifully captures that danger," Hattman added. "There is a sense of falling through story here—falling away from our homes, through flames and waves. Losing our grip. What astonishing movement, though. Full of air and softness, grace. So much of Sift is evoked in this cover. I'm deeply moved."
Sift will be published by The 3rd Thing on September 5, 2023. You can preorder it here.