Sam Sharpe and the Revolt That Ended British Slavery
Tom Zoellner Revisits the Baptist War Slave Rebellion
When nations print currency, they tell stories about themselves. The iconography on coins and bills presents a national gallery of sorts, intending to convey not only a mood but also shared values.
While most countries use the faces of past presidents or monarchs, some have occasionally chosen private citizens. France demonstrated respect for science with Louis Pasteur on their five-franc note in the 1960s; Turkey today honors the arts with novelist Fatma Aliye Topuz on the 50 lira.
When Jamaica rolled out its 50-dollar note in 1988, it picked an enslaved man who went to a criminal's death on the gallows and had been forgotten for more than 140 years. The story of how Sam Sharpe ended up on the currency is a lesson in how a nation tries to reinvent itself through telling a new story about its own history.
The British slave-owning class in Jamaica had every reason to erase Sharpe from memory after his execution on May 23rd, 1832. He had been the chief plotter of a conspiracy that started as a peaceful labor strike before spinning out of control. The violent rebellion that followed turned the northwest section of the island into a mass of flames and left dozens of its plantation houses in ashes.
While uprisings like this were a fact of doing business in the British Caribbean, this one had been different, not just for the scope of its destruction but the way the newspapers in Britain had taken special notice and invigorated the abolitionist factions in Parliament.
Authorities feared that other literate slaves like Sharpe would emulate his example and foment another insurrection, so they buried his bones on a deserted beach and made no further mention of him. But the damage was done: a committee in London interviewed 32 witnesses and concluded that keeping slavery intact would only drain the exchequer and prolong an endless tropical war. Slavery was given qualified abolition within two years of Sharpe's rebellion, and full freedom arrived in Jamaica in 1838.
But almost nobody would publicly call him a hero back then, even though his methods had started peacefully and even though his conspiracy had—imperfectly—been a success. Perhaps because of the violence associated with the revolt, or because of the repression still endured by emancipated slaves in British-governed Jamaica, Sharpe's name was all but removed from collective island memory.
The story of Sam Sharpe's rebellion had stayed alive, thanks to an underground oral tradition in the island as well as the British legal apparatus.
Jamaica became independent from the United Kingdom in 1962, one of dozens of former colonial possessions set free to self-govern, and it faced a problem of definition. How to reconcile a past that had been defined by slavery, exploitation and incalculable pain with the call to present a more hopeful vision for the future?
Some of the ambivalence can be seen in its flag, vaguely mimicking the saltire of the Union Jack but colored green, gold and black. The first was said to represent the beauty of the island, the second its natural wealth, and the last the dark chapters of its past.
Another important part of building the national identity was to do away with the traditional British lions of the past—mainly sovereigns and governors—whose names were honored on public monuments and replace them with Afro-Caribbean figures. The independent government established a category called the Order of National Heroes, and included three historical figures: the separatist advocate Marcus Garvey (who had spent considerable time in Harlem), and two martyrs of an attempted coup d'état in 1865. Two other posts were given to contemporary prime ministers.
But what of Jamaica's period of enslavement under Europeans, from the time when Christopher Columbus first spotted it in 1494 to the British emancipation in 1832? Was there nobody from that time who might have qualified?
One of the many ghastly byproducts of slavery is how it didn't just destroy the physical body but also wiped away individualities: a double-death. In the West Indies, an enslaved person's name—usually a single patronizing tag like "Quashee" or "Shakespeare"—might be written down once or twice in a government registry or a bookkeeper's notes at birth or sale.
That was the sum total of their record. Their deeds, their loves, their personality, their hopes, their pain: all of it went unrecorded. Enslaved people were not given the tools of literacy in Jamaica until missionary teachers arrived in the 1820s (and even then, under the tremendous skeptical watch of the ownership class). There had doubtlessly been innumerable acts of heroism among enslaved people during those three centuries, and yet most of them can never be recovered from a cruel historical oblivion.
When the People's National Party came to power in Jamaica in 1972, it began to send friendly diplomatic signals to the Soviet Union and to neighboring Cuba, to the alarm of the CIA. It also began emphasizing Marxist concepts like the dialectic of history and resistance to industrial tyranny. The government formed a small committee to search for examples that could be mapped onto this template. One leaped out.
The story of Sam Sharpe's rebellion had stayed alive, thanks to an underground oral tradition in the island as well as the British legal apparatus and its obsessively kept court records. Sharpe's execution had been in the newspapers, which were preserved in the National Library of Jamaica, and the five-page transcript of his kangaroo trial was pasted deep in a binder of dispatches in the Colonial Office in London.
The government commissioned the respected Barbadian poet and historian Kamau Brathwaite to write up a short booklet partly dedicated to Sharpe called Wars of Respect that celebrated the "impact of industrial strike action upon the industrial system" and hailed him as a revolutionary icon on the level of a Lenin or Trotsky of the 19th century tropics. "Marxism was the language of the day," said Arnold Bertham, a PNP official who served on the committee. "The wider context was resistance to plantation slavery."
Sharpe was placed among the Order of National Heroes on October 1st, 1975 in a public ceremony at a Kingston stadium where the crowd, according to Bertram, was "a sea of blank faces." Few had ever heard of him. Neither his life nor his revolt had been taught in the public schools, which were still operating under a basic UK template that had washed the record clean of revolutionary figures and outlaws. But still, this honor was, according to Prime Minister Norman Manley, "the final act of justification of this nation's sense of its own history and, by extension, of the sense of our destiny."
An artist was hired to guess at Sharpe's face for an official portrait, and his bust went up in a Kingston park. His name went into the schoolbooks and his face on the 50-dollar bill. The honorific "Right Honorable" was affixed before his name in all official references. All of this for a man who went to an unmarked grave in the sands of a beach near Montego Bay.
Sharpe's doomed rebellion embodied many of the characteristics of slave revolts around the Caribbean during its painful colonial period.
His canonization obscures a lingering debate among Caribbean historians. Sharpe had been a deacon in the Baptist Church and his plotting in the summer and autumn of 1831 had been under the cover of teaching Bible studies on plantations scattered around the northwest. He had drawn his inspiration from the Bible and had taught portions of the New Testament that the white missionaries considered too hot to handle: man cannot serve two masters; there is neither slave nor free; you will know the truth and the truth can make you free.
Sharpe's sense of Christian love extended to his tactical plans. No person is to be harmed, he insisted. We will only sit down and ask for wages. And even after the enslaved people took control of wide spreads of territory for several weeks, almost no slave owners were beaten or killed: a remarkable display of restraint for people who had every reason to want revenge.
But this view of Sharpe as a proto-Gandhi figure is complicated by other facts in the British court documents, as damning as they are doubtful. Some of the witnesses at his trial claimed they saw him holding a hunting musket a few days into the revolt. He undeniably lost control of his many followers just hours into the planned strike and there is no evidence he sought to stem the arsons taking place on dozens of sugar estates. Sharpe did not leave writings in his own hand, but he told several visitors to his jail cell that his only object had been to gain freedom for himself and his fellows trapped in slavery.
Jamaica's choice of icon for its 50 dollar bill may be wrapped in ambiguity, but it is an appealing one, for Sharpe's doomed rebellion embodied many of the characteristics of slave revolts around the Caribbean during its painful colonial period: the pent-up explosion of rage, but also the tactical daring, the idealism, the heroism, and even the kindness.
The battle against West Indian slavery was episodic but it was part of a continuum that had international consequences; Sharpe's rebellion marks the tipping point. Legal emancipation, while lengthy and imperfect, set an example of peaceful transition for other colonial powers. The 1838 calendar date of final freedom that Sharpe unquestionably hastened—August 1—was celebrated among American abolitionists with picnics and speeches every year until the 1861 beginnings of the Civil War, which shed far more blood, created far more destruction, and engendered lengthier collective wounds than seen in the British experience of doing away with slavery, which was a pinprick by comparison.
British authorities killed Sam Sharpe on the gallows and tried to obliterate his memory, but they ought to have thanked him for sparing them an even greater catastrophic reckoning for their national choices. His face is on Jamaican currency but he is a hero for the world.
__________________________________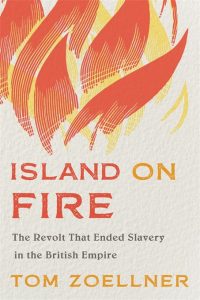 Tom Zoellner's book Island on Fire is available now.
---