Ruth Madievsky on Burying Her Darlings in a Cemetery of Bangers
"My stylish one-liners were a crutch I used to get out of the more difficult decisions a novel requires."
Before my debut novel, All-Night Pharmacy, was even a twinkle in my eye, I was a poet. Sometimes I wrote short stories, rarely longer than 2,500 words. I approached everything I wrote like I was robbing a bank. Get in and get out. Who doesn't love a tight little banger?, I assured myself. The shorter the poem, the closer to god!
I couldn't imagine writing a novel. Sixty- to one-hundred-thousand words? In service of a cohesive plot? Couldn't be me. The closest I could get was writing a couple of stories a year and copy-pasting them into a Word doc. In 2019, an agent read some of those stories online and asked whether I had a novel. Wanting to keep the conversation going, I sent them five years' worth of pieces and called it a "novel-in-stories."
It was sixteen-thousand words, basically the length of one long story. It was… not sellable. The stories circled similar themes—toxic sisterhood and queer coming-of-age; urban loneliness and the opioid epidemic; the gentrification of Los Angeles as seen through the eyes of a menagerie of fuckups at a skeezy dive bar—but they weren't more than the sum of their parts. At forty-eight double-spaced pages, there was barely a sum at all.
A good novel is more than a stack of bangers in a trench coat.
When the agent suggested I rework the collection as a novel, I doubted I could pull it off. But I wanted to keep talking, so I agreed to give it a try (albeit with the same enthusiasm with which I tried my post-Soviet grandmother's "American" dishes—pasta with prunes, soy sauce, and mozzarella cheese…a godless combination). I tried to convince myself that I could draft a novel the same way I drafted poems: one word at a time, with no outline, in pursuit of beauty.
I re-read my favorite voice-driven fiction. Rachel Kushner's The Flamethrowers, Bryan Washington's Lot, Kimberly King Parsons' Black Light, Ottessa Moshfegh's Homesick for Another World. "I smoke on my way to the bus stop, past the spoiled Arby's and Mr. Beezer's dry cleaner, past Pegasus Plaza and a gross motel Tim calls the Sexual Asphyxiation Inn, where people are always throwing bottles of piss out the windows and setting each other on fire," Parsons wrote. What a fucking line. I tried to write a whole novel of lines like that.
My first few drafts were full of major plot holes and characters rendered thinner than crepe paper. I unceremoniously stuffed entire storylines into a single line like, "And then I got sober." My narrator went from selling pills she stole from a hospital pharmacy in Los Angeles to bushwhacking through a run-down Jewish cemetery in Moldova with zero contextual lubricant. But the sentences. The sentences slapped. I wrote with the surgical precision I brought to my poems, bled over every word. Was it a great book? No. But it was full of bangers.
I wanted my novel to feel like an album with no skips. But I'd written toward mic drop moments at the expense of developing three-dimensional characters, depicting my narrator's interiority on the page, and writing emotionally resonant scenes. My stylish one-liners were a crutch I used to get out of the more difficult craft decisions a novel requires. Writing a fraught confrontation between my narrator and her chaotic older sister, Debbie, was hard.
It was easier (and more fun) to plop them on bar stools, where the narrator could people-watch and make bitchy observations like, "Debbie and I once watched as he violated his pet turtle with a popsicle stick, so you could say we grew up together." Explaining why the narrator was dating someone she had no passion with would require me to excavate her psyche. No thanks! Better to drop a line like, "There was this unhinged and intimate energy between us, as though, in a past life, we'd been minions to the same eccentric witch," and move on.
I was terrified of schmaltz, of readers thinking my prose was heavy-handed. Maybe a pretty sentence that implied something (even if that something was a total cypher) was decisive enough? "I wanted a love that reminded me of expressionist paintings, love that made me quiver like the yolk of an egg," I wrote, and then got the fuck out of that scene as though pursued at gunpoint.
The optimism of keeping lines I loved on ice helped me move forward.
As it turns out, a good novel is more than a stack of bangers in a trench coat. Lucky for me, I ended up finding an agent and editor who saw the potential behind the smoke and mirrors. My agent, Mina, and I spent a year revising my novel together, during which many of my favorite lines ended up on the cutting room floor. And after we sold the novel, my editor, Alicia, and I spent another year doing the same.
Finally, I had no choice but to make the decisions I'd been putting off. Character motivations became clearer, wafer-thin summary transmogrified into juicy scenes. The constant urge to drop in yet another wry observation about human sexuality ("He wore the professional veneer of a man who hadn't asked a woman he met two hours earlier to choke him with a dish rag") remained. But I grew better at recognizing when I was bullshitting. With my novel's deadline approaching, it was time to say something real.
Maybe it's not goodbye forever, just goodbye for now, I told myself, pasting my doomed darlings into a separate document. Whether an opportunity to raise the dead would actually emerge was irrelevant. The optimism of keeping lines I loved on ice helped me move forward.
And I suspected I wasn't the only one. For this piece, I reached out to some writers I admire to see if they had a line or two they wanted to resurrect. Eight of them confirmed they too had a cemetery of bangers. The lines below may not have made it to print, but goddamn it, they live to see another day.
*
Gerardo Sámano Córdova, author of Monstrilio:
"I felt nothing for my children, not individually, though I was happy they existed."
Tajja Isen, author of Some of My Best Friends: Essays on Lip Service:
"If I had my way, I'd unlatch from one institution just long enough to collect my diploma, before clamping down on the teat of another."
Ben Purkert, author of The Men Can't Be Saved:
"It was 10pm, and I'd spent much of the day at my desk, dragging my cursor over and back across these few lines, pointlessly adjusting their font and size, frenetically at times, so it appeared the words were twitching under the hands of a torturer, or possibly trembling with unspeakable desire."
Maya Binyam, author of Hangman:
"I prayed my cousin would go back to talking about the essential qualities of humanity, and that even if he was going to focus on this one specific white woman, he would turn her predicament into an emblem of the problems facing a larger group of unknown people, for example: all white women."
Rainesford Stauffer, author of All The Gold Stars: Reimagining Ambition and the Ways We Strive:
"I gathered up all those goals and white-knuckled it, as if I could meld the job, the bylines, the illusion that I "had it together" and use them like a shield against the person I was becoming, to protect the person I always thought I'd be."
Laura Warrell, author of Sweet, Soft, Plenty Rhythm:
"James fumbled because there was nothing to say when the entirety of what he knew about his wife couldn't close around or contain the small, hidden truths only this other man knew."
Sarah Thankam Mathews, author of All This Could Be Different:
"It will be a sun-drenched D.C. summer day, full of a prickling arthropod heat, when I return from the close of my first week of work in the new city and draw myself a bath. Since water is the only utility I do not pay for, I fill the tub deep."
Tembe Denton-Hurst, author of Homebodies:
"This felt like a trick of the light or perhaps the forgiving nature of the dark."
__________________________________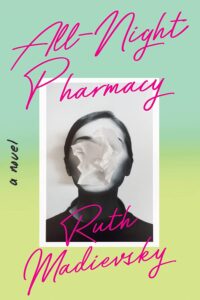 All-Night Pharmacy by Ruth Madievsky is available from Catapult.
---