Russian Books That Outlived the Censors: A Reading List
Elena Gorokhova on Doctor Zhivago, Nabokov, and More
In 1970s Russia, censors with party membership cards and sharp communist vision sat in dank offices branding manuscripts unsuitable for publication, while I sat in my Leningrad apartment typing pages of forbidden books through four sheets of carbon paper. I typed banned verses by Anna Akhmatova, Osip Mandelstam, and my contemporary Iosif Brodsky, who had been incarcerated in an insane asylum only blocks from where I lived. I never asked where my friends got the poems for me to type; some were hand-written while others were faintly photo-copied. I only knew that I was fortunate to own a portable manual typewriter, the name Erika embossed in gold on the front. Those typed pages of my samizdat projects found their way into the hands of trusted friends who passed them on to their friends who also owned typewriters.
As I typed, I could only dream of reading other books that were impossible to get: Doctor Zhivago by Boris Pasternak, Speak, Memory by Vladimir Nabokov, Life and Fate by Vasily Grossman, Kolyma Stories by Varlam Shalamov. Those books remained banned until the late 1980s, when Mikhail Gorbachev initiated glasnost' and perestroika, which further loosened the bolts holding together the progressively creaking Soviet skeleton. I didn't read them until I moved to the US. There was one special book that was published in a censored form in a Russian literary magazine in 1966—over a quarter century after it was written—Mikhail Bulgakov's Master and Margarita. A friend lent it to me, but only for one day, before he had to pass it on to the next waiting reader. Since then, several editions of the book have found their way into my American home, where I can languish in Bulgakov's prose without ever glancing at the clock.
Tragically, in today's Russia, censorship has made a meteoric comeback, and with it have come restrictions on free speech and peaceful protests. The Iron Curtain has descended once again, holding millions of Russians hostage to the newest version of this totalitarian regime. In just a few days, Russia has been propelled back in time to repeat the darkest days of its communist history. How long will it be, I wonder, before we begin to dust off our aging Erikas and start typing forbidden books to pass along to friends?
*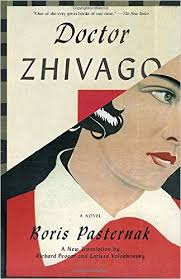 Boris Pasternak, Doctor Zhivago
(Vintage)
Completed in 1955, the novel did not appear in Russian bookstores until 1987, when Mikhail Gorbachev's perestroika was already in full sway and the new policy of glasnost', or openness, allowed the publication of this previously banned book.
Its plot is Byzantine and long, beginning in 1902 and marching through some of the most tumultuous times in Russian history. Young Yuri Zhivago's comfortable life is shattered when his mother's death ushers in an unknown future for him and his country. Soon Russia would become engulfed in the flames of the Bolshevik Revolution and the Civil War. (Zhivago's poems at the end of the novel were among those I typed through four sheets of carbon paper). The book ending is cheerless. Zhivago dies and Lara disappears into the Gulag, "a nameless number of a list."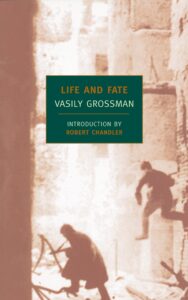 Vasily Grossman, Life and Fate
(NYRB)
Grossman finished Life and Fate in 1959, but the book remained unpublished in Russia until 1988. The author, a military correspondent who spent three years reporting from the front lines, centered his novel around the Stalingrad battle, which, like the war itself, became the confrontation of two totalitarian regimes. Traveling with the Soviet Army across Europe, Grossman was among the first who entered the liberated concentration camps (his notes on Treblinka were used during the Nuremberg Trials). Despite the unimaginable suffering and destruction that go on for over 800 pages, the story has many moments of intense humanity and love. It ends on a note of hope: "It was still cold and dark, but soon the doors and shutters would be flung open."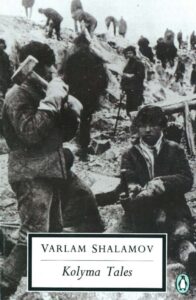 Varlam Shalamov, Kolyma Stories · Sketches of the Criminal World (Further Kolyma Stories)
(NYRB)
Varlam Shalamov wrote Kolyma Stories during the two decades after his release from a forced-labor camp in the Arctic region of Kolyma, where he spent over fifteen years in incarceration and exile. His books could not be published in Russia until the late 1980s.
Shalamov's stories are not only acts of witness to a monumental state-sponsored crime but also attempts to treat and heal the deep, horrendous wound. The crimes of Stalin's regime were committed against its own citizens, a process where executioners became victims, and victims, by denouncing their family and friends, became executioners. As a result, until after Stalin's death, no one was guilty because everyone was guilty.
One of the stories, Cherry Brandy, written in 1961, describes the last days of the condemned poet Osip Mandelstam. Another story, The Resurrection of the Larch (1966), resurrects "a memory of the millions who were killed and tortured to death, who are laid in common graves to the north of Magadan." As Shalamov observes, "The larch can see and shout out that nothing has changed in Russia, neither men's fates, not human spite, nor indifference." Indeed, today's Russia, unfortunately, is a tragic proof to this timeless observation.
Unlike Grossman's novel, Shalamov's stories do not provide any redemption; there is no heroism in survival. The author understood that Gulag, like a cancer, had metastasized through the whole body of Soviet society, and his stories are powerful and raw and feel as if they were ripped whole from his own camp experience.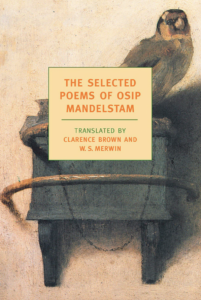 Osip Mandelstam, The Selected Poems
(NYRB Classics)
In 1965, twenty-seven years after Osip Mandelstam's death in a labor camp, his wife Nadezhda sent the manuscript of her memoir Hope Against Hope to Varlam Shalamov. In his letter to Nadezhda Mandelstam, Shalamov wrote: "The link between eras, between cultures has been broken; the exchange has been interrupted and our mission is to pick up the ends of string and tie them back together."
This task of tying together the connection between the two eras broken by communist dictatorship and terror was what Osip Mandelstam had already attempted in his poem The Age (Vek):
My age, my beast, who will look you
straight into the eye
And with his own life blood fuse
Two centuries' vertebrae?
Although Mandelstam originally supported the Bolshevik Revolution of 1917, his poetry continued to be personal and humanistic rather than celebratory of the new regime where the collective triumphed over the individual. He refused to bend to the insistence that poetry should serve the Bolsheviks' political cause, for which he was arrested, exiled, arrested again, and finally swallowed by the Gulag. His death was reported in 1938. He was not fully rehabilitated until 1987.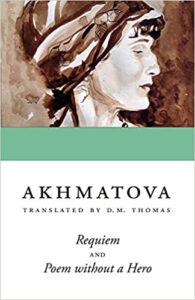 Anna Akhmatova, Requiem
(Swallow Press)
Written over a period of three decades, Requiem did not see the light of Russian bookstores until 1987. Dedicated to all the victims of Stalin's terror and especially to the mothers, sisters, wives, and daughters of all political prisoners, this long poem was written by a woman who lost two husbands and a son to the Gulag. A Leningrad prison, surrounded by long lines of women, was where the protagonist of Requiem spent seventeen months awaiting her son's verdict. Leningrad in this poem is the city of prisons, bloody and black, and its residents are the families of those condemned who were tortured behind the prison walls, forced to confess to crimes they did not commit. At the end of Requiem, Akhmatova turns to images of crucifixion, shining light not on the tragedy of Christ but on the tragedy of mothers.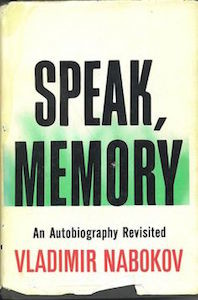 Vladimir Nabokov, Speak, Memory
(Penguin)
No works of Nabokov were allowed to be published in Russia until the late 1980s, when the ban was overturned. Speak, Memory, Nabokov's memoir, examines his Russian childhood in St. Petersburg, the Bolshevik Revolution that drove him into exile in 1919, and life in Europe before Nabokov and his family moved to the US. (Nabokov, his Jewish wife and his six-year-old son fled France in 1940 on the last French ship sailing for America).
The book is Nabokov's exquisite hymn to memory, which sometimes betrayed him (in the 1966 edition, after talking to family members in Europe, he revised the flawed recollections of the original). The lush narration has an episodic quality, shining light on characters and scenes the same way memory does when it provides a temporary anchor in a deeply anchorless and transient world. Throughout his life, Nabokov remained an exile without permanent residence—having fled from the Bolsheviks and then the Nazis—living the last seventeen years of his life in a hotel in Switzerland. We are all here for only a moment, his memoir seems to say. It is the theme baked into the opening line of Speak, Memory: "The cradle rocks above an abyss, and common sense tells us that our existence is but a brief crack of light between two eternities of darkness."
Mikhail Bulgakov, The Master and Margarita
(Penguin Books)
Bulgakov completed The Master and Margarita in 1940, a few weeks before his death at the age of forty-nine, but he could never imagine that the novel would be published. A heavily censored version of the work was released in 1966 in a monthly magazine Moskva, whose 150,000 copies sold out within hours.
In this multilayered novel, Satan wreaks havoc in Moscow, exposing Soviet absurdities and bureaucrats' duplicitous lives and finding an ally in Margarita. She sides with the dark forces to save the Master, her lover who had been taken away for writing a novel about Pontius Pilate and Jesus Christ. "Manuscripts don't burn," proclaims Satan as he produces the novel the desperate Master had earlier tossed into the fire. "Cowardice is the most terrible of vices" is another Satan's observation that instantly became proverbial among those who read the first magazine publication of the novel. In Bulgakov's surreal world of 1930s Russia, it is the Lord of Darkness who affirms the resilience and immortality of art.
__________________________________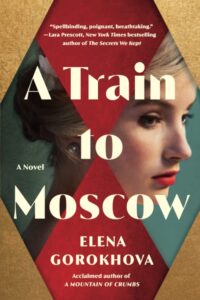 A Train to Moscow by Elena Gorokhova is available now from Lake Union. 
---