Rose Levy Beranbaum on Lemon Madeleines and the Pure, Childlike Joy of Baking Cookies,
"There's always room for one perfect cookie."
Baking is the best all-encompassing lesson for children. it teaches so many important things: precision, patience, timing, sensory perception, science, art, mathematics. And of all baking, cookies are the most child-friendly and forgiving. A basic cookie is easier to make than a cake or pastry because cookie dough, due to its higher sugar content, is much more forgiving of overmixing or overhandling than a cake batter or pastry dough. Scraps of dough can be reshaped several times without changing the cookies' texture. Cookies are fun, and they make people of all ages happy.
Most cookies are a cross between cake and pastry (in fact, the word cookie derives from the Dutch word koekj, which means little cake). Some, though, such as meringues and pralines, are closer to the candy category.
When I started putting together all my favorite cookie recipes along with all the recipes I dreamed of creating, I suddenly remembered that when I was a little girl, my grandmother Sarah, who brought me up, used to call me "Cookie"! But it was years before I ever tasted a home-baked one. My mother was a dentist and orthodontist and didn't cook or bake until after her retirement.
My first cookie baking experience, in the 1960s, was a complete disaster. I made oatmeal cookies using the recipe on the back of the Quaker oatmeal box. The result was one huge inedible cookie that filled the entire pan. It was several years before I was willing to try cookie baking again.
Cookies are fun, and they make people of all ages happy.
I was working at the Educational Testing Service in Princeton, NJ, and one of my co-workers gave me her favorite recipe for almond crescent cookies. It was the first home-baked cookie I had ever tasted. Over the years, as I learned more about baking and ingredients, I was inspired to tweak this simple recipe to match my idea of perfection: Buttery, tender, flavorful, and with only five simple ingredients, it has been my longtime signature cookie.
In 1990, when Rose's Christmas Cookies was published, the National Dairy Council hired me to be their spokesperson after hearing my mantra: "I'd rather have one perfect cookie made with butter than a whole bunch made with shortening." And I still feel the same way.
Since that book, of course, cookies have graced many of my other cookbooks. But one morning, I woke up with the realization that it was time to put together all of my collection under one cover. So I revisited and updated all of my old favorites to reflect changes in ingredients and equipment, and new techniques. And being so immersed in cookie thoughts, I discovered and created many new cookies along the way.
Cookies come in so many different flavors and textures. But my favorite thing about all of them is that even after one is full to bursting, there's always room for one perfect cookie.
*
Lemon Madeleines
Makes: One hundred twelve mini madeleines or twenty-eight large madeleines (or 108 mini or 26 large if not adding the poppy seeds)
My madeleine of choice is based on my signature cake from The Cake Bible, Lemon Poppy Seed Pound Cake. While other madeleines quickly become unappealingly dry, these stay moist and delicious for 3 days at room temperature and can also be frozen. I love the little pop of the poppy seeds, but the madeleines are wonderfully buttery and lemony without them too!
*
Oven Temperature:
350°F / 175°C
Baking Time:
10 to 12 minutes for mini madeleines; 14 to 15 minutes for large madeleines
Special Equipment:
Mini madeleine molds (1½ teaspoon capacity) or large madeleine molds (2 tablespoon capacity), preferably silicone (see Baking Gems), lightly coated with baking spray with flour and, if silicone, set on wire racks and then on cookie sheets; A disposable pastry bag fitted with a ⅜ or ½ inch round pastry tube; A pastry brush; Two 17 by 14 inch cookie sheets lined with plastic wrap and then lightly coated with nonstick cooking spray
*
INGREDIENTS
Batter
Makes: 455 grams (474 with the poppy seeds)
unsalted butter (120 grams • 8½ tablespoons plus 2 teaspoons)
2 large eggs (100 grams • ⅓ cup plus 1 tablespoon (94 ml))
pure vanilla extract (1 teaspoon (5 ml))
lemon zest, finely grated from 2 lemons (4 grams • 2 teaspoons (loosely packed))
milk (30 grams • 2 tablespoons (30 ml))
bleached cake flour (100 grams • 1 cup (sifted into the cup and leveled off))
sugar, preferably superfine (100 grams • ½ cup)
baking powder, preferably an aluminum-free variety (2.2 grams • ½ teaspoon)
fine sea salt (¼ teaspoon)
poppy seeds, black or white (optional) (19 grams • 2 tablespoons)
Lemon Syrup
Makes: 95 grams • about ⅓ cup / 79 ml
sugar (50 grams • ¼ cup)
lemon juice, freshly squeezed and strained, see: 2 large lemons from above (3 tablespoons (45 ml))
*
PREHEAT THE OVEN
Twenty minutes or longer before baking, set oven racks in the upper and lower thirds of the oven. Set the oven at 350°F / 175°C.
MISE EN PLACE
Thirty minutes to 1 hour ahead, cut the butter into tablespoon-size pieces. Set on the counter to soften.
Thirty minutes ahead, into a 1 cup / 237 ml glass measure with a spout, weigh or measure the eggs. Whisk in the vanilla extract. Cover tightly with plastic wrap and set on the counter.
Wash the lemons with dishwashing liquid, rinse, and dry before zesting. Finely grate the lemon zest.
Freeze any extra for future use.
Reserve the lemons for the lemon syrup.
MAKE THE BATTER
1. Add the milk to the egg mixture and whisk it.
2. In the bowl of a stand mixer fitted with the flat beater, mix the flour, sugar, baking powder, salt, lemon zest, and optional poppy seeds on low speed for 30 seconds.
3. Add the butter and half the egg mixture and mix until the dry ingredients are moistened. Raise the speed to medium and beat for 1 minute. Scrape down the sides of the bowl.
4. With the mixer off between additions, add the remaining egg mixture in two parts. Beat after each addition, starting on medium-low speed and gradually raising the speed to medium, then beating on medium speed for 30 seconds, to incorporate the ingredients and strengthen the structure. Scrape down the sides of the bowl.
PIPE THE BATTER INTO THE MOLDS
5. Fill the prepared pastry bag about three-quarters full with the batter. Pipe the batter into the molds, filling them about three-quarters full (4 grams for each mini mold cavity, 16 grams for each large cavity). There is no need to smooth the batter. Refill the bag as needed.
BAKE THE MADELEINES
6. Bake mini madeleines for 10 to 12 minutes, large ones for 14 to 15 minutes, or until a wooden toothpick inserted near the centers comes out completely clean and the madeleines spring back when pressed lightly in the centers. While they are baking, make the lemon syrup.
MAKE THE LEMON SYRUP
7. In a 1 cup / 237 ml glass measure with a spout, stir together the sugar and lemon juice. Heat in the microwave just until the sugar is dissolved. (Or use a small saucepan over medium heat.)
BRUSH THE MADELEINES WITH SYRUP, UNMOLD, AND COOL
8. As soon as the madeleines come out of the oven, place the pans on a rack, poke the madeleines all over with a wire cake tester, and brush with about one third of the syrup.
9. If using silicone molds, use your fingers to push the madeleines up and out of the mold from underneath and invert onto the prepared cookie sheets. If using metal molds, use a toothpick or pin to carefully dislodge them from the molds and then invert them onto the prepared cookie sheets.
10. Brush the madeleines with the remaining syrup and allow them to cool completely. (The syrup distributes most evenly when allowed to sit for about 2 hours.)
STORE
Airtight in a single layer: room temperature, 3 days; refrigerated, 5 days; frozen, 3 months.
*
BAKING GEMS
• Use superfine sugar for the finest texture.
• After coating the molds with the baking spray with flour, use a pastry brush to brush out any excess spray to prevent air bubbles from forming in the fluted tops of the madeleines.
• If you do not have enough molds to bake all the madeleines soon after making the batter, chill the extra batter in the refrigerator until ready to use.
• Be sure to use a wooden toothpick to test for doneness. The madeleines will spring back when pressed lightly in the center even before they are done.
_______________________________________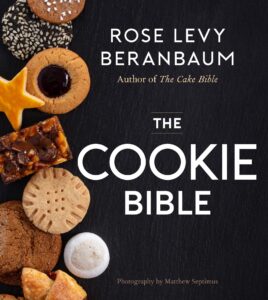 The Cookie Bible by Rose Levy Beranbaum is available from Harvest Books
---