Ronald Reagan Presided Over 89,343 Deaths to AIDS and Did Nothing
Walt Odets on the First Years of the AIDS Epidemic and the Stigmatization of Gay Men
Ronald Reagan has a lot to account for: the early AIDS epidemic unleashed more stigmatization of gay men than any other event in the history of gay life in America, and Ronald Reagan presided as president over the first seven years of that slaughter. Three years into the epidemic, we had already seen 7,239 reported AIDS cases and 5,596 deaths. In that year, Larry Speakes, the acting White House press secretary, held a telling press briefing on December 11, 1984. A reporter, Lester Kinsolving, who had for two years raised questions about the epidemic and been consistently rebuffed by Speakes, tried again.
The press secretary and other journalists were apparently amused by his persistence:
Speakes: Lester's beginning to circle now. He's moving in front. [Laughter] Go ahead.
Reporter: Since the Centers for Disease Control in Atlanta— [laughter]—reports—
Speakes: This is going to be an AIDS question.
Reporter: —that an estimated—
Speakes: You were close.
Reporter: Well, look, could I ask the question, Larry?
Speakes: You were close.
Reporter: An estimated 300,000 people have been exposed to AIDS, which can be transmitted through saliva. Will the president, as commander in chief, take steps to protect armed forces food and medical services from AIDS patients or those who run the risk of spreading AIDS in the same manner that they forbid typhoid fever people from being involved in the health or food services?
Speakes: I don't know.
Reporter: Could you—is the president concerned about this subject, Larry—
Speakes: I haven't heard him express—
Reporter: —that seems to have evoked so much jocular—
Speakes: —concern.
Reporter: —reaction here? You know—
Speakes: It isn't only the jocks, Lester. . . .
Reporter: No, but, I mean, is he going to do anything, Larry?
Speakes: Lester, I have not heard him express anything on it. Sorry.
Reporter: You mean he has no—expressed no opinion about this epidemic?
Speakes: No, but I must confess I haven't asked him about it. [Laughter]
Reporter: Would you ask him, Larry?
Speakes: Have you been checked [for HIV]? [Laughter]
Although HIV was discovered in 1983, Speaks was apparently unaware that in late 1984 we did not yet have a badly needed lab test available for HIV. The ELISA HIV antibody test would become widely available the following year.
Two years after this press briefing—five and a half years into the epidemic—we had accumulated 28,712 reported AIDS cases, 24,559 deaths, and the almost-certain probability of hundreds of thousands of existing infections that had not yet manifested as clinical AIDS. The president of the United States had still not publicly uttered a single word on the subject.
In 1985, Harvey V. Fineberg, dean of the Harvard School of Public Health, said publicly, "Bisexual men and prostitutes who are drug addicts are spreading the virus to the general population."
Dr. Fineberg warned that "the college coed and her boyfriend, who experimented two years previously with a prostitute," from whom the man may have contracted the infection, may both be carrying and spreading the virus. Everyone who has multiple sexual contacts in a city such as New York, where there is a high incidence of AIDS, he said, "is now at some small and growing risk of contracting AIDS."
The New York Times article that reported Fineberg's presentation did not clarify the meaning of "general population," and it did not question why gay men, African-Americans, and intravenous drug users (IVDUs) were not considered part of it. The article was headlined "Panel Disagrees over AIDS Risk for Public." The Times apparently did not consider gay men, African-Americans, and IVDUs part of the American "public."
In late October 1986, the National Academy of Sciences, the most prestigious science organization in the United States, released a report. Dr. David Baltimore of the Massachusetts Institute of Technology, cochairman of the report committee, said at a news conference in Washington that the academy was "quite honestly frightened by the AIDS virus's potential to spread. This is a national health crisis . . . of a magnitude that requires presidential leadership to bring together all elements of society to deal with the problem." By the end of his presidency in 1989, Reagan had done nothing of substance, and the United States had suffered 89,343 deaths. The death rate was still rapidly rising, and more than 300,000 would be dead before the epidemic came under better control seven years later. Stigma had triumphed, and the death toll of young gay men was the fruit of its labor.
_____________________________________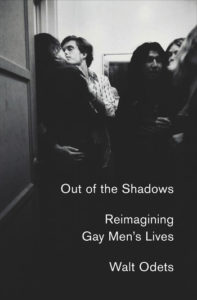 Excerpted from Out of the Shadows: Reimagining Gay Men's Lives by Walt Odets. Published by Farrar, Straus and Giroux June 4th 2019. Copyright © 2019 by Walt Whitman Odets. All rights reserved.
---