Romance Novels for Hot-Everybody Summer
Erin Flanagan on the Diversity of an Often Disparaged Genre
Online culture has moved past "hot girl summer" and people are going full throttle on hot-everybody summer. If ever there was a year to forgo the typical beach reads in favor of sexy romance novels, this is it.
Before the start of the pandemic, I hadn't picked up a romance novel in almost 35 years. I used to read them in my closet so my mother wouldn't find out. I was too embarrassed to check them out at my small-town library, so the ones I could get my hands on were pilfered by my friend from her grandmother. They were period romances that starred ship captains and promoted colonialism and employed the forced seduction trope that I wouldn't realize until much later bordered on rape. They were populated with white characters written by white writers, and for too long these things were all I thought romance had to offer. As I grew from a voracious closet reader to a more discerning, snobby one, I wondered what great literature could be found in a genre where the predetermined ending was always a happily-ever-after.
Well, shame on me.
This summer especially, I would like happiness served with a side of guarantee. In addition to the pandemic, in the last year, we've witnessed the murders of Black people at the hands of cops, the National Guard deployed against citizens, and an attempted coup on the Capitol following a very contentious election. Not only am I ready for a happy ending, I'm ready to see people have agency over their choices, leading full and complicated lives that aren't defined by identity markers but enhanced by them. I'm ready for consent to be hot and condoms a given.
A lot of contemporary romance features characters who are diverse in race, class, body types, ages, abilities, genders, and sexualities, and while they're up against some plot points that make life tough, these are struggles that they overcome. Knowing these people will not only survive but thrive isn't the bug of this genre, it's the main event.
The romance genre has a long history of racism, leading hundreds of authors to boycott the Romance Writers Association's 2020 RITA Awards, yet there are many marginalized romance authors producing exceptional work. Their books showcase underrepresented characters who are living their best lives, pushing back against systems—much like the authors themselves—and demanding their voices be heard. You can find it all in romance: the concept of joy is not exclusive to one demographic. Plus, the writing is lively, smart, sensual, and often hilarious. And hot. Like, hot-hot.
So, if you're new to romance, no worries—we were all virgins at one time or another. Here's a list to get you started.
*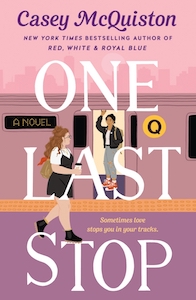 Casey McQuiston, One Last Stop
One Last Stop by queer writer Casey McQuiston features anxious college student and amateur sleuth August Landry who has instant heart-eyes for Jane Su, and while many relationships face nearly impossible obstacles, imagine having to overcome time and space with a woman displaced on the Q train since the 70s. McQuiston weaves in heart-thumping music, Strawberry Milkshake Pop-Tarts, LGBTQ+ American history from the last 60 years, and a queer ensemble cast who loves fiercely and openly as they celebrate joy and acceptance with their found families.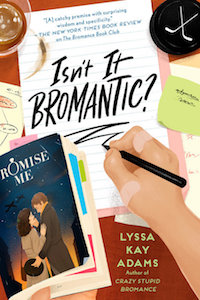 Lyssa Kay Adams, Isn't It Bromantic?
Isn't It Bromantic? by Lyssa Kay Adams is the fourth installment in the Bromance Book Club series, featuring a book club comprised of hot men who discuss romance novels ("the manuals") in order to become better partners, communicators, and lovers. Adams goes old-school with the romantic tropes, using the marriage-of-convenience (popular in historical romance novels) in this contemporary story about two childhood friends from Russia—now a professional hockey player with Irritable Bowel Syndrome and a journalist—who were able to escape the old world but won't be able to escape their feels and hormones.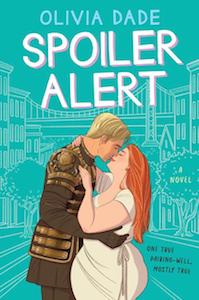 Olivia Dade, Spoiler Alert
In Olivia Dade's Spoiler Alert, a picture goes viral of April Whittier, a plus-size hottie and fanfiction writer, cosplaying as her favorite character Lavinia. Marcus Caster-Rupp, the real-life actor who plays Lavinia's love interest on TV, leaps in to fight back against the trolls and asks her on a date. Turns out Marcus also writes fanfiction and has a relationship with April in the virtual fanfic world (not that he can tell her that), and holy smokes, wouldn't you know it, they've got chemistry online, IRL, and in between the sheets.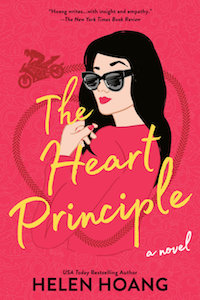 Helen Hoang, The Heart Principle
The Heart Principle by Vietnamese American writer Helen Hoang opens as Anna Sun's boyfriend informs her they're moving to an open relationship, and Anna decides a one-night stand seems like the perfect revenge. Quan Diep is looking for a similar no-strings-deal to get back in the saddle after a cancer diagnosis and surgery leave him feeling less confident as a man. Anna's diagnosis of autism with low support needs, along with Quan's strong male friendships, help this couple address their intimacy issues as well as end-of-life matters for a member of Anna's family. Both Anna and Quan find their voices and learn to ask for what they want and deserve. Hoang's portrayal of autism is rooted in personal experience; the author was diagnosed with Asperger's syndrome at 34.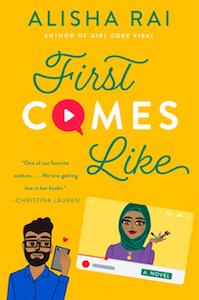 Alisha Rai, First Comes Like
First Comes Like by South Asian American author Alisha Rai is the third book in her Modern Love series. Actor Dev Dixit has been sliding into beauty influencer Jia Ahmed's DMs for months, but when she gathers the courage to meet him, she realizes she's been catfished. Through the slowest of slow burns, Dev and Jia begin a faux relationship to satisfy her parents after they're caught in a suggestive photo by the paparazzi. Surprisingly, a real relationship begins as they tread the waters of their attraction and work to bridge the cultural divides between her Pakistani American upbringing and his legendary Bollywood family. This book is a great toe-dipper if you're not quite ready for anything throbbing or heaving.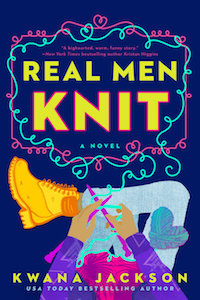 Kwana Jackson, Real Men Knit
Kwana Jackson, a Black author born and raised in Harlem, introduces us to the Strong brothers in Real Men Knit. Mama Joy Strong is the backbone of her Harlem neighborhood, but when she dies, she leaves behind four grieving adopted sons as well as a fledgling yarn shop. Jesse wants to prove he's more than just the youngest brother and a ladies' man by saving the shop and preserving their mom's legacy. Jesse hopes he can pull off more than just a grand re-opening of Strong Knits with the help of Kerry Fuller, who has worked part-time at the shop since she was a teen and first started crushing on Jesse.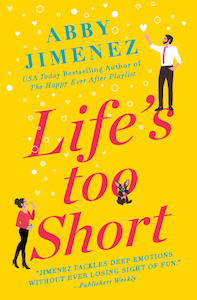 Abby Jimenez, Life's Too Short
In Abby Jimenez's Life's Too Short, Vanessa Price, a popular travel vlogger who's perfected living in the moment, is docked at home with temporary guardianship of her sister's baby when next-door neighbor and high-profile lawyer Adrian Copeland shows up as a baby whisperer. It also doesn't hurt that he's all kinds of hunky. Vanessa has a 50 percent chance of inheriting ALS through the maternal line—a disease that's quick moving with no known cure. This seemingly mismatched pair has to learn how to negotiate measuring the quality of a life in minutes, and moments when a future is never promised.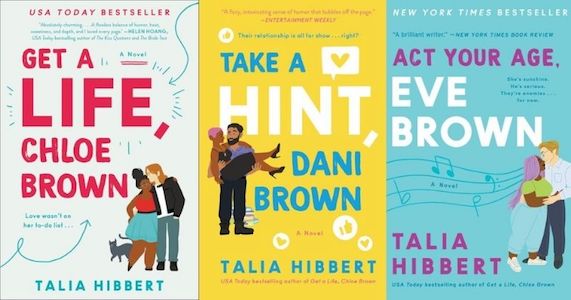 Talia Hibbert, Get a Life, Chole Brown
Get a Life, Chloe Brown by Talia Hibbert is a little older (released in 2019), but the entire Brown trilogy is such a delight, so I beg of you, start at the beginning. Hibbert has a long history of writing diverse characters and "was raised in a family with multiple cultural heritages," with a mother who is half Roma and half Sierra Leone, and a Jamaican father. In the first book, Chloe has a larger body, fibromyalgia, and a great case of the reciprocal hornies for her superintendent, Red.
This is followed by Take a Hint, Dani Brown, where a bisexual academic who's looking for a friend-with-benefits and a former rugby star who helps boys avoid the trap of toxic masculinity enter into a quid-pro-quo that's more than they bargained for.
Finally, there's Act Your Age, Eve Brown, which features a hot mess, a control freak, two romantic leads who are on the autism spectrum, and an enemies-to-lovers story that will make you melt. I only wish their parents had been hornier and had more daughters.
---