Roddy Doyle on Writing: Start With Quantity, Worry About Quality Later
The Author of Love Answers a Few Questions From Lockdown
Roddy Doyle's new novel, Love, is available now from Viking, so we thought we'd ask him a few questions about writing, favorite books, and ideal readers.
*
What time of day do you write?
I write from about 9am to 6pm, Monday to Friday. When I started writing fulltime, I had children to get to school and the same children to feed and entertain and get to bed later in the day, so it made sense to fit in with the family routine. It still does, even though the routine is a different thing these days. I'm not as strict with the time. Actually, I'm a lot less strict with the time. This is probably the last sentence I'll write today, and it's 10:42 am. Today, the permitted distance I can walk from my home has gone from 2k to 5k. The excitement is killing me. I'm going to walk past locked-up shops and pubs I haven't seen in almost two months.
How do you tackle writers block?
I've never suffered from writer's block. I've often felt that what I'm writing is of no value but I've forced myself to keep writing, to measure the day in quantity—the amount of words—and worry about the quality of the words later. Quite often, when editing what I thought was useless, I realize that it wasn't so bad after all—or some of it, at least. There was once, about seven years ago, when I thought I'd run out of things to write. It was distressing, but it wasn't writer's block; it was a different kind of crisis.
Who do you most wish would read your book? (Your boss, your childhood bully, Michelle Obama?)
The people I wish would read the book are, unfortunately, dead. I don't have a boss, I wasn't bullied when I was a child, so that leaves Michelle Obama. I'd be content enough if any of the wider Obama clan read the book, or—actually—if anyone at all read it. I don't know why, but the idea of Sean Spicer reading the book makes me grin.
What do you always want to talk about in interviews but never get to?
I can't recall ever feeling robbed of the opportunity to speak after an interview is over. I don't think I've ever said "Yes" to the question, "Is there anything else you'd like to say?"
Which book(s) do you return to again and again?
At Swim-Two-Birds, by Flann O'Brien. Reading it the first time, when I was sixteen, was the most extraordinary experience—seeing the place and, more importantly, the accent, the Dublin voices, I'd grown up listening to, captured on paper; so accurate and so funny. When I read it again, maybe five years later, it was to see what exactly O'Brien had got away with, and how he'd done it. Now I read it every couple of years, to laugh and admire. I read and re-read Dickens, because he's so wonderful. I read David Copperfield when I was a young man. I read it again recently; it's still brilliant but reading it was a very different experience.
Which non-literary piece of culture—film, tv show, painting, song—could you not imagine your life without?
Life without music doesn't seem feasible. In these days of lockdown, I feel more grateful to musicians and composers than any at time in my life since I was a teenager. I'm watching TV series and it's fun but I need my daily blast of the Unthanks singing "The Father's Song," or Dylan's "Murder Most Foul," or Kyle Bobby Dunn's From Here to Eternity.
What's the best writing advice you've ever received?
Be kind to yourself; start with quantity and worry about the quality later. It's advice I gave to myself about twenty years. I was in a pub in Dublin, alone, because my drinking pal had missed the bus. If he missed the bus more often, I'd be able to write a book about how to write.
What was the first book you fell in love with?
I think it probably Just William, by Richmal Crompton. It's set in suburban England and was written after the First World War, but the moral and physical worlds of boys, and the glorious stupidity of adults, were very familiar. It felt like my book. I read again recently; it's still great.
Name a classic you feel guilty about never having read?
I don't feel guilty about not having read any book. I haven't read Proust and probably never will, but—honestly—I couldn't give a fuck. I read Crime and Punishment on my honeymoon, and I don't feel guilty about that either.
Is there a book you wish you had written?
I think the last time I had that wish was when I read Catch 22, when I was 17. The next time I read a great book—I think it might have been E.L. Doctorow's Ragtime—my wish was that I could write something like it.
_________________________________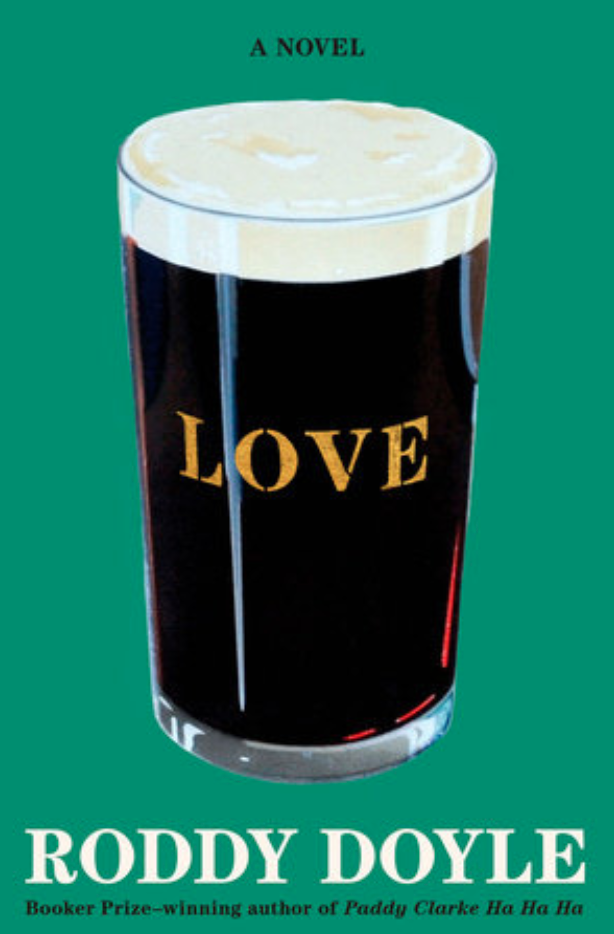 Roddy Doyle's Love is available now from Viking.
---