Keeper of the lost words and defender of the trees Robert Macfarlane has released a poster of his poem "Heartwood" into the wild in the hopes that people will use it to support land preservation. In an Instagram post, he encourages its use by anyone who happens to be "defending trees, woods or forests from unjust felling." Perhaps you want to put it on your wall, perhaps you want to sing it outside of your local council, or perhaps you might use it as a "charm against harm," Macfarlane suggests.
"Heartwood" was written for the people (and trees) of Sheffield in 2018 when the city was logging public spaces, and has enjoyed a second life as a rallying cry of for those participating in the age-old battle to preserve the wilds, translated into Tamil, Dutch, and Mandarin, among other languages. The linocut used in the Heartwood poster is by artist Nick Hayes (The Book of Trespass). You can download a high-resolution JPEG here and use without credit, if your cause is just!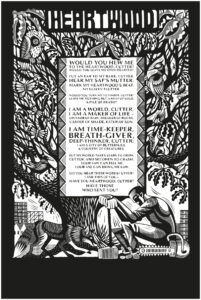 Macfarlane's Wild Places documented the many unspoiled lands within the United Kingdom, a place long imagined to be one big manicured lawn party. His other books, including The Lost Words and Landmarks each attempt to hold onto the very thin string connecting humans to the land.
You can also contribute to his "anthology" of protest poems if you, too, love the trees. Words against axes!