Remembering the Marine Workers Who Ferried New Yorkers to Safety on 9/11
Jessica DuLong on Making History in New York Harbor
Manhattan is an island. Never was that clearer than on September 11, 2001, when people fleeing the World Trade Center towers ran until they ran out of land.
The first transportation shutdowns—on a day when all bridges and tunnels connecting Manhattan to the rest of the world wound up closed—began one minute after the first plane hit. Initially, many thought the aircraft was a small plane, the collision a terrible accident. Even in that case, ferry crews knew their boats would provide necessary transport. That crash was, actually, of course, the first strike of the deadliest terrorist attack on U.S. soil.
Within minutes, mariners began marshalling spontaneously along Manhattan's shores. That day, crews aboard dinner boats, sightseeing vessels, sailing yachts, fishing fleets, tugs, and workboats of all kinds collaborated to rescue nearly half a million people. This entirely unplanned boat lift would become the largest-ever waterborne evacuation.
When I arrived at Ground Zero on September 12, I didn't grasp that this history had been made in New York harbor. By then, vessels lining the seawall had shifted gears from ferrying people to running supplies and other critical support operations. I focused on my duties as engineer aboard retired 1931 New York City fireboat John J. Harvey, the former FDNY pumping vessel that had been called back into service the day before to help fight New York City's most devastating fires. We supplied water to land-based firefighters for 80 hours after the towers collapsed.
Somehow, in the sea of reporting that followed the 9/11 attacks, the scale, scope, and success of the maritime evacuation went unrecognized. Still, two decades later, remarkably few people know this history.
*
The shushing noise reminded marine engineer Gulmar Parga of crystal shattering. "Like a giant chandelier … It was all the glass breaking." Together, the twin towers contained 43,600 windows and more than 600,000 square feet of glass. The sound of its fracture reached Parga as he stood about a thousand feet away on the deck of fireboat John D. McKean. A split-second earlier, Parga had heard what sounded like a series of explosions. "The floors were collapsing: Boom! Boom! Boom! Boom!" From where the boat was tied up along the seawall just south of North Cove, it looked to Parga like a string of dynamite had been rigged to blow up each level of 2 World Trade Center in rapid succession.
The rise and fall of the tides played a key role in the fates of people who ran until they'd run out of land.
A career firefighter, Parga still grimaces at the recollection of his first thought when he grasped that the tower was falling. "The feeling of guilt was instant, but I felt like, I'm glad I'm not under it. You know what I mean? I was out there on the water and it was collapsing and I knew all my friends were dying in there … they were dying and I thought, I'm glad I'm not under it."
He watched a colossal dust cloud rise up from where the tower once stood. "Like a nuclear explosion, it's spiraling and spiraling and coming closer and closer to us."
Scientists have since calculated the energy released in the collapse as equal to about 1 percent of a nuclear bomb. Because energy cannot be destroyed, only transformed, the work that construction crews had put into building the 1,350-foot tower (lifting sections of wall, pouring concrete, bolting steel) had been stock-piled in the South Tower for three decades. When the 500,000-ton mass—all that steel, all that concrete, the contents of nearly 5 million square feet of office space, including people—came down, it released 278 megawatt hours of potential energy—enough power to supply all the homes in Atlanta or Oakland for an hour.
Seconds later, the wall of dust and debris descended upon the boat. Parga dropped to his hands and knees. "Whoosh, it went from daytime to nighttime. It got dark instantly and you couldn't breathe. I could only describe it like sticking your head in a bag of sawdust and shaking it and trying to breathe. You imagine all that grit and everything going in?" Parga waited to die. Instead of sawdust, Parga, like so many hundreds of thousands of people caught in the cloud, was actually breathing in asbestos, lead, glass, heavy metals, concrete, poisonous gases, oil, and exploded jet fuel, as well as the pulverized contents of hundreds of offices, including humans. A few choking breaths later, Parga realized the cloud had not killed him. He found he could actually manage to take in some air.
Gritty, gray sediment mantled every surface in the plaza around North Cove, from the tree leaves, bench slats, and paving stones to the lampposts and railings at the seawall. Thousands upon thousands of bits of paper tumbled softly through the drifts—documents depicting daily stock trades alongside mementos of individuals' most meaningful moments. One sheet displayed a blur of crunched numbers and corporate acronyms. Another held a newborn's tiny inked footprints. But amid the maelstrom of fear that accompanied the onslaught of debris, these details went largely unnoticed.
The plaza had devolved into utter panic. For many people caught up in the cloud, the impulse to flee overshadowed rational thought. And when they invited peril by jumping, onto the boat or into the water, the crew of fireboat John D. McKean did their utmost to try to help them.
Technically speaking, the Hudson is not a river, but a tidal estuary wherein fresh mountain water from its source—Lake Tear of the Clouds, sitting atop Mount Marcy, which is New York State's highest peak—mixes with saltwater from the sea. On its journey to New York harbor, the Hudson travels 315 miles and drops 4,322 feet in elevation. Long before it was named after explorer Henry Hudson, the river was called by its Algonquian name Muhheahkunnuk, meaning great waters constantly in motion, either ebbing or flowing. For half of each day, the Hudson acts like a river, flowing downstream. But every six hours the water switches direction as Atlantic seawater rushes upstream, raising the water level an average of 4.6 feet during the flood tide before the ebb tide drains it back down. Though few people except mariners usually give them much thought, the rise and fall of the tides played a key role in the fates of people who ran until they'd run out of land.
Low water at the Battery had come at 8:50 that morning. The outflow of the ebb tide had left a drop between the seawall surrounding North Cove and the river's surface of five to seven feet. The steep swoop of fireboat McKean's bow lined it up almost flush with the top of the wall, but left a farther drop at the stern. When the dust cloud descended, people spilled over the wall onto the boat. As quickly as they could, the crew scrambled to set up the three ladders they had aboard to receive them. But the ladders weren't enough.
"We're starboard-side-to, facing north, and I'm helping everybody I can within my scope," recalled Parga. "They're climbing over the railing. They're handing everything over the railing down to us. … All the people are jumping on the boat on the bow, and they're jumping on the stern. And I can't stop them."
One middle-aged woman stood outside the railing atop the seawall, calling down to the crew. "Help me. Help me!" she cried as she lined herself up to leap onto the deck.
The harbor was filled with ferries, NYPD harbor launches, and other vessels running around at top speeds.
"Wait. Don't jump. Wait!" urged the firefighters as they quickly assembled to try to break her fall. "So we got two guys," said Parga. "'Okay, jump!' And she'd land on top of you, knock you down. And then we'd get up and help the next person: 'One, two, three, jump!'"
When they spotted a man in a wheelchair at the railing, several firefighters worked to carry him and his chair aboard. Another man stood above the stern, poised to jump. "Don't jump," yelled Parga. "Wait! Don't jump!" But he didn't wait. When the man's foot hit the steel deck, his leg snapped at the shin. He howled, but Parga couldn't stop to attend to him while people kept pouring over the side. "He had to stay there and scream."
Some panicked evacuees began untying the mooring lines until the crew stopped them. "We can't untie the boat. We've got more people," urged pilot Jim Campanelli. Then he continued hollering reassurances to the people atop the seawall. "We'll get you out of here," he said. "We're not gonna leave anybody back." Within minutes nearly 200 people had boarded, a number of them sustaining severe injuries.
*
The longstanding tradition of mariners assisting those in peril is as ancient as seafaring itself. Stemming from a moral duty rooted in pragmatism about the implicit dangers of nautical life, the obligation was signed into U.S. admiralty law in the aftermath of the April 15, 1912, sinking of the RMS Titanic. Codified as 46 U.S.C. section 2304, the law provides: "A master or individual in charge of a vessel shall render assistance to any individual found at sea in danger of being lost, so far as the master or individual in charge can do so without serious danger to the master's or individual's vessel or individuals on board." Failure to comply is grounds for criminal sanctions.
This rule, however, did not apply to the situation in Manhattan on September 11. At least not technically speaking in most cases. But that didn't stop the boatmen and boatwomen from New York harbor and beyond from feeling compelled. At stake were notions of identity, of mariners' acclimatization to taking and mitigating risks, of professional honor. Mariners interviewed in the aftermath of the attacks did not talk of choosing to help. Instead, without planning or protocols, many undertook the evacuation out of a sense of duty, unquestioningly, applying to this land-based calamity their mandate from the laws of the sea. The compulsion to rescue, stitched into the fabric of nautical tradition, propelled mariners into action, as did the sense, for many, of New York harbor—waterfront included—as "home."
Staten Island Ferry Captain James Parese was sprinting across the upper deck of Samuel I. Newhouse when all at once the air turned "a very weird color, like a greenish gray." He'd been preparing to pull the orange ferryboat away from the slip at the southern tip of Manhattan when a blanket of gypsum dust, smoke, and ash blotted out the sun. The 6,000-passenger ferryboat, one of the highest passenger capacity vessels in the world, was filled with people desperate to evacuate the island—some panicked and crying, some bleeding, some with no shoes—and now they scrambled for life preservers, thinking the boat was on fire. It was one minute before 10 a.m. The South Tower had just collapsed.
Parese's eyes and throat started to burn. "I remember looking out towards Jersey and I couldn't see anything." For a moment he questioned the decision he'd made earlier that morning to set out on this rescue mission from the safety of Staten Island. But when pieces of white plastic began drifting down from the sky, it reminded him of snow. He felt suddenly serene.
"You know when you're a kid and you're walking in that gentle snow and it's very quiet and peaceful? That's kind of what it brought me back to. … I was completely calm at that point. … All I could do was focus." As the captain steered the 300-foot, 3,335-ton ferry into a harbor crowded with other vessels—navigating by radar with zero visibility—the lives of thousands of distraught passengers depended on that focus. Parese drew upon decades of experience as a mariner, a profession where the notion that panic leads to peril is as deeply ingrained as the tradition of helping those in need. He delivered his passengers to safety on Staten Island, then returned, time and time again, to Manhattan to pick up still more.
*
One minute before ten o'clock, dinner-boat captain Jerry Grandinetti, had just stepped inside the VIP Yacht Cruises office when he heard what sounded like a third explosion. He slammed the door behind him. "The world went black," he explained. "And I mean totally black." He and another guy in the office quickly set about shutting off the air conditioners to make sure that whatever was outside didn't get sucked in.
A few moments later, when the blackness faded to a hazy gray, Grandinetti went back out and started walking east toward the trade center. The whole area was blanketed with half a foot of ashy powder and littered with metal and other debris. Grandinetti could see 20 to 30 feet in front of him, but he couldn't see up at all.
So while millions of people around the world had watched the South Tower collapse, Grandinetti had no inkling that it had fallen. The same was true for countless others who were closest to the unfolding disaster. Even people still in Tower One, both rescuers and civilians, didn't know the other building was down. The very idea was beyond conception, and little reliable information penetrated from the outside world.
At the foot of Gateway Plaza, Grandinetti watched a handful of dazed people wander west toward the water. Then two firefighters emerged from the fog carrying a third who was unconscious. Grandinetti guided them to the office where they laid the man on a table. Beyond that they exchanged few words. Shocked silence and stoicism steered their interaction.
Grandinetti did the only thing he could think of. He grabbed a case of water from the supply closet to hand to people on the street. As he reached the north side of North Cove, two other firefighters intercepted him. "Can you get that dinghy running?" they asked, referring to the yacht company's 20-foot inflatable Zodiac. They asked if he could run them south near the tip of Manhattan so they could meet up with their fire company. "Let's go," Grandinetti replied.
The dinner-boat captain insists he hadn't been "looking for stuff to do" to help in that moment. But once asked he agreed with no second thought. "I just knew I had the ability." So he welcomed the firefighters aboard the dust-covered, "center-console, big-engine, way-too-fast" rigid inflatable and headed south. Nearing the Battery, Grandinetti popped the boat into reverse to slow his approach into the slip at an unused ferry terminal. Then the engine stalled.
There was no mistaking the heart-sinking lurch that had stopped the boat dead in the water. When the Zodiac quit, just feet off the dock where he had intended to drop his passengers, the seasoned boatman recognized instantly what had happened. The braided polypropylene bowline had wrapped itself around the propeller.
By this hour, the harbor was filled with ferries, NYPD harbor launches, and other vessels running around at top speeds. All these boats kicked up even more wake action than usual and now the rigid inflatable bobbed like a bath toy in the three-foot chop. Waves or no waves, Grandinetti had no choice but to hang himself over the stern to try to untangle the rope from the propeller blades. Each time the Zodiac dipped between swells, he got dunked underwater face-first. Down. Up. Down again. As he worked to free the propeller, Grandinetti was dipped repeatedly like a sugar cube in salty Hudson River tea. And still the prop stayed jammed. Finally, line removed, he reached the dock, the firefighters debarked, and Grandinetti pulled out, rounded up, and headed north.
These mariners, and so many others who found ways to help, remind us of our capacities for hope and humanity.
On his trip south, the wind had been at his stern. Now that he was northbound the dust covering the boat kicked up with each new wave, plastering his wet torso, face, and hair. Though he was wearing and breathing in the pulverized remains of a 110-story tower and its occupants, Grandinetti still didn't know that 2 World Trade Center had fallen.
By 3 o'clock that morning he had wound up less than 500 feet from where he'd started in North Cove. He'd captained a dinner boat all day and night—delivering of evacuees off the island, transporting personnel around the harbor, and carrying supplies to the Trade Center site. Now, he sat in the dinner boat's wheelhouse, 400 yards from where the twin towers had stood just that morning. Despite his exhaustion he couldn't settle his mind. I can't sleep, he thought. I can't sleep looking at this red glow.
*
During this fraught, divided moment in our country and our world, we desperately need to highlight examples like these of the bold decency and selfless compassion that consistently rise up out of dark times. As we, rightfully, reckon with the complex, often brutal truths about this nation's history, it's essential that we also remember that goodness is also part of our heritage. On this 20th anniversary of the attacks, these mariners, and so many others who found ways to help, remind us of our capacities for hope and humanity.
__________________________________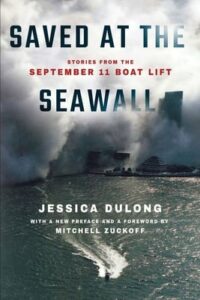 Saved at the Seawall by Jessica DuLong is available via Cornell University Press.
---