How the History of German-Jewish Refugee Soldiers During WWII Shaped My Novel
Ellen Feldman on the Fascinating Story of the Ritchie Boys
The only pleasure that can hold a candle to writing a book is researching it. Both processes tend to yield surprises. During the writing, characters occasionally elbow their way onto to the page and refuse to leave. Research generates a different kind of serendipity.
It's rare to find a new piece of information that professional historians have missed, but while researching my novel Lucy about FDR and Lucy Mercer Rutherfurd, the great love of his life, I unearthed a minor, but thrilling to me, factoid. Most historians date Lucy Mercer Rutherfurd's first visit to the White House, under her secret service code name of Mrs. Johnson, to August, 1941. I discovered a meeting on June 5th of the that year. The difference of several weeks would seem trifling—except for the incidents of the previous evening. After a White House party, Missy LeHand, FDR's girl Friday, political confidante, and intimate friend, suffered a stroke. The next day, after paying a morning visit to Missy, who lay sedated but uncalm in her White House bedroom, FDR proceeded to tea with Lucy in the afternoon.
The seeming callousness of FDR's behavior—both women were deeply in love with him—presented a novelistic challenge. I couldn't whitewash his apparent fickleness, so I had to try to understand its motivation. The loneliness of the presidency is a truism. This incident brought it home in specific terms. FDR had guided the country through the Great Depression and knew that war loomed on the horizon. Despite the grave illness of the woman who had sacrificed her own personal life to spend more than two decades at his side, surely he deserved a cup to tea and an hour of escape with the woman he'd loved in his youth.
More often, new information sends the plot hurtling in new directions. That is exactly what happened when I stumbled across the story of the Ritchie Boys in my research for The Living and the Lost.
Millie and her brother David Mosbach burst into my consciousness with the force and color every writer hopes for, but without the details and experiences that every writer must create. I knew that David would have fled Germany as a boy and returned as a man to fight in the war and help build the peace. Thousands of young men did just that. What I didn't know was that a small group of them—the Ritchie Boys, after Camp Ritchie in Maryland where they trained—played a uniquely heroic role.
As the Nazi menace spread through Germany and other European countries in the 1930s, many Jewish families struggled to flee. But when the vise of immigration quotas and other stipulations tightened and escape became more difficult, some parents decided that if the entire family couldn't get out, one member should be sent to safety. The heart wrenching choice was almost always the eldest son. As Millie muses in the book, "A boy carried on the family name. A boy was by definition more important. A boy was a boy."
These boys, some children, some almost young men, arrived in a strange country alone, not knowing the mores, in some cases not speaking the language. They were often met with suspicion and disdain. The older ones might be German spies. The virulent streak of American anti-Semitism targeted even the youngest. Then the Japanese bombed Pearl Harbor, Germany declared war on the US, and things went from bad to worse. Formerly merely suspect, the boys were now "enemy aliens." Nonetheless, many of them wanted to join the military to fight for their adopted country and against Hitler. Though Congress passed a law permitting them to do so, they were often ostracized and assigned to the worst duties.
"Eisenhower called it a crusade in Europe. It was that. But for us, the German-Jewish refugee soldiers, it was a private crusade. We had to defeat the Nazis."
Then in 1942, the Army realized it was sitting on a gold mine. These "enemy aliens," whom the military and the country at large suspected and shunned, not only spoke the enemy's language, they also understood German customs and psychology. Camp Ritchie, a top-secret camp, second in security only to the Manhattan Project, was set up in rural Maryland to train these young men for intelligence work. (American intelligence had been badly neglected since Secretary of War Henry Stimson had shut down the cryptanalytic office because he said, "Gentlemen don't read each other's mail.") The Ritchie Boys were trained to do more than read German mail. They were immersed in the world they'd fled.
More than one recruit arrived at the camp, as does David in the novel, thinking he's hallucinating when he sees men marching in Wehrmacht uniforms, hears them counting cadence in German, and is asked for his orders in the same language. But after the initial shock, many of them, like David, felt truly at home for the first time in years.
The eight-week training course was mentally challenging and physically punishing. There were mock Nazi propaganda rallies presided over by a Hitler look-alike. There was instruction in, among other skills, Photo Interpretation, Terrain Intelligence, and Interrogation of Prisoners of War. The German-born Ritchie Boys excelled at the last. Americans who were fluent in the language could question the captured Wehrmacht soldiers, but they couldn't disarm them with casual conversations about local sports teams, regional dishes their mothers used to make, or nearby woods where they might have hiked.
Grueling as the training was, life at the camp had its rewards. The recruits tended to be intelligent and informed, and conversation resembled college campus discussions more than barracks badinage. The chow turned out by the camp's head cook, reputed to have been a chef at the Waldorf-Astoria, was said to be the best in the army.
Ritchie Boys formed elite teams in every combat unit in Europe. After the war this small group of men were credited with having provided sixty percent of all actionable combat intelligence on the western front. But their contribution often came at a cost. During training, the men were warned never to let on that they had been born in Germany. The fear was that if captured they would be shot as spies rather than interned as prisoners of war. The consequences of being recognized as a German Jew were even more dire. One Ritchie Boy had the H for Hebrew on his dog tags replaced with a P for Protestant. Others simply threw their tags away, as did many American Jewish GIs going into combat in Europe. The usual explanation the Ritchie Boys made for their fluency in the language and knowledge of the country was German ancestors who had emigrated to America generations earlier. Even so, when two of them were captured, the Wehrmacht officer in charge ignored the Geneva Conventions that stipulated they be treated as prisoners of war and ordered them executed on the spot. "Jews had no right to live in Germany," he announced.
The Ritchie Boys returned to Europe to fight the Nazis, but many had another motive as well. They went in search of parents who had sent them away for their own safety, of younger siblings who had seen them off at the station waving and weeping. Few of them found what they were looking for. Too many families had perished in Nazi death camps.
When the Allies occupied Germany after the war, the prejudice reignited. Once again, thanks to their knowledge and expertise, German-born American GIs were especially effective in helping weed out "former" Nazis to build a new democratic nation. And once again they were often despised by the Germans, and as the occupation went on, shunted aside by the American Army which had found them so useful, for a while.
Almost two thousand German-born Ritchie Boys served in World War II. Their existence and that of the camp remained a closely guarded secret for almost half a century after the war. They weren't allowed to talk about their experiences, but among themselves they remained Ritchie Boys with a special mission and a special pride in having carried it out. As one Ritchie Boy put it, "Eisenhower called it a crusade in Europe. It was that. But for us, the German-Jewish refugee soldiers, it was a private crusade. We had to defeat the Nazis."
The stories of the Ritchie Boys brought me full circle. I had known instinctively the rage David would feel, the conflicts he'd face, the risks he'd take.  The experiences of the men who had lived his fictional life not only provided concrete incidents of David's struggle but enabled me to know more deeply a man I had only imagined.
_______________________________________________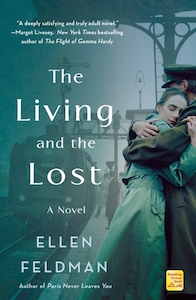 Ellen Feldman's novel The Living and the Lost is available now via St. Martin's Griffin.
---