Relearning How to Connect, Even When It's Inconvenient
Jessica Francis Kane on Showing Up When We Can Again
My husband and I have a shorthand we use for something we miss even if we never had a chance to enjoy it when it was available. "Blue martini," we say, a reference to Adam Gopnick's essay about the particular sadness he felt when a bar in New York City, famous for its blue martinis, closed. As I recall, Gopnick had never been to the bar; he'd never had one of their famous blue drinks. The essay was about the power of knowing he could. As long as the possibility existed, that was enough.
I suspect this is what a lot of us are feeling right now about visiting our friends, especially the far-flung ones. The tools of social media were fine for staying in touch as long as the possibility of a visit was always there. When the pandemic made that possibility disappear, the need for personal connection suddenly felt urgent. In the early weeks of the quarantine, people quickly found ways to gather online, to chat, drink, dance, make music, and more. I, an introvert, have two standing drinks nights and a morning coffee each week with friends. My family, who rarely managed a weekly phone call pre-pandemic, is Zooming every couple of days. All the fear and uncertainty seems to be compelling everyone to connect.
A couple of years ago I wrote a novel about a woman who felt this way, driven not by pandemic restrictions, but personal need. When I was writing the book, I remember worrying the plot might seem far-fetched in an era of social media. Why would anyone spend so much time traveling to visit friends when we have Facebook and FaceTime? Why would a person choose the awkwardness of showing up on a friend's doorstep when she could just schedule a video call instead?
So I worked hard to give May Attaway plausible reasons for needing the in-person contact. Wary of the curated façade of social media, she wants to see her friends in their homes in order to learn how to build her own. Intrigued by the studies that show spending time with friends is as good for our health as exercise or quitting smoking, May wonders why more of us don't heed the advice. Bound to a sad house, she believes she must travel away from it to gain insight. For all these reasons, sitting at her desk connecting over a screen was not going to work for May.
Rules for Visiting came out in hardcover last May and I heard from a lot of readers. The messages ranged from the youthful, "A book about a woman embarking upon an adventure in the name of friendship? Hell yes!" to the more measured "[It's] a timely book, as people, in general seem to not have time or energy for others anymore."
I think the screen overload, the talking to friends in boxes, the overlapping voices, the weird eye contact is wearing thin.
I heard from many who had sent the book to a college friend they hadn't seen in years. Another wrote, "Your book made me think of one of my quirky old friends from when I was a young lawyer…from what seems a lifetime ago… and it inspired me to text her a happy new year wish and invitation to get together." Another wrote, "I gave the book to my dearest friend from high school." And another, "I have sent copies to my sisters, mother, and closest friends. The book has inspired me to be a better friend."
At the end of the summer, at my last in-store book event at the RJ Julia in Middletown, Connecticut, I met a woman who brought the whole project full-circle in a way. She had not read my novel, but the plot description intrigued her. Why? Less than a month earlier she had decided to take early retirement from her job and spend a year visiting her friends. She was set to leave on her first visit in a few weeks time and thought she'd read my book. If she liked it, she'd leave it for her friend, then buy another for the next friend. I must admit I hope she liked it. The idea of a string of copies of Rules for Visiting being given in this way seems divine.
Time passed, and then just before May was heading out again, this time in paperback this spring, the world changed. The pandemic arrived and now the very thing I'd worked hard to make seem desirable is the very thing we can't do: travel to spend real time with friends. Out of necessity we are sinking back into our screens for connection and comfort, and certainly this is better than nothing at the moment, but I don't believe it will change the nature of friendship as some articles have suggested. I think the screen overload, the talking to friends in boxes, the overlapping voices, the weird eye contact is wearing thin. I think we are all regretting the blue martini.
In words I wish I'd written, words that capture exactly why I made May go on her visits, Lauren Collins wrote in an essay about grieving her father's death from afar, "Conversation is only a part of companionship. It's hard to just be when you're on a call, hard to see when you're constantly looking."
May walked away from the screen and showed up. When the sheltering ends, we should all do the same.
__________________________________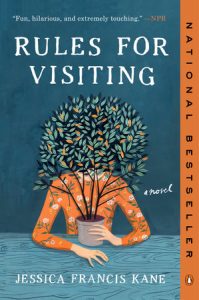 Rules for Visiting by Jessica Francis Kane is available via Penguin Press.
---