Redefining the Modern Flâneuse: A Reading List
Kavita Bedford Recommends Work By Valeria Luiselli, Olivia Laing, and More
Solitary walking is where many writers—Baudelaire, Benjamin, Wordsworth, Thoreau—did much of their most important thinking and composing. When I first thought of writing a novel, I wanted to emulate those long walks from literature but in the landscape of the suburbs of my home city, Sydney, and to flaunt its geography, history, and varied cast of passers-by.
It wasn't until I started that I truly began to understand the tradition of the flâneur novel and to see it through a slightly different lens. Flâneurs, most often were men. Flâneurs were white. And while I adored these novels, I felt limited by the scope they afforded both my reality and imagination. I wanted to read books that described their authors' love of cities, meandering, and philosophy from different viewpoints that included a diversity of age, race, and gender.
What follows is not a list of classic flâneur novels, but rather a selection of books that by their very nature question the subgenre. These are books that, for me, opened up new perspectives on the ways we navigate, imagine, and occupy streets and cities.
Bryan Washington, Lot
(Riverhead Books)
This honest, punchy writing from Washington serves as a wake-up call. Lot showed me that the pace of the sauntering flâneur must change depending on the needs of who is doing the narrating and that it is possible to write about cities with a brutal immediacy. Washington explores the temporary, uncertain existences of those who live in the margins of different districts in Houston. He offers queer perspectives on place and what makes a community, a family, and a life.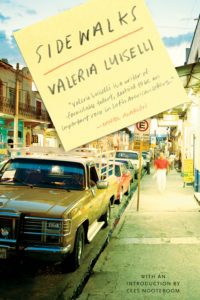 Valeria Luiselli, Sidewalks
(Coffee House Press)
Luiselli is searching for the grave of the poet Joseph Brodsky in the cemetery of San Michele in Venice. The book follows the roaming essayist on her search, moving from the graveyards of Venice to the "relingos," forgotten lots, of Mexico City, and onward to New York, in apartments filled with memorabilia and relics. Reading Lusielli, I fell in love with the way her sharp thoughts meander along pathways and cities as they move between English, Spanish and, in a short essay exploring saudade, Portuguese. She offers a way into thinking about the private and public excavation of histories and places that is steeped in nostalgia and melancholy.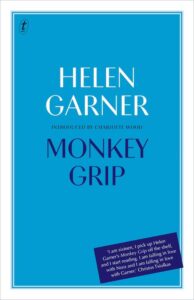 Helen Garner, Monkey Grip
(Text Publishing)
This semi-autobiographical novel follows Nora, a 33-year-old single mother who lives with her friends and lovers in a shared house during the 1970s in Australia, with the countercultural revolution in full swing. Nora rides her bicycle around the inner-city suburbs of North Melbourne, including Carlton, Fitzroy, Lygon, and Brunswick. Through her observations about relationships and her environment, she also captures the story of inner-city gentrification in previously working-class areas— a phenomenon so familiar in today's times.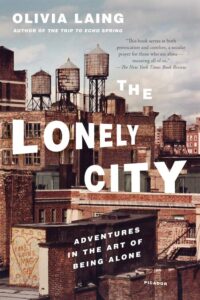 Olivia Laing, The Lonely City
(Picador)
Laing's memoir captures the particular loneliness that comes from living in a city. She shows the underbelly of existing in a city; the temporariness of sublets, sharing friends' apartments, and what it is like to be in a space shared with millions yet feel cut off, disconnected, and remote. As an antidote to this, she begins walking. I revisited Laing's work early in the pandemic, as she captures the particular type of isolation that, globally, so many are now facing even as we re-discover the pleasures of walking. Laing speaks about the ability to forget oneself whilst walking, becoming porous and borderless; her book reminded me that walking is a form of solace and a way to ride the currents of the city.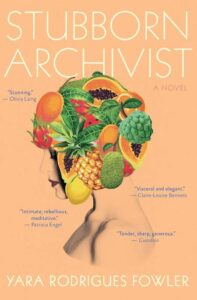 Yara Rodriguez Fowler, Stubborn Archivist
(Mariner Books)
 Stubborn Archivist is a book made up of fragments, dialogue, and poetry. The book follows a young Brazilian-English woman growing up in London as she grapples with mixed identity, sexuality, family traumas, and personal history, and it is written in a bilingual everyday vernacular. The experimental form with which the book explores identity shows the way that these dynamics often play out in public streets. With blank spaces and incomplete sentences, Fowler captures the feeling of growing up between two cultures, and all the silence and indecision and questioning that can be associated with that experience.
Italo Calvino, Invisible Cities
(Mariner Books)
Calvino's book takes the form of a conversation between the imaginary emperor Kublai Khan and the Venetian traveler Marco Polo, who describes the cities he has visited. There are cities of Mirrors, Cities of Memory, Raiss, the Hidden City of sadness. Each city's elusive signs and symbols, its beauty and melancholy, seep into the form of its telling. To write about cities and place is part observation and part an act of imagination, and reading Calvino always ignites this new way of seeing.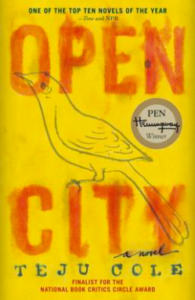 Teju Cole, Open City
(Random House)
This beautiful, layered novel includes interactions that offer a diversity of urban perspectives, including those who often go unobserved, untold, and disregarded in the stories of cities. Cole has written, separately, about the fact that flâneur writing is so often from the perspective of a white male. "This is why I always say you can't be a black flâneur. Flanerie is for whites," he writes. "For blacks in white terrain, all spaces are charged. Cafes, restaurants, museums, shops. Your own front door… We are not equal even in the most common circumstances."
__________________________________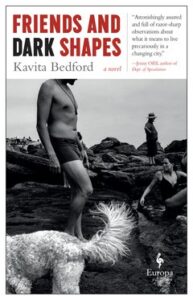 Friends and Dark Shapes by Kavita Bedford is available via Europa Editions.
---