Rebecca Solnit on the Myriad Meanings of the Rose
"Flowers are powerful, and all human beings lead lives intertwined with them."
Roses mean everything, which skates close to meaning nothing. They've been used to make larger points, from the medieval philosopher Peter Abelard's use of roses as an example for an exploration of universals to modernist Gertrude Stein's "Rose is a rose is a rose." There's a line by the anthropologist Mary Douglas to the effect that just as everything symbolizes the body, so the body symbolizes everything else. The same could be said of roses in the western world.
As images, they're so ubiquitous they're literally wallpaper and are routinely depicted on everything from lingerie to tombstones. Actual roses are used for courtships, weddings, funerals, birthdays, and a lot of other occasions, which is to say for joy, sorrow and loss, hope, victory, and pleasure. When the Black civil rights leader and congressman John Lewis died in the summer of 2020, his casket was taken by horse and wagon over the Alabama bridge where, as a protest marcher, he'd been beaten almost to death by state troopers. The whole route was scattered with red rose petals to symbolize the blood shed then. Just as they crop up in ornament, so they pour forth from aphorisms, poetry, and popular songs.
Flowers are often emblems of ephemerality and mortality, as in the vanitas paintings so common in 17th-century Europe, where elaborate bouquets were often paired with skulls, fruit, and other reminders that blooming and decaying, life and death, are inseparable. In songs roses often represent love and the beloved as the prize that cannot be grasped or kept. Among the popular songs of the last several decades are "La Vie en Rose," "Ramblin' Rose," "My Wild Irish Rose," "(I Never Promised You a) Rose Garden," "A Rose Is Still a Rose," "Days of Wine and Roses." In country singer George Jones's gorgeously lugubrious 1970 hit "A Good Year for the Roses," however, the rosebushes that go on blooming have proven to be more enduring than his marriage.
Thorns might be one of the things that distinguish roses and why they're sometimes anthropomorphized as capricious beauties or femmes fatales, like the conceited rose that's the beloved in Antoine de Saint-Exupéry's The Little Prince. In the Brothers Grimm version of "Sleeping Beauty," the princess is named Briar Rose (Dornröschen, or "rose with thorns" in German), unsuccessful suitors die after being trapped in the thornbushes around the tower in which she sleeps, and those thorns turn to flowers when the right suitor approaches. The blossom attracts, the thorns repel or exact a price for that attraction. "Truths and roses have thorns about them," says the old aphorism, and Marianne Moore's poem "Roses Only," which, like a surprising amount of poetry, is addressed directly to the rose, ends with the remark "Your thorns are the best part of you." Medieval theologians speculated that there were roses in the Garden of Eden, but the thorns came after the fall from grace.
There's a line by Mary Douglas to the effect that just as everything symbolizes the body, so the body symbolizes everything else. The same could be said of roses in the western world.
Though flowers as the sexual organs of plants often have both male and female reproductive parts, they are routinely represented as feminine, and phenomena that have been feminized are often dismissed as ornamental and inconsequential. Perhaps when a flower is cut to adorn an altar or a table it becomes so, because it has been extracted from the plant's life cycle and will not produce fruit or seeds or a next generation. It may be the very uselessness of cut flowers, beyond the pleasure they give, that has made them a superlative gift, embodying the generosity and anti-utilitarianism of gift-giving. But flowers are powerful, and all human beings lead lives intertwined with them, whether we notice or not.
There's a cultural view in which flowers are dainty, trivial, dispensable—and a scientific one in which flowering plants were revolutionary in their appearance on the earth some two hundred million years or so ago, are dominant on land from the arctic to the tropics, and are crucial to our survival. "How Flowering Plants Conquered the World" is the way a recent scientific article put it. Flowers are the sexual parts of the plants called angiosperms and seeds the offspring of that sexual reproduction, and the revolution was at least as much about the seeds. Angiosperm means encased seed, and those case—often a protective outer case, always a nutritional packet inside the seed to feed the embryonic plant, sometimes wings or burrs or other means of helping the seed travel—provided them with more robust, varied, and mobile methods of propagation than those of the earlier plants. They made their species capable of more varied techniques of survival and dispersal, and the seeds also made good food for other beings. The poet-paleontologist Loren Eiseley argued more than half a century ago that flowering plants were crucial props and prods to the evolution of mammals and birds, in an essay that made an impression on me when I was young.
"The agile brain of the warm-blooded birds and mammals demands a high oxygen consumption and food in concentrated forms, or the creatures cannot long sustain themselves," he wrote in a chapter of The Immense Journey called "How Flowers Changed the World." He continued, "It was the rise of the flowering plants that provided that energy and changed the nature of the living world. Their appearance parallels in a quite surprising manner the rise of the birds and mammals." Insects that coevolved with flowers received pollen and nectar in return for pollination services, as did the birds and bats that also pollinate as they feed at blossoms. The relationships were so important that species coevolved and some developed quasi-monogamous relationships, as with the Madagascar orchid with a neck so lengthy only one long-tongued sphinx moth can pollinate it, or the soapweed yucca that has for forty million years relied upon the Tegeticula yuccasella moth for its pollination as that moth relies on its seed as the sole food of its larvae.
Seeds constitute a major food source for many other species, including ourselves, as grains, legumes, nuts, fruits, and those vegetables—squashes, tomatoes, peppers, and the rest—we forget are seed-bearing fruits. Seeds too developed mutually beneficial relationships—for example, the berries eaten by birds who sow the undigested seeds far from the parent plant. The complementary relationships between angiosperms and animals generated, Eiseley argues, a world more intricate and interconnected, and the concentrated foodstuffs sped mammalian evolution.
Thorns might be one of the things that distinguish roses and why they're sometimes anthropomorphized as capricious beauties or femmes fatales.
I write this with random bites and sips at my longtime usual breakfast, tea made of leaves from India, toast from wheat and rye with some other seeds mixed in, milk, butter, and yogurt from local cows whose pastures I know well, and honey from bees, a pastoral landscape on a platter. Most of what we eat is either angiosperm or, for nonvegans, from creatures who fed on angiosperms. There might be evolutionary reasons why we too find flowers so attractive, since our lives are so bound up with theirs, and we have domesticated and bred them to amplify and vary size, forms, colors, and scents. Our lives depend, if not exactly on flowers, then on flowering plants.
Roses are not a major human food anywhere on Earth, but their petals were used in medieval recipes, and their fruit still is for teas and other potions. During the Second World War, Britain's Ministry of Food (where Orwell's wife, Eileen O'Shaughnessy Blair, worked) launched rose hip-gathering campaigns to try to supply vitamin C to a nation cut off from imported foods, notably citrus. By 1942, two hundred tons, equivalent to 134 million hips, were reportedly gathered, mostly to be made into syrup, but the ministry also put out recipes for homemade rose hip marmalade, a product still common in Germany. Roses are also, of course, used for perfumes and scented oils.
They are part of a plant family, Rosaceae, of more than four thousand species, including apples, pears, quinces, apricots, plums, and peaches, as well as brambles and the thorny blackberries and raspberries whose flowers resemble wild roses' blooms. The flower of wild rose, like those of the fruit trees, has five petals; roses bred from random mutations in China, Europe, and the Near East developed the familiar many-petaled forms. In the third century bc the philosopher Theophrastus wrote, "Most have five petals, but some have 12 or 20, and some a great many more than these; for there are some, they say, which are even called hundred-petalled," and three centuries later Pliny the Elder also spoke of hundred-petalled roses.
Over the last few centuries breeders have produced variations on those forms so that there are now thousands of varieties of rose, ranging from some of the old musks, damasks, and albas to the innumerable current versions of the hybrid tea rose, from miniature to hulking cabbage roses, single blooms to clusters, bushes to climbers, stark white to murky attempts at mauves and purples, and a vast array of crimsons, pinks, reds, and yellows, and scents described as sweet, spicy, citrus, fruity, myrrh-like, musky. Even as ornament, flowers represent life itself, as fertility, mortality, transience, extravagance, and as such they enter our art, rites, and language.
_______________________________________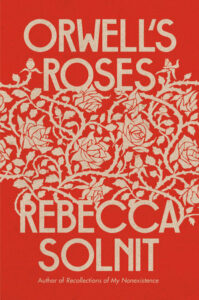 Excerpted from Orwell's Roses by Rebecca Solnit. Reprinted with permission of the publisher, Viking. Copyright © 2021 by Rebecca Solnit. 
---