Reality TV is Getting Boring Again—and Maybe That's a Good Thing
Danielle J. Lindemann Traces the Genre's Boomeranging Evolution
In some ways, The Real World: London was the last "boring" reality TV show. Its dullness seemed to spook the show's creators, eroding their confidence that entertainment could be mined from simple, everyday interactions. The series co-creator, Jonathan Murray, has explicitly called London one of his "disappointments," pointing out that, after that season, the producers took a heavier hand in structuring the show. Subsequent casts were given a communal job or project to do, and they no longer had access to their own television. (It's true that the London housemates spent much of their time sprawled on the couch watching TV.)
But that didn't stop me from being riveted by the show. When London debuted, I was a young teenager on Long Island, we'd just gotten MTV, and I was all in! I recorded the entire season on VHS tapes and stayed up late rewinding and re-watching, neglecting my schoolwork. At one point, I fully stopped studying, and my mother was convinced I'd never get accepted to a good college. I didn't care. The show did something for me.
Jonathan Murray's concerns aside, a lot actually happened on that season. Kat and Neil had so much sexual tension! Sharon needed surgery and wondered if she'd ever sing again! Jacinda had a modeling career! (She'd pop up later as an actress in one of the Bridget Jones movies.) Let's not forget that Neil received a bloody pig heart on his doorstep and also got his tongue bitten off! Sure, Jay sat in front of the TV an awful lot, but he also put on a play! And Lars and Mike… were there too, I guess?
So, it wasn't all boring. But it wasn't just the attractive people with cool jobs and the occasional bloody tongue that hooked me to London. Before I had a degree in sociology—before I knew what sociology was—London spoke to me because it was telling me something sociological. It was a "true story." Nonfiction, but with a narrative arc. Real life, at once amplified and laid bare.
You don't have to be a media scholar to know that the reality genre has become exponentially more convoluted and provocative since that season aired. Women have competed for free plastic surgery. Mark McGrath and Coolio have swapped wives. Celebrities have participated in a diving competition plagued by injuries. Vanilla Ice has "gone Amish" (more than once!). A reality host has become president of the United States (nearly twice!).
Just as the genre has gotten zanier and zanier, in some ways we've also come full circle, back to the era of boring reality TV.
But I've been thinking about London a lot lately because, just as the genre has gotten zanier and zanier, in some ways we've also come full circle, back to the era of boring reality TV. "Docuseries" hybrids have proliferated on streaming services over the past several years. Rather than relying on producer shenanigans or outrageous competition premises (vying over a relative's will! competing to be a sperm donor!), these reality-adjacent programs simply unreel compelling narratives about unusual topics (like murderous tiger breeders). Meanwhile, due to pandemic restrictions, some of the recent Real Housewives seasons have ditched their flashy international trips in favor of more low-key excursions that involve lots of sitting around and talking.
For example, while The Real Housewives of Beverly Hills has historically leaned on manufactured drama (#Puppygate), much of this past season revolved around the women chatting about cast member Erika Girardi's divorce and legal woes as they unfolded in real time. It was a different Beverly Hills, more sedate and less glammed up, but the ratings were strong. And, of course, Paramount+ banked on our nostalgia for the heyday of uncomplicated reality TV with its Real World Homecoming show, the first season of which saw the original Real World cast members return to the New York loft they'd shared in 1992—again, primarily just to talk.
Perhaps this return to the boring is refreshing for us because we've become inured to all the gimmicks. After all this time, there's something to be said for reality TV without the prosthetic animal noses, underground bunkers, and marriages between strangers. Maybe it's nice to be transported back to the era of sweetly uncomplicated programming that existed decades before we'd ever heard of PCR tests. More generally, these nods and reversions to reality TV's heyday likely appeal to us because we love to snatch at odds and ends from the past, imbuing them with updated meanings and fashioning them into new pastiches. High-waisted denim. The Baby-Sitters Club. "Rocket Man." That New York loft.
I now teach a college class on the sociology of reality TV, to students only a few years older than I was when I first encountered London. My students use new platforms for accessing the shows, interact with the stars through social media, and generally make me feel old. But their fashion is right out of 1995, making me wish I hadn't thrown away the flannels I used to wrap around myself as I found succor in Sharon and Kat and Neil. My students may be flummoxed by the lack of airport security in the first Real World episode, and they may need to be told what a "beeper" is. But they're drawn to the same reality TV that I am, both the old and the new, and it's fun to show them how these programs bring the outlines of various social dynamics into stark relief.
We see how Here Comes Honey Boo Boo sheds light on our cultural stereotypes, and how we use those stereotypes to falsely naturalize and explain away the class system. We learn about the Kardashians and the central role that families play in society. Through RuPaul's Drag Race and The Bachelor, we come to understand how we all perform gender in cartoonish ways. We take note of how our littlest group dynamics play out on shows like Survivor. Ultimately, we see that reality TV teaches us that no matter how far we think we've come or how progressive we think we are, we can't shake our deeply entrenched ideas about race, gender, class, children, money, families, fashion, and sex. We're still clutching those pieces of the past as we amble along.
Maybe it's nice to be transported back to the era of sweetly uncomplicated programming that existed decades before we'd ever heard of PCR tests.
What made London a great sociological primer for 15-year-old me was the "seven strangers" concept. In those early years, The Real World was infused with a "sociological imagination," C. Wright Mills's term for understanding both an individual life and the broader society in which that life is embedded, as well as the relationship between the two. Early Real Worlds showed us not only how people react when they "stop being polite and start getting real," but—by artificially patchworking people from different social environments—they showed us the immense impact of those environments in shaping who those people became. In one of the very first scenes of the first season, for instance, the cast members sit around discussing the racial makeups of their high schools. Later in the episode, race again becomes the explicit topic of conversation as Kevin and Heather, both Black, explain to white Southerner Julie how racism has impacted them differently due to their genders.
As a white teen in a primarily white suburb, I, like Julie, seldom thought about race because I had the privilege not to—and I was never prodded to consider the subject further. In school we learned about the civil rights movement and women's suffrage only in the context of history class, the implication being that ugly things like racial and gender inequalities were securely locked away in the past. We had a sex education class, but I don't recall queerness being mentioned at all. Meanwhile, the Real World cast members were talking about race, gender, and sexuality in ways I'd never considered.
Hopefully my specific experience with a "colorblind" education is an artifact of the mid-90s, but these topics are more relevant than ever, as evidenced by the many conversations surrounding race when the original cast members reunited for Homecoming. (There, racial tensions reached a boiling point when Becky left the show, after being asked by Kevin to consider her white privilege.)
When London ended, I ultimately tired of the VHS tapes and moved on to marijuana. Jonathan Murray went on to create Bad Girls Club, a show which has never been short on drama. The Real World kept chugging along too, eventually becoming a vehicle for sloshed hookups and an incubator for the MTV competition series The Challenge. Still, while I haven't seen London since its original airing, many of its mundane scenes are still woven eidetically into my consciousness. Kat cleaning utensils in the sink, telling everyone that fencing was better than sex. Jay talking about his dad. Lars not understanding the word "vain." The gloomy-robot voice of the computer that Neil used to communicate while his tongue healed.
I didn't fact-check any of my recollections about London for this piece, except to look up the correct spellings of the cast members' names. My memories of the show are imperfect (Mike who?). But "real" or not, they make a powerful case for just how compelling reality TV can be without all the bells and whistles—and what the genre can tell us about ourselves. 
_______________________________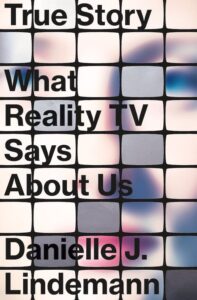 Danielle J. Lindemann's True Story: What Reality TV Says About Us is out this week from FSG.
---