Reading My Way Through a Pandemic with Post-Apocalyptic Literature
Maria Andreu: "Books really do prepare you for the worst, even if it's not always in the way you think."
I have long loved post-apocalyptic fiction. It's a fascination that goes back to my teen years. One of my earliest end-of-civilization reads was Lucifer's Hammer by Larry Niven and Jerry Pournelle, in which a comet is hurtling toward Earth, poised to destroy civilization but not all humans, at least not the ingenious ones. One of my favorite scenes in that book involves a scientist double-bagging books and sinking them in a septic tank. And not just any books: books that will help rebuild civilization, like manuals on the internal combustion engine. It is an enticingly clever plan I've been meaning to replicate ever since.
Instead, I've settled for keeping a massive supply of water in my basement. I am both intrigued by the idea of being that prepared but conscious of not slipping into obsession, so I have several lifetimes' supply of bandages (including some that claim to staunch battle wound bleeding) but no food rations. Because that would be a step too far.
My fascination is such that my best friend is my best friend due to it. When my first book came out, I was at a book festival, manning a table lonelier than the sole survivor of a nuclear attack, when I turned around to survey my neighbors. At the table behind me, a pleasant, sweet-faced soccer-mom type displayed an array of meticulously arranged books with a delightful light blue cover adorned with a smattering of birds. I squinted and made out the title: Pandemic. The birds represented the vector for the disease that strikes in her book. I loved her immediately.
This past spring, I was scared, but all we had to do was get through a couple of weeks of "flattening the curve," I told myself. I bought too much frozen food and prepared to ride it out, like the heroine in one of my post-apocalyptic novels.
This past spring, I was scared, but all we had to do was get through a couple of weeks of "flattening the curve," I told myself.
As two weeks became a month, which bled into a stunted summer, I turned my attention to what has gotten me through so many of the difficult times of my life: books. At first, I couldn't focus, so I took a familiar route: read something so compulsively page-turning that I couldn't help but be led along. I turned to my brother, also a writer, for a recommendation.
"I've been thinking a lot about Salem's Lot by Stephen King," he said. "It's about vampires, not disease, but it reminds me of the pandemic. Like how everyone's in denial and thinking nothing bad could ever happen there, but by the time anyone catches on to what's going on, the town is overrun."
It did the trick, showing me something about my world while carrying me away from it. After that, I revisited some old favorites: Earth Abides; Alas, Babylon; World War Z. Each story destroyed the fragile fabric of modern life in its own way, but all presented me with the question that makes post-apocalyptic fiction so alluring: if the niceties and nuances, the comforts and conventions of modern living were suddenly stripped away, who would we be, really?
No book made me wonder this more than The Postman (a fantastic book not to be judged by the unfortunate movie adaptation starring that wrecker of post-apocalyptic books, Kevin Costner). In it, a humble civil servant finds meaning post-end-of-civilization through carrying out the seemingly simple task of delivering the mail. There is an evil warlord, and somewhere along the way we find out what the warlord used to be in the before times. Our times. He was an insurance salesman. I imagined a warlord somewhere in me too, beneath the couch potato with a penchant for avoiding the planks and 15-minute high-intensity interval training video I keep promising myself I'll do.
But the pandemic taught me that civilization-wide upheaval is often not as splashy as it is in books. Instead of warlords, it's harried moms at Target that'll get you, snatching the last of the frozen mozzarella sticks with a look equal parts ruthlessness and apology in their worried eyes.
The pandemic taught me that civilization-wide upheaval is often not as splashy as it is in books.
My exercise in coping with the pandemic with my favorite post-apocalyptic books took me to revisiting what is perhaps my favorite of all time: Station Eleven. Like the movie Contagion, which I watched on the first night I realized the pandemic was going to be bad, it hit a little too close to home this time: a flu wipes out 99 percent of humanity. The book toggles between the days before the disease breaks out to 20 years after it. In the post-apocalyptic parts, a group of traveling actors and musicians treks from settlement to settlement, each no more than a handful of families making it through the new hardscrabble world without things we take for granted. It is in these scenes that the book shines as a love letter to our modern world, the things lost: lit-up pools, the access to all information at a few keystrokes, airplanes, ease.
I reread it with new poignancy. The things that make our world beautiful do feel lost to us, even if temporarily. For far too many of us, all the things of this world are gone forever, an incalculable loss of life and love. It is both like all I've ever feared and tried to steel myself against through my beloved post-apocalyptic books and movies, but it is also not like that at all. Machines still work, the grid isn't fried, the sun isn't erased from view by nuclear winter. But we have been asked to look within, again and again, not heroically or in epic scale, but in the small moments of grace at the grocery store, the acknowledgement of the sacrifice of medical workers and store clerks and delivery people, the times we've wanted to sink but have pulled ourselves out instead. And there's been so much more banana bread than the books prepared me for. That's been a plus.
One of the crucial lines in Station Eleven reads, "Because survival is insufficient." It is a borrow from Star Trek, which I borrow here. Post-apocalyptic fiction helped get me through the pandemic with that reminder, to celebrate the will to go on, the cleverness, the resilience, and the basic goodness in people, including myself.
In the end, the book that saved me the most during the pandemic had nothing to do with the end of civilization at all. I was in edits for my book Love in English, a story about love and being new in the U.S., as I once was. When it all started, I had no idea how I would pull myself away from wall-to-wall coverage and doomscrolling to work on it. But, little by little, I got it done, its breezy passages and hopeful tone a balm to all that was going on around me.
There may not be a tight-abs warlord hidden beneath this suburban façade. But I did learn some things about myself: that I am tougher than I think, that I need people more than I realized. And that post-apocalyptic books really do prepare you for the worst, even if it's not always in the way you think.
__________________________________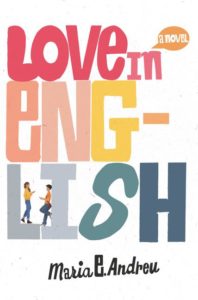 Maria E. Andreu's Love in English is available now from Balzer + Bray, an imprint of HarperCollins. 
---