Reading Langston Hughes's Wartime Reporting From the Spanish Civil War
Matthew F. Delmont on How Black Americans Warned the World of Fascism
Several years before the United States officially entered World War II following the attack on Pearl Harbor, Black Americans were tracking the international spread of fascism closely. News relating to the Spanish Civil War, in particular, was especially captivating for them. In the pages of influential Black newspapers like the Chicago Defender and the Baltimore Afro-American, prominent Black journalists opined on the significance of the war for African Americans.
Among such writers was Langston Hughes. Already internationally renowned at age thirty-five, Hughes followed the news in July 1936, as the Spanish military organized a coup against the popularly elected left-wing Republican government. General Francisco Franco, who viewed Nazi Germany as a model for Spain and went so far as to keep a framed picture of Adolf Hitler on his desk, emerged as the leader of the Nationalist forces. He appealed for military support from Nazi Germany and fascist Italy.
Hitler and Italy's Benito Mussolini both quickly obliged, sending airplanes, tanks, troops, and supplies that gave Franco's army a decided military advantage over the Republican forces. Hitler and Mussolini saw Spain as a valuable ally. They were eager for their militaries to gain battlefield experience in preparation for a larger war in Europe, one that looked increasingly likely with each passing day. By August 1936, a headline in the Chicago Defender read WORLD WAR SEEN AS DUCE, HITLER AID FASCIST IN WARTON SPAIN.
For Langston Hughes, the coup was of interest not solely for what it signified for the progression of the war, the import of which was plain enough, but for the personnel it had drawn to resist it. Over thirty thousand international volunteers had come to the aid of the embattled Republican government. Three thousand of these volunteers were Americans, who, with many others, had risked their lives to serve in a civil war thousands of miles from home. And of this group, more than eighty men and women were Black.
The Americans became known collectively as the Abraham Lincoln Brigade and fought side by side in racially integrated units that stood in stark contrast to the segregated U.S. military. While they were ultimately on the losing side in Spain—the Nationalists would win the war two years later—the Lincoln Brigade volunteers were clear-eyed about the threat Franco, Hitler, and Mussolini posed, and they were the first Americans to take up arms to stop the spread of fascism in Europe. Hughes wanted to tell their story.
But before he could write about the Lincoln Brigade, Hughes had to find a way to get to Spain. He had spent much of the 1930s traveling the globe after earning acclaim during the Harlem Renaissance a decade earlier. Eager for the attention his byline might draw to their paper, the Baltimore Afro-American hired him as a war correspondent. Assuming that press credentials would be a sure ticket to Spain, Hughes was disappointed to learn that the U.S. State Department did not think writers for the Afro-American merited them.
Further complicating the matter, the State Department was not issuing passports for citizens to visit a war zone, so he could not travel directly to Spain. Instead, he planned to reach the country via France, following the path of like-minded writers, including Ernest Hemingway, George Orwell, John Dos Passos, and Hughes's friend Nancy Cunard, who were flocking to cover the civil war. He boarded an ocean liner called the RMS Aquitania in New York on June 30, 1937, and sailed for Paris, a city he'd fallen in love with a decade earlier.
Langston Hughes received a rousing ovation in Paris for saying what many Black Americans were thinking at the time—that fascism was Jim Crow with a foreign accent.
In the City of Light, Hughes walked the cobblestone streets of Montmartre, the "little Harlem" of Paris. Nights were filled with jazz, drinks, and gossip; days were consumed with talk of the war in Spain. Hughes gathered with writers at the Second International Writers' Congress to debate what would happen if the military revolt in Spain was successful. Black people were intimately familiar with fascism in America, he argued, and proceeded to describe Jim Crow segregation in schools, theaters, and concert halls; dozens of horrific lynchings in the prior decade; and innocent Black defendants sentenced to jail or death by all-white juries.
Hughes was not a bombastic speaker, but rather spoke in an even, assured tone. He could sometimes appear bored while reading his older poems for audiences, but when discussing contemporary events, his understated and direct speaking style conveyed passion and urgency. "Yes, we Negroes in America do not have to be told what Fascism is in action," he said. "We know. Its theories of Nordic supremacy and economic suppression have long been realities to us."
Hughes was building on a chorus of Black voices who recognized that the German Third Reich saw the American system of race law as a model and that Nazi ideology was not solely a foreign problem. "The racial policy of the Hitler movement is strikingly similar to that of the neo-Ku Klux Klanism of America," sociologist and public intellectual Kelly Miller noted three years prior, in 1933. Two years later, a New York Amsterdam News editorial argued, "If the Swastika is an emblem of racial oppression, the Stars and Stripes are equally so." Hughes received a rousing ovation in Paris for saying what many Black Americans were thinking at the time—that fascism was Jim Crow with a foreign accent.
After nearly a month in France, Hughes boarded a train from Paris to Barcelona with Cuban poet and journalist Nicolás Guillén. Crossing the border between France and Spain, the two men changed trains in the seaside town of Portbou. It was a quiet, sunny morning when they arrived. Children were swimming in the shimmering blue water of the Mediterranean. The view was idyllic.
As Hughes looked around, however, the idyll was disturbed. The walls of the small customhouse were pocked by machine-gun bullets. Nearby, several houses lay in ruin, destroyed by aerial bombs. Signs reading REFUGIO pointed to mountain caves where people hid during the frequent air raids.
Leaving Portbou, they arrived in Barcelona in darkness, just before midnight. The train cars, station, and city were blacked out so fascist planes would not have easy targets. Hughes and Guillén followed the crowd as they departed the station, inching slowly in the dark toward the single lantern flickering at the end of the long platform. Guillén traveled light and helped Hughes carry his bags, books, records, and typewriter. They boarded a bus, and as the bus drove through pitch-black streets from the train station to the hotel, Hughes wondered what he had gotten himself into.
He'd barely managed to unpack and settle in for his first night in Barcelona when the realities of war were thrust upon him. In the middle of the night, he heard the low wail of an air-raid siren warning that fascist planes—German-made Junkers and Heinkels, as well as Italian-produced Savoia-Marchettis and Capronis—were approaching from Majorca across the Balearic Sea. Several loud explosions shook the walls of the hotel, and the lights went out. He jumped out of his bed, flung open the door to his room, and stumbled down a dark, crowded hallway.
He descended the staircase to the lobby, where the flame of a candle provided the only light and cast shadows on the walls. The other hotel guests were in various stages of undress. Children cried while adults spoke frantically in Spanish, English, and French. His hands trembling, Hughes struggled to put his trousers on over his pajamas and light a cigarette. Outside, ambulance sirens wailed, and antiaircraft guns fired in loud, percussive bursts, driving the enemy planes away. Hughes did not sleep that night.
Two weeks later, venturing west to Madrid, Hughes arrived to find the city on edge, besieged by fascist batteries shelling nearly every day. "The crack of rifle fire, the staccato run of the machine guns, and the boom of trench mortars and hand grenades can be heard so clearly that one finally realizes the war is only a few blocks away," Hughes wrote.
Despite being close to the front lines in Madrid, Hughes's accommodations were palatial. He was welcomed by the Alianza de Intelectuales Antifascistas (Alliance of Antifascist Intellectuals), a group that formed out of the International Writers' Congress. Led by Spanish poets Rafael Alberti and María Teresa León, the group occupied a house with dozens of rooms formerly owned by a marquis whose family had earned a fortune from the slave trade.
The home was well appointed with antique furniture and medieval tapestries. Paintings by Francisco Goya and El Greco adorned the walls. Sometimes the writers and artists raided the closets for matador jackets and flamenco dresses. Hughes's jazz records provided the soundtrack for what became impromptu costume balls.
The meals were far less lavish. With no trains running into Madrid, all supplies came in on a single road, and food for the city's one million people was strictly rationed. Hughes and the other guests subsisted on two meals a day. Breakfast was a scant roll and coffee made from burnt grain. The cook worked what magic she could to make dinner appetizing, with meager rations of beans, onions, olive oil, and bread.
On the rare occasions when there was fish or meat, each guest would get a thin slice in their soup. Between air raids, Hughes searched Madrid for bars serving tidbits with drinks. Hunger pains never abated, and Hughes lost fifteen pounds during the six months he was in Spain.
Hughes navigated between the different war zones in Spain based on reports from soldiers on leave from the front and leads from other journalists, such as Chicago Daily News correspondent Leland Stowe. One tip led him to the outskirts of Madrid, a couple of miles from the front, where Hughes finally caught up with the Abra-ham Lincoln Brigade. Their camp, hidden under trees, was barely visible from the road. Several hundred men were briefly at rest, but there was a rumble in the air.
Near a camouflaged tent painted zigzag green and brown, Hughes met Thaddeus Battle, a twenty-one-year-old who had paused his premed and political science studies at Howard University to volunteer. Battle was bespectacled and mild mannered, and his helmet and brown fatigue jacket fit awkwardly on his slight frame.
As the two men smoked cigarettes in a tent on a chilly fall afternoon, they reminisced about how much they missed the street-corner diners in D.C. and Harlem with their steaks, hamburgers, and ice cream. Battle said he was not eager for war but felt that he had to leave school for Spain. "When we see certain things happening in Europe and Asia that may involve America in another world war, then . . . we see clearly the need for combatting such tendencies at home and abroad," he told Hughes. Battle's family had raised him to view books as precious and he was particularly outraged to witness Franco's fascist troops destroying schools and libraries.
As the afternoon faded, Hughes followed Battle to the cook tent for dinner. Among the Irish, English, and white American soldiers waiting for rabbit stew, Battle introduced Hughes to another Black volunteer, Bernard "Bunny" Rucker, the twenty-five-year-old son of a Christian minister. Rucker was good with his hands and worked on road construction projects during the Great Depression.
Like Battle, Rucker now served as a truck driver in the Lincoln Brigade, transporting men and supplies to the front lines. It was dangerous work. Drivers often faced machine-gun fire and were sometimes strafed by German Condor Legion planes, Rucker explained. During the bloody Battle of Brunete in July, where Lincoln volunteers suffered more than three hundred casualties, Rucker was caught in heavy bombardment and a plane crashed into flames near his truck. This same man, who only a year prior had been living an ordinary life in Columbus, Ohio, was now having close brushes with death in a war zone. Hughes took notes.
With the temperature falling into the thirties, Hughes was shivering in a lightweight jacket, cursing the thoughtlessness with which he'd packed. When Rucker offered Hughes his wool overcoat, the poet was reluctant to take it, feeling the acute shame of being so underprepared, but the young truck driver insisted, saying that he could get another coat back at camp. And so Hughes wore the jacket during his winter in Spain and for years afterward.
Once the men finished dinner, Rucker borrowed one of the brigade trucks to give Hughes a ride back to his makeshift hotel in Madrid. Hughes was up late that night working on an article for the Baltimore Afro-American when he felt an artillery bombardment that was even more unsettling than the air raid he experienced in Barcelona. A shell whistled by his window and struck a building at the end of the block. Hughes's room shook so violently that his typewriter fell off his desk. "Sounded like the devil's 4th of July!" he wrote to a friend.
Days after Hughes met Battle and Rucker, the Afro-American started publishing his stories from Spain. "The Spanish situation is but a prophecy of what all Europe is approaching," the newspaper read, "and from this angle colored men and women here in America and throughout the world will be interested." Hughes's wartime articles did not disappoint. Each dispatch warned that a life-and-death struggle against fascism was under way in Spain and that Black Americans were among the first to try to stop Franco, Mussolini, and Hitler.
__________________________________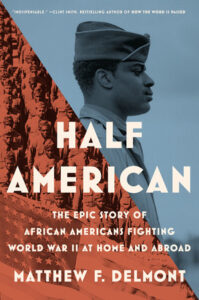 From Half American: The Epic Story of African Americans Fighting World War II at Home and Abroad, by Matthew F. Delmont, published by Viking, an imprint of the Penguin Publishing Group, a division of Penguin Random House LLC. Copyright © 2022 by Matthew F. Delmont.
---