Drop your buffs! The reality TV show contestant Stephen Fishbach, most well-known as the strategically gifted runner-up of Survivor: Tocantins and slightly less well-known as one of People's hottest bachelors of 2009, is now a full-time fiction writer, completing a low-residency MFA at NYU; taking workshops with Nathan Englander and Garth Greenwell; hosting the craft podcast Paraphrase, where he's interviewed Carmen Maria Machado, Sam Lipsyte, Ling Ma, and others; and, most recently, publishing "To Sharks," his first widely available piece of short fiction, in the journal One Story. Given Survivor's millions of fans, I have to imagine other people are as excited as I am about this.
"To Sharks" follows the blunders of Kent Duvall, former contestant on a fictional reality TV show called Endure. Sounds . . . familiar, but Kent isn't a Fishbach self-insert; says Fishbach in his One Story interview with Contributing Editor Will Allison, "[Though] there are of course aspects of myself in Kent . . . one of my biggest fears for this story is that anybody would conflate my opinion with Kent's. This story was meant to satirize a particular type of reality TV contestant. I've found that the people who think they're the most above-it-all, the ones who look down on the fans with the most condescension, are typically the most desperately in need of approval."
Though I don't want to pigeonhole him as just a Survivor contestant, Fishbach credits the reality show with his decision to pursue fiction full-time. On his second season, Survivor: Cambodia, he got very sick in the middle of a monsoon. There, he "had a real epiphany—if I was willing to suffer through so much for a reality TV show, how could I not muster the willpower for something I really cared about? When I got home, I left my job and have focused on fiction writing ever since."
Fortunately for us, he returned on Cambodia and not on Heroes vs. Villains, where he could have been on the receiving end of this advice: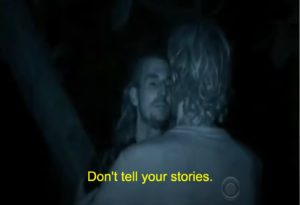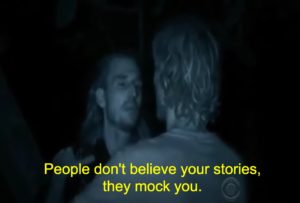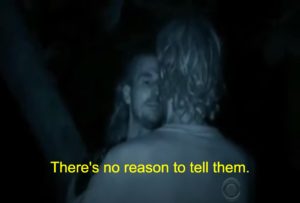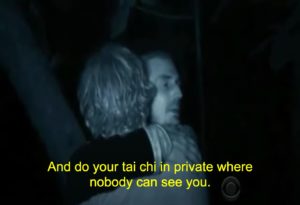 Fishbach is currently revising a novel "that follows Kent through more post-reality shenanigans and then back onto television." As of yet, there is no information about the novel's potential publication. Got nothing else for you—but while we wait, purchase Stephen Fishbach's edition of One Story and read his One Story interview here.