'90s basketball stans rejoice: Scottie "No Tippin'" Pippen, a six-time NBA champion and one of the greatest small forwards of all time, is writing a memoir.
As Publishers Marketplace reported yesterday:
Six-time NBA champion, two-time Olympic gold medalist and Hall of Famer Scottie Pippen with Michael Arkush's Scottie, a candid memoir revealing how Pippen, the youngest of 12, overcame two family tragedies and universal disregard by college scouts to become an essential component of the greatest basketball dynasty of the last 50 years, including his thoughts on Michael Jordan and Phil Jackson, among others [has been sold] to Amar Deol at Atria.
A defensive powerhouse, Pippen was an integral part of "Zen Master" Phil Jackson's all-conquering Chicago Bulls team of the 1990s—a team which, with its cast of colorful characters (yes, I'm looking at you, Dennis Rodman) and domination of the basketball landscape contributed hugely to the popularizing of the NBA worldwide.
Speaking of Rodman, Dennis' 1996 autobiography Bad As I Wanna Be remains the gold standard for basketball memoirs, for reasons which should be obvious from the cover: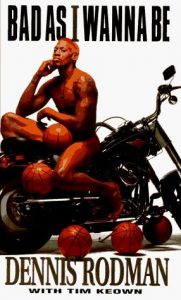 Your move, Scottie.