In an example of life imitating art, or rather art imitating art, with the artists living within, Rachel Cusk and her husband, artist Siemon Scamell-Katz, live in a gorgeous, modern house they designed themselves on the Norfolk coast. "What we've done is essentially to take the footprint of the bungalow that was on this site and the annex, leave the walls up, super-insulate and put various different types of cladding on the outside," Scammell-Katz told The Modern House.
We've also put a second story on the front portion of the house to create what we call the "sleep block" that gives us the view. We wake up and we look out straight over the sea. We can see exactly what the tide's doing and what effect that has on the landscape . . . It is just an amazing, continuously changing, really exciting landscape; it is truly beautiful.
The exterior of the house is formed of stone cladding. It's very, very thin, sort of like a shave of stone, placed onto a plastic laminate, which then sticks onto cement board. Which is fairly experimental and has been relatively successful. With the coast and the kind of weather we get here, it is a testing environment.
This was absolutely all about creating a space that faces north, strangely, towards the sea, but with the sea as its focus of attention. We started by digging the natural swimming pond and the spoil from the dig out became a berm (a sort of ridge) which we've created as part of a form of visual guidance down towards the coast. We've done a lot of planting of birch and holm oak too, partly to screen the farm buildings, but also to focus the attention on the sea.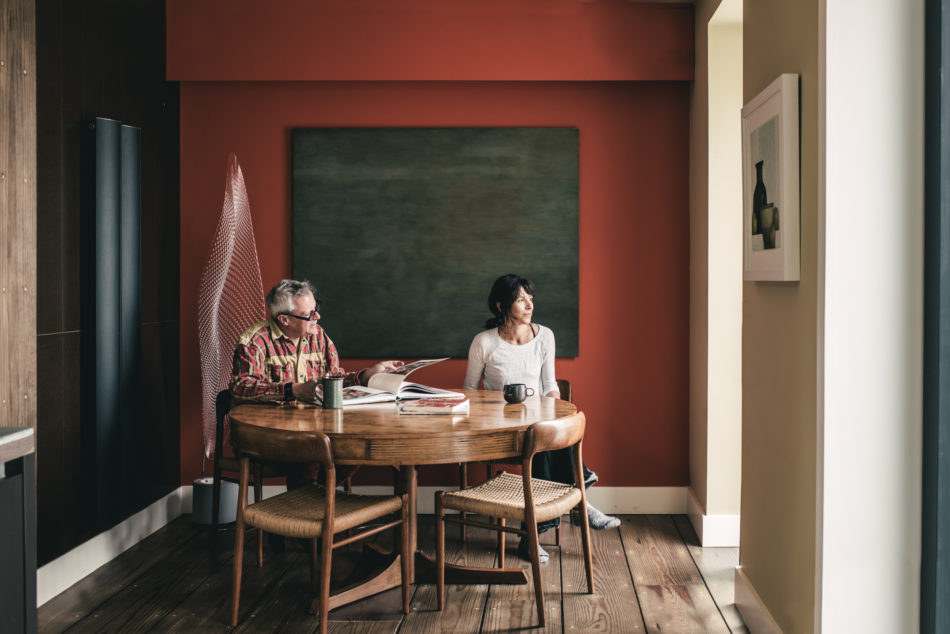 Cusk herself compared the process of designing the house to writing:
What I found in this process is that I am very used to conceiving of something and realizing it, in my grasp of language and form and technique. And the whole point of that is that what you end up with is something that has obeyed you. You have imposed yourself on it. This house is the opposite.
It has to remain in a constant state of being created and being maintained. And, because you created it, you see it, you can't forget it, you can't be unconscious of it. The things that are wrong can't be fixed. So, I'm really used to thinking "Oh, that's wrong, I'll cut it out" but you can't do that here. It's more like a record of your mistakes and your successes; it's almost unbearably real in that way.
It's also been good for her work. "I mean I've never had a place to write like this," she said. It's almost like I've done all of this work in order to get a work space. Whether I work in there or not, it feels like a real home. It feels like my home, that only belongs to me. It does massively reduce the commuting distance between me thinking something and me writing something."
I have to say I'm not surprised—maybe we could all write like Cusk if we lived in such a gorgeous place. See more photos here.