Rachel Bloom, the ingenious creator and star of Crazy Ex-Girlfriend, has written a book! Last night, she announced its November 17th publication on Instagram. (Shoutout to my dear friend who texted me at an odd hour of the evening to make sure I knew this was happening and that Lit Hub would, indeed, cover this Very Important Book News.)
The book is called I Want To Be Where the Normal People Are, and its cover features a painting of Rachel Bloom and her beloved dog sitting by the window, looking longingly outside. Relatable! Obviously, this is all any of us have been doing since March, but only Rachel Bloom would commission an oil portrait of it. Her book promises hilarious personal essays, poems, and "even amusement park maps." Buckle up! It's going to be a good ride.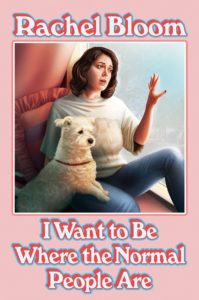 She also did an Instagram live video with a very good Borat voice ("mahhh booook!") and answered some questions from her fans.
Here's what I've gathered:
She wrote the bulk of the book while she was pregnant.
The title is, indeed, a Little Mermaid reference.
There's a chapter written by her dog, Wiley.
The best way to motivate yourself to write is to have a book deadline that you have to meet so you don't get sued.
Inside the book, there'll also be a lot her mental health journey, a rant about straight men in musical theatre, and her resume.
I will never miss an opportunity to remind the world that Rachel Bloom is an avid reader and lover of classic literature, evidenced by this video she made a few years ago about wanting to have sex with Ray Bradbury. Fingers crossed that her new book comes with an original soundtrack!!