Qualities of Magic: On Books You'll Keep Coming Back To
Kate Gale Recommends Paul Bowles, Ursula K. Le Guin, and More!
As an editor, I often think about what I consider to be the perfect book. It may be the book that you stay up all night reading (Toni Morrison's Jazz), the book that you can't imagine your thought processes without (George Orwell's 1984; Aldous Huxley's Brave New World, Margaret Atwood's Handmaid's Tale), the book that changed your mind about a writer (Jonathan Franzen's Freedom), the book that you're ashamed you like, because it let you crawl into your own dark childhood, and maybe because you suspected it wasn't literature (Pat Conroy's Prince of Tides), or by the authors you read for yourself (C.D. Wright, Anne Carson, and, always, Morrison).
We all have our literary obsessions, but as an editor, I am looking for a book that has certain magical qualities that some of my favorite books share. These are books that I come back to over and over. I assign them to graduate students. When I go to a new bookstore, I like to visit these books, make sure they are there on the shelf, waiting for readers to find them, waiting to go home with a stranger who will soon be a friend.
I search for great stories full of ideas, darkness, dreams, magic—stuff that will stick to us while we sleep and wake and change us. I have been forever changed by all these books; I will never dream the same.
*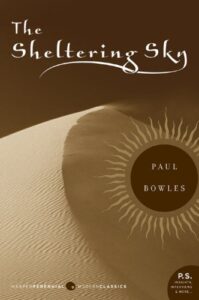 Paul Bowles, Sheltering Sky
(Simon and Schuster)
I like to think of this as the perfect book. Before Lauren Groff's Fates and Furies, Bowles gave us this book about a couple: half focused on the husband, half on the wife, the book shows their travels to Africa to resolve their marital difficulties. The husband wanders Africa. He wants. He travels. Bowles has said he didn't mean to kill off his protagonist halfway through the book—it just happened—but then he was left with the wife; what to do with her? Kit has agency in this story, and she uses it to make ravenous and strange choices. Sheltering Sky is a book that feels like it gives equal voice to men and women.
Ursula K. LeGuin, Left Hand of Darkness
(Random House)
This novel, written soon after I was born, is one I come back to all the time. Ursula K. LeGuin writes of a world without gender and a visitor to that world who travels across the ice with Estraven, one of its inhabitants, on a mission. Reading LeGuin's novel, you realize that gender is only important on our planet because we make it so.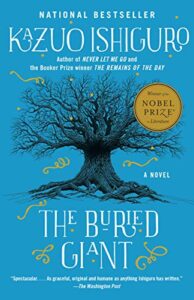 Kazuo Ishiguro, The Buried Giant
(Faber and Faber)
Ishiguro has my literary heart. In this story, a couple goes searching for their lost memories; they are old and they want to remember what they lost. You feel like you will follow them anywhere. The book underscores that what makes a life with a person worth living is the memories you create together; it also brings the dangers of losing our collective memory as a country. The Buried Giant is this couple's journey to find their soul, reminding us not to lose our own.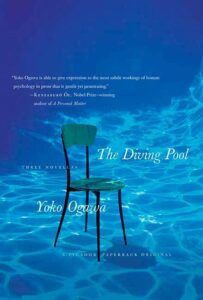 Yoko Ogawa, Diving Pool
(Picador)
Ogawa is a genius, and in these novellas she stuns. Each of the women in these novellas is unhappy and strange. The first one lives in a Christian orphanage and wants to be with a young man who doesn't notice her much. She torments a child to amuse herself. In the second, the woman makes grapefruit jam for her pregnant sister who will only eat the jam and nothing else. In the third, a woman visits a triple amputee who is living alone in a dorm dripping with honey. All three women feel alone and want something from the world that they aren't getting. I suppose I'm drawn to the ache of desire that runs through these stories; each of these stories feel caught up in that desire, happening outside of time.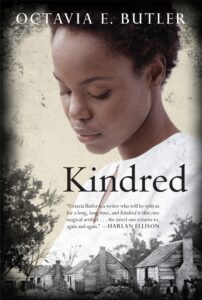 Octavia Butler, Kindred
(Doubleday)
Octavia, that glorious seer with her visionary books. This is one I always come back to. Set in the 1800s and in Pasadena in the 1980s, Butler's story follows a woman who has been pulled back in time to a plantation where one of her ancestors, a white boy, is in danger and needs her help. She leaves her arm behind, but in the present day, knows no one will believe her story. Caught between the two time periods, her arm represents the hold that white culture still has on her life.
_______________________________________________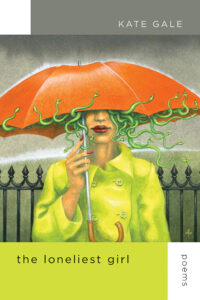 The Loneliest Girl by Kate Gale is available now from the University of New Mexico Press.
---