Pre-Apocalyptic Fiction Shows Us What to Appreciate Before It's Gone
Nancy Wayson Dinan on Literature of the Before and After
Several years ago, in an Ohio snowstorm, I read Cormac McCarthy's The Road in a single day. I only had one child then—James was a baby—and all he wanted to do was cuddle, so I held him on the couch with the book in one hand and then the power went out. Then—and it must have been ten degrees outside—we covered up, and he took a nap while I finished the book in the last of the day's light while the wind whistled in the eaves. When I finished the book, the power had not yet come back on, and I only returned to myself slowly, finding the world of the book altogether more real than anything going on in the Ohio dusk.
The Road was of course not the first post-apocalyptic novel that I'd read, but for some reason, this one stayed with me. Several years later, I read Emily St. John Mandel's Station Eleven, which focuses on a pandemic and picks up the narrative several years after the fact, and this book asks important questions about what art means to survival. There are other books in there, too—the breathless beginning of Stephen King's The Stand, the giddy glitter of the parties in Katherine Anne Porter's Pale Horse Pale Rider.
I read so many post-apocalyptic books, and when I asked myself why, I realized that it was because these were the narratives that felt the most alive to me. After the apocalypse comes a moment that feels real, a stripping away of the trappings of modern life, and then all of those trappings are replaced by a feral anarchy, the very bedrock of survivalism, a sense that the only thing left is the only thing authentic.
But the appeal of these books to me is more than this sense that an apocalypse would strip away everything false, more than just the appeal of this realness. There is also the sense that we read these books because we need a manual, a how-to, fictional examples playing out scenarios of what happens when the world truly does come to an end.
What's more, when we live with these stories for so long, we begin to internalize this narrative, all of the myriad ways that civilization will play itself out. We never imagine for a second that we will die along with civilization—dying in apocalypses is for minor characters. For us, and for our immediate family, a post-apocalyptic novel is instructional, not tragic.
I've had so many conversations about apocalypse in the last few years, and these conversations have taken place with people from all different faiths and political persuasions. If you are like me, you view the funeral of an Icelandic glacier or the loss of a billion animals in the Australian bushfires as evidence of a forthcoming environmental cataclysm, and I know that many (most?) people share my concern that we will be the last people on earth who will enjoy the world as we currently know it.
Pre-apocalyptic literature is a reminder that if we believe that something is ending that we pay attention to that thing while we still have it.
But even in conversations with people who do not believe in climate change, I have discovered that there is a sense that the apocalypse is coming, and for some of my family, this apocalypse looks like divine judgment. Many of us—most of us, I would venture—see harbingers of the apocalypse everywhere. Every one of us acknowledges that it feels like end days, that we have reached the other side of the apogee, that we have crested the wave and are now coming to the acceleration down.
When I wanted to write a book, I gravitated to the post-apocalyptic, but I didn't know how to do something different, to add anything to the already robust conversation happening in the novels I admired. Instead, I found myself drawn to this present moment, this moment where we all acknowledge that disaster is bearing down upon us and we are powerless to do anything about it. I now consider everything I write to be pre-apocalyptic; indeed, I consider my life—my time on this planet—to occupy that apogee and its aftermath.
There is a quote falsely attributed to Einstein, and it goes something like this: "There are two ways to live your life: to believe that nothing is a miracle, or to believe that everything is," and this is, for me, one of the things that a pre-apocalyptic novel tries to capture. Pre-apocalyptic literature contains a warning, yes, but we have all heard the warnings before. Instead, it is a reminder that if we believe that something is ending that we pay attention to that thing while we still have it.
Think of the way we prioritize love and peace and moments of joy as we visit a loved one in hospice; think of the way that as you watch a movie, if the camera lingers lovingly on a character's tiny moments, we know the character is doomed. As I write this, self-isolated in a condo in San Jose, Costa Rica, because of a worldwide pandemic, my husband has only just made it to the country the day before the borders closed, on a flying machine that carried him a thousand miles in a few hours.
The green parrots outside my window have no idea that there may be people within these buildings right now in whose bodies a virus grows, but they wouldn't change their behavior even if they did know. The sky in the evening is coral streaked with gray, and the orange blossoms of the roble de sabana trees have only just faded. From my condo balcony, I can see the front gate of the house of the German ambassador, and this gate is overrun with bougainvillea blooming in the most riotous colors I have ever seen.
I sit on my bed in the afternoons with the windows open and I let the air and sunshine pass over me, and it is all—all—miraculous, miracles all around us. This is the agenda of the pre-apocalypse: pay attention, name everything, let nothing go unmarked or forgotten. This is the way we remember what we have when we longer have it.
__________________________________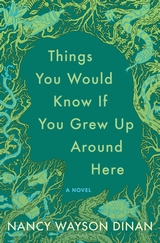 Nancy Wayson Dinan's novel Things You Would Know if You Grew Up Around Here is available from Bloomsbury. 
---