Powerful and Multifaceted: Maya Phillips on the Responsibility of Black Superheroes
Considering Black Panther, Luke Cage, and More
At a theater in Long Island full of white people silently, attentively watching a film about a Black hero in a mystical Black country, my mother, a casual onlooker to my fandoms, and I, a fan who had grown up seeing white heroes, saw a powerful and multifaceted depiction of Blackness. It felt like a homecoming.
Black Panther's influence—and, of course, its financial and critical success—is an incontrovertible fact. But its most important contribution was its delivery of a well-crafted Hollywood blockbuster explicitly about Blackness.
Though the film was novel and groundbreaking, it would be wrong to think that 2018's Black Panther was the actual first of its kind. T'Challa has been kicking around since 1961, when he appeared on the cover of Fantastic Four No. 52, leaping through the air above the foursome, a caped figure all in black, his right hand clawed, reaching out before him, ready to attack. In this first issue, he's introduced as a smug antagonist to the white heroes; he reveals himself and the secret world of Wakanda so that he can bait them into being his prey in a superheroic hunt, thereby exhibiting his skills and dominance.
This hero was definitely not the one Black fans deserved at the time. The presentation of an exclusively Black society so much richer and more technologically advanced than a white one was undermined by the racist othering in the writing—jungle jokes, expressions of shock and awe about tribal traditions, the politically incorrect villain Man-Ape (thankfully revised by Disney for the 2018 film, which refers to him only by his name, M'Baku).
What so many TV shows and movies often missed, and continue to miss today, is a complex depiction of Blackness delivered front and center.
But Black Panther, though mentioned to me at some point in passing by my father, was virtually unknown to me, and many others, until he graced the big screen. There were other Black heroes who surfaced during my childhood in the '90s and early aughts: Wesley Snipes's Blade, armed with bone-crushing martial arts skills and a katana; Spawn, dressed in gothic underworld chic; John Stewart, DC's first Black superhero, the paragon of reason and order, and my father's favorite Green Lantern; Storm, the veteran X-Man from the comics and the popular '90s animated series; and Virgil Hawkins, the hero of the WB animated show Static Shock.
John Stewart, despite being a stately Black hero character well worthy of mention, served as more of a supporting player on Cartoon Network's animated series Justice League, standing alongside some bigger-profile capesters like Superman and Batman; the show didn't belong to him. The same with Storm, an African mutant with earthshaking powers (and, briefly, the partner of Black Panther).
The Blade movies and the generally panned Spawn served complex Black protagonists standing on the line between two worlds. Those films also set the stage very early on for darker, more serious takes on the superhero genre that we'd encounter in Christopher Nolan's Batman movies, Logan, and others. And though a somewhat cheesy—and fun-loving—show geared toward kids and preteens, Static Shock seamlessly delivered a story about a hero dealing with superpowered villains, the typical trials and tribulations of adolescence, and the social and racial challenges that come with being a young Black man in America.
Though John, Blade, Spawn, Storm, and Static were some of Black Panther's predecessors on TV and in movies when I was growing up, they felt disconnected to me—disconnected from one another, preventing my conception of a larger, consistent trend toward a prominent show of Blackness in comic book stories, and disconnected from me and my own perception of my Black identity.
To serve media supposedly representative of Blackness but that fails to capture the complexity of Black identity is to subscribe to another kind of racism.
Having grown up in suburbs unofficially segregated by race and economic levels, and having attended private schools where I was one of maybe a handful, at best, of Black kids, I couldn't imagine what a Black hero would look like—not cartoony and overblown but real and relatable to me. What so many TV shows and movies often missed, and continue to miss today, is a complex depiction of Blackness delivered front and center, not on the sidelines—something a fan can carry with her beyond the movie theater or TV screen.
What my mother and I carried with us that day after seeing Black Panther was a world rich with resources, its main export being Black ingenuity, a Blackness that lived in the vision of a queen, a whiz-kid princess, a female spy, a superhero king, an army of female warriors, and a villain motivated by his sense of birthright and the injuries caused by systemic racism in a so-called country of opportunity. Black Panther achieved a Blackness that was not monolithic—the Black hero as the quintessence of all Blackness in America, a capital-B Blackness that is simplified and stereotyped, undercutting the point of diverse representation in the first place. To serve media supposedly representative of Blackness but that fails to capture the complexity of Black identity is to subscribe to another kind of racism and fail the Black audiences that such media is, in theory, meant to serve.
Black Panther brought us to the brilliant fantasy world of Wakanda, but not before grounding us in the real world of Oakland, California, the home of our young to-be villain, Killmonger. When Killmonger, son to a royal Wakandan, returns to his father's home country and claims the throne from T'Challa, the two face off in a battle that is rooted in opposing political responses to institutionalized racism against Black people.
T'Challa has grown up in a kind of paradise, sheltered from the troubles that Black Americans, or even other Black Africans, face. Hidden and thereby protected against the threat of colonialism (with the exception of the sneaky dealings of Ulysses Klaue, who aims to profit from Wakanda's priceless resource, vibranium), Wakanda exists outside history, in a space where Blackness has been allowed to thrive, unperturbed by systemic oppression.
The irony of Black Panther is a hero who shares his name with a group of 1960s Black militant revolutionaries but touts a politics of isolationism to the detriment of other countries and communities, particularly Black ones, that could benefit from Wakanda's resources. Killmonger demands revolution, albeit with questionable motives and execution, but his mixed inheritance—a strong, rich Africa and a disadvantaged America—creates a complex character, steeped in a fatalistic, gladiatorial approach to change, rather than the arch-eye-browed, chin-stroking antagonists of more thinly written stories. ("Just bury me in the ocean with my ancestors that jumped from the ships, because they knew death was better than bondage,"* he declares at the end of the movie, somehow impressively managing to romanticize drowned slaves; implicitly critique the slaves who withstood bondage, torture, and abuse to survive; and die before a Wakandan sunset, all in the span of approximately fifteen seconds.)
Every strong depiction of Blackness must aim for characters and stories that feel true to the Black experience without nearing minstrelsy, a performance of race.
Thankfully, T'Challa and company haven't been the only Black heroes to step up in the pop culture world in the last few years. In fact, as nerd culture has ballooned, there has also been a steady increase of Black heroes in the spotlight. In 2015 Luke Cage, aka Power Man, appeared as a secondary character on Netflix's Marvel TV series Jessica Jones, and then headlined his own series the next year. Two years later, Black Lightning joined the Arrowverse. The latter, based on the DC Comics, featured a retired vigilante hero who has reluctantly decided to don the mask once again, to protect his family. Here, too, was a depiction of Blackness that ducked racist stereotypes—a smart, responsible Black family with supernatural abilities and a sense for justice. But far from the idyllic setting—no Wakanda for the Pierce family here—they live in a contemporary urban community ravaged by social problems: racism, gang violence, corruption.
Luke Cage struggled more with its conception of a contemporary Black hero. The original character first premiered in the comic Luke Cage: Hero for Hire, in 1972, and the comic drew inspiration from a prominent trend in Black entertainment of the decade, blaxploitation films. Thankfully, Netflix and Marvel left that behind and brought out a modern-day Luke Cage, one I was tentatively excited to see.
The season one premieres of the Netflix Marvel series Daredevil and Jessica Jones in 2015 proved that the team could produce a new spate of successful superhero TV shows. (And, sure, the Arrowverse had already been kicking around for a few years at that point. But, despite the early Dark Knight–esque appeal of Arrow and the lighthearted preciousness of The Flash, the shows, with their seemingly endless seasons and increasingly outlandish and unoriginal plot lines, couldn't match the deft fight choreography, distinct visual aesthetic, and inviting narrative maneuvers of Daredevil and Jessica Jones.)
The hero who waltzed into the world of Jessica Jones provided the season and, more importantly, its main character with a yang to an already electrifying yin. Mike Colter's smooth, calm, and grounded Luke served as a counterpoint to Krysten Ritter's abrasive, traumatized, and heavy-drinking Jessica. Luke broke into the bubble of Jessica Jones, providing a different tonal accent to the grim, hard-nosed noir that so influenced the show.
But Luke, of course, was never anything other than a secondary character in the story, popping in during the first season to serve as a love interest and vehicle to present the narrative complication of Reva, his deceased wife, who was killed by Jessica. The announcement of his own show seemed to promise a well-drawn Black hero finally rooted at the center of the story.
The opening credits of Luke Cage are awash in yellow, showing scenes from around Harlem—the Harlem–125th Street stop, the Lenox Avenue/Malcolm X Boulevard street signs, the Apollo—with a funky instrumental playing in the background. It's modern-day Harlem, but the show still demonstrates that it knows its roots: the first scene, opening in front of Pop's Barber Shop, rolls out to the sounds of "Dap Walk" by Ernie and the Top Notes, released in 1972—the same year the comic book hero Luke Cage was born on  the page.
Perhaps this Luke Cage, had I met him when I was a child, would have been the Black hero to have opened my mind to the possibility of heroic, invincible Blackness.
The setting and tone of Luke Cage feels familiar, the particular comfort of a barbershop where people hang and trashtalk, the everywhere uninterrupted Blackness. It's a kind of Harlem I've seen, though only as a visitor, passing through the neighborhood or when I trekked there and back from Brooklyn on the A train for a year, working at the historic Black paper the New York Amsterdam News, just a stone's throw from the Apollo and across the street from a soul-food restaurant with mouthwatering baked mac and cheese.
The show captures something intimate and homegrown, matching the mood to the protagonist's disposition. But this Luke Cage—unlike his comic book counterpart, who immediately declares himself a "hero for hire"—is a hero wary of the spotlight. The show, then, invents a series of false obstacles to make the plot move forward, maneuvering its circumstances around a hero who isn't so convinced he wants to be a hero. The other interesting figures in his life—mostly the villains, Cottonmouth, Diamondback, Black Mariah, Shades, and later Bushmaster, each portrayed by stylish, charismatic actors—effortlessly grab the camera's attention. The result is a show with a protagonist who somehow still seems like he's a side character in the story.
Where Luke Cage makes its biggest mistake is in the very approach that could have made the revived and restyled Power Man into a great, sophisticated Black hero for a new generation. In Luke Cage, Netflix created a hero with a muted personality who was best defined by his background—his home in Harlem, his pride in his Black identity. Of course, any contemporary Black hero written today must be drawn with some sense of how the racial politics of our country shape how he or she acts, talks, and moves through America.
But every strong depiction of Blackness must aim for characters and stories that feel true to the Black experience without nearing minstrelsy, a performance of race. Luke Cage, at its worst moments, dipped into the latter, falling into the trap that many media-makers do when they finally get around to capturing Blackness onscreen: writing Blackness as though that, in itself, can be a personality. At times Luke Cage would be the Black protagonist and at others he would be idealized as the epitome of Blackness, an unfortunate, blown-out example of tokenism—reactionary political correctness working only in service of a limited and outdated idea of what representation looks like.
Luke waxes poetic about Harlem and Black history, namedropping figures from African American History 101. In one scene, Luke confronts an armed man who, like countless other characters, has the shocking realization that this Black man is bulletproof. As Luke lifts him into the air to question and intimidate him, he pauses to also reprimand him in the name of Black community:
"Think about where you are. It's hallowed ground, this park, named for Jackie Robinson. It's here, it's all around you, if you respect yourself enough to take a look."
"At what?"
"Our legacy."
As a Black born-and-bred New Yorker with family spread throughout the boroughs, I wondered to whom Luke's words were targeted. "Our legacy" felt like a leap to me as I watched the scene, questioning if "our" included me, all of Black New York. Or perhaps it was more specific to someone born and bred in Black Harlem? But there's something amiss with this, too; he's speaking of an older, idealized Harlem perhaps, one untouched by gentrification. Though the Luke Cage series opted for a modern-day setting rather than the 1970s, the show still had a nostalgic sense of its setting.
Of course, one shouldn't lay the onus on a single show to lead the way for all future movies and series featuring Black heroes. And the argument of authentic Blackness—how much is too much, how much is appropriately addressing race and how much is teetering into the realm of racial performance—gets as sticky in conversations about fictional characters as it does when it comes up in reference to real-life people. Perhaps this Luke Cage, had I met him when I was a child, would have been the Black hero to have opened my mind to the possibility of heroic, invincible Blackness with the same ease with which I accepted white heroes powerful enough to fly, lift trucks, and speed through cities.
At the end of the day, you might say, they're all just stories, so what difference may it have made if I traded one fiction for another? Because I should have a right, as should everyone, to enjoy the privilege of seeing myself in my fiction. Because, for a Black girl aware of how she stood out in white spaces and how ill at ease she felt in Black spaces, any kind of narrative that refused to take for granted my identity and perspective would have been a story that rang true for me.
_____________________________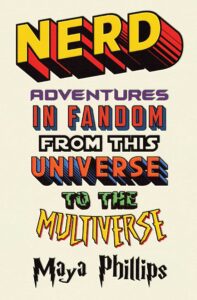 Nerd by Maya Phillips is available from Atria Books
---