Power That Creates Ideal Futures and Shapes Current Realities: A Reading List of Political Imaginaries
Eve Fairbanks Recommends Claudia Rankine, Svetlana Alexeivich, and More
When I moved to South Africa, in 2019, what people told me over and over—the ultimate upshot to so many different stories—was that things hadn't turned out as they'd imagined. How relatable is that?
Some people were talking about what they'd imagined for their adult lives when they were children in the 1960s, 70s ,or 80s during white minority rule, when the seats in Parliament and at the best universities—and the nicest houses set up high on hills—were reserved for white people and the homes on the bad, flood-prone land and the work at the bottom of mine shafts was for people of color.
No matter how much they opposed apartheid, they had to imagine a place for themselves in that world, albeit sometimes a place resisting it. Others meant the joy of the mid-1990s when apartheid fell, and they imagined, without much detail, the birth of a totally different society.
One of the things that struck me the most, in the thirteen years I've lived there, was that the grip of the imaginary, our imagined futures and how we imagine ourselves, doesn't let go even when "facts" on the ground no longer support what's imagined.
In my book The Inheritors, a White South African man, bourgeois and living in a well-secured estate that still looks as plush as it did under white rule, can't stop imagining the descendants of the people his ancestors victimized breaking into his house. A Black farmer imagines himself the poultry baron of South Africa—his dream when political transition freed him to attend a formerly all-white agricultural college—even though the myths long told about the land's fertility and the ease of growing rich were lies, and all he turned out to be able to tend was a plot of tomatoes. I saw him stand up in front of students at his former high school and tell them they, too, could be wealthy landowners, passing on what he knew was a myth to the next generation as a way of justifying, to himself, the hard work it turned out the country still doesn't reward.
When we talk and write about politics, now, we tend to try to stick to the realm of the real—the material, the numeric, the factual. We fight over it, actually: what are the real statistics on crime in San Francisco? What are the hard economic figures that explain why people support Donald Trump? If everyone just knew and accepted the realities on the ground, we like to think everyone could agree on the path forward. Maybe, in our polarized age, that is the one thing on which we all try to feel certain.
But people make up a polity, and what people experience in the world isn't reality, not exactly. Truths, facts, and gas prices are seen through a glass, darkly; that glass is our imagination—what we want to be true, who we want the world to confirm to us that we are, and what we can't let ourselves see lest it demolish too much of what we imagined would come true someday. A big part of the reason The Inheritors took me a decade to write is how long it takes with people to grasp how they imagine the world, and thus how it acts on them and how they act in it.
A lot of books about politics emphasize scoops—new revelations of fact. But, oddly, these only matter if people are able to let them into their imaginations. My favorite books about politics dig deep into how people imagine politics—how we imagine what makes people happy and how much change we can tolerate to our self-image.
*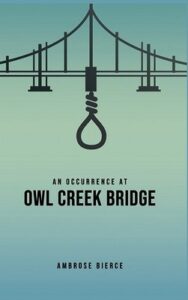 Ambrose Bierce, An Occurrence at Owl Creek Bridge
Fiction can be as political as nonfiction. That's frequently acknowledged for 19th-century European realism or early-to-mid 20th-century American literature—John Dos Passos, John Steinbeck, Ralph Ellison—but less so for 19th-century American lit. Bierce, a Civil War veteran, sets this story just at the end of the war. It's one of American literature's most powerful evocations of just how distorting, but also seductive and even beautiful, the wish can be to escape into the world, the society, you wish had emerged instead of the one that did. If read with certain contemporary political players in mind, it's as arresting a portrait of resistance to the truth as it was more than a century ago.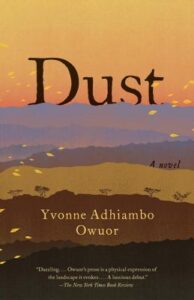 Yvonne Adhiambo Owuor, Dust
Life binds up many secrets. Death spills them. The same is true of the passing of political eras: the end of a generation's hold on politics or a political regime, paradoxically, can dredge up wounds and unresolved injustices that went less spoken while they actually exerted more power in the present. Owuor's poetic novel begins explosively, with—I'm not spoiling anything, in part because the writing is just so beautiful—the death of who we think would be the main character in Kenya's real 2008 post-election violence. But it turns out a death, whether of a man or an era, is just the beginning. His family's journey to understand the layers of trauma in a postcolonial society that they'd previously ignored takes them across Kenya and back in time in this extraordinary, unusual exploration of history's grip on the imagination.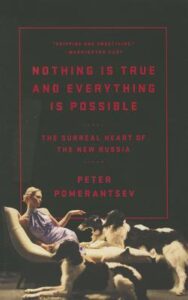 Peter Pomerantsev, Nothing Is True and Everything Is Possible: The Surreal Heart of the New Russia 
In this book, Ukraine-born, European-bred Pomerantsev dropped his disguise as a lowly TV producer and revealed himself to be one of the most interesting living political philosophers exploring truth in democracy—and our disinterest in it. He brings the wry perceptiveness of Evelyn Waugh and the madcap dark humor of Soviet dissident writers to a tour through Russia, arguing that the propaganda-driven Soviet and post-Soviet world have much more in common with the West than either Russians or Westerners would like to think. It's a seminal work on "post-truth" politics.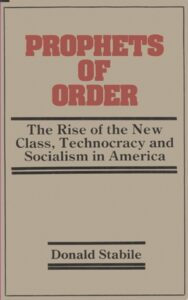 Donald Stabile, Prophets of Order: The Rise of the New Class, Technocracy, and Socialism in America
This slim volume by an economic historian focusing on the technocratic era of 20th-century American politics is Pomerantsev's unnerving companion. It shows how the idea that truth, statistics, and facts are the anchor for political discourse and democratic consensus is just that—an idea, a theory, and a relatively new one, advanced at a certain time in history by a certain cast of characters for certain ends, not a first principle. its friendly, lucid prose is deceptive, deeply unsettling the idea that policy disagreements might be resolved like a Wordle if everybody just agreed on the same set of facts. At the same time it's strangely liberating and hopeful: maybe we don't need to agree on the same set of facts to progress politically.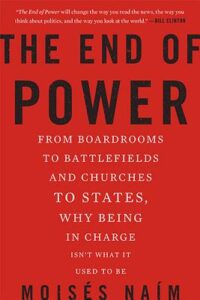 Moises Naim, The End of Power: From Boardrooms to Battlefields and Churches to States, Why Being in Charge Isn't What It Used to Be
Paradoxically, imagining that maximally evil, conspiratorial, even psychopathic political villains—Soros, the Koch brothers—control our world can be a comfort, a purportedly dark worldview that belies a hidden optimism. If a small set of villains wield outsized power, it would be possible to right the world by ousting them. Naim has worked and traveled among favorite villains of the left and the right as head of Foreign Policy magazine and the World Bank's executive director. And he does something virtually no other writer dares to do: really depict the world from the point of view of the Davos elites everybody likes to make out as evil geniuses. In Naim's telling, they also feel impotent, even terrified—a persuasive argument that upends many myths of contemporary politics. I probably recommend this book to others more than any other work of contemporary political nonfiction.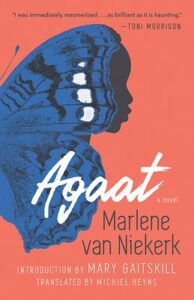 Marlene van Niekerk, Agaat
Van Niekerk, a groundbreaking South African stylist, situates the political action that takes place during and after the end of apartheid in South Africa among women—an act whose incredible refreshment and relief I only fully realized once I started reading it. The story, of the relationship between a white homeowner and a woman of mixed racial heritage—is intimate but the implications about power—how much the powerful are willing to give up, and how much of its traditional definition the disempowered really want—are wide. Van Niekerk also does something stunning with the language itself, transforming it throughout the course of the book as the characters transform. It creates a peerlessly immersive experience of how people imagine themselves and each other as their power relations shift.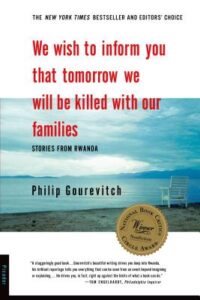 Philip Gourevitch, We Wish to Inform You That Tomorrow We Will Be Killed With Our Families
In the early 1990s, the Rwandan government "adopted a policy according to which [it and] an astounding number of its citizens imagined that by exterminating the Tutsi people they could make the world a better place," Gourevitch writes starkly at the beginning of his classic on genocide. His book focuses less on documenting the Rwandan genocide's horrors than on surviving Rwandans' lingering struggle to come to terms, just afterward, with what they imagined would happen if they did it—or how they had failed to imagine what happened. He presents genocide as a phenomenon of imagination and, in that way, as potentially psychologically normal as imagining, say, that the world would be a better place if more seats were added to the U.S. Supreme Court. It's a very confronting idea, but Gourevitch's deep conversations with Rwandans—both victims and perpetrators—back it up. 
Svetlana Alexeivich, Secondhand Time: The Last of the Soviets
Alexeivich's work is often praised for its methodology, assembling narratives nearly entirely out of direct quotes rather than adding interpretations. This reflection on the end of a repressive regime—Soviet rule over Russia—would stand as a powerful document even if its style were never mentioned. Through interviews with "ordinary" Russians, Alexeivich reveals a cunningly simple but mostly neglected political truth: that people's longings change as a regime changes around them, and what they thought they wanted under one regime will not be the same thing they want once what they previously wanted becomes real. So many of Alexeivich's interviewees, many of whom are women, disliked Soviet communism while it existed but feel nostalgia for it now that it's gone. It's critical reading for citizens of societies still facing major demographic or political transformations.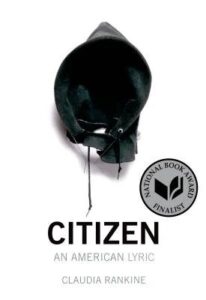 Claudia Rankine, Citizen
In considering political change, Rankine goes in the other direction as Alexeivich, narrating her inner monologue as a citizen of an America in an in-between time. Technically an epic poem, this a work both of and about imagination: about how obviously little the other people with whom Rankine shares her polity are able to imagine her inner world, and about how much work she does all the time trying to imagine what, in particular, the white citizens with whom she shares the country mean. She forces us to realize just how much, and in how many little moments, we're thinking about politics, not only when we're reading or shouting on Twitter.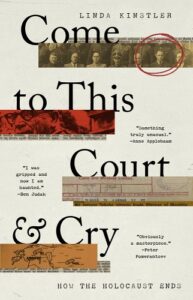 Linda Kinstler, Come to This Court and Cry: How the Holocaust Ends
In the most deeply personal and recent book on this list, Kinstler, a writer and a student of architecture, travels to Latvia to trace the story of a paternal relative who worked in a unit responsible for Holocaust atrocities. In Riga, she observes Latvians' contemporary efforts to decide which of their longtime national heroes must be dethroned for complicity in these historical crimes and which, in their eyes, can be pardoned. When, if ever, can people be forgiven for the past? And why do we need historical heroes, anyway? It's set in the Baltics, but I can hardly think of one country where these questions aren't front and center.
__________________________________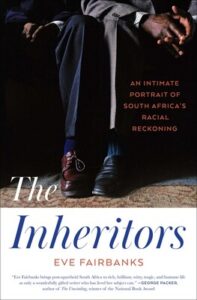 The Inheritors: An Intimate Portrait of South Africa's Racial Reckoning by Eve Fairbanks is available from Simon & Schuster.
---