Peter Frampton Talks Fame, David Bowie, and The Simpsons
Dan Sheehan in Conversation with a Classic Rock Icon
Peter Frampton—the English rock musician, singer-songwriter, and talk box pioneer whose barnstorming 1976 live album, Frampton Comes Alive!, has sold somewhere in the region of 11 million copies worldwide—has played alongside more classic rock gods than you've had hot dinners. Everyone from Ringo Starr to David Bowie, John Entwistle to Jack Bruce, Steve Marriott to Mike McCready. He's had a career of dizzying highs and agonizing lows, all of which he chronicles in his new memoir, Do You Feel Like I Do?, which was released earlier this month.
Frampton and I spoke over the phone about becoming famous at 16, his lifelong friendship with Bowie, reclaiming his identity as a guitar player, and his guest appearance on The Simpsons.
*
Dan Sheehan: Between the ages of 16 and 26, you were a member of two successful rock bands, you put out five solo records, and you released one of the biggest-selling live albums of all time. In writing your memoir and looking back on your life, what are your abiding memories of what must have been an obscenely busy and tumultuous decade?
Peter Frampton: Well, you know you're reading the book and you get to page 200 and I'm still 16 [laughs]. A lot of stuff happened really early on in my life. I had three hits, basically—The Herd when I was 16; Humble Pie when I was 18, 19, and 20; and then my own solo career where the huge hit was in '76—but the beauty for me is that I have always been obsessed with, and had a passion for, music; mainly guitar, but also the audio engineering side. I met so many influential people along the way because I played guitar well early, and because I started working with Bill Wyman, and that really set the cat amongst the pigeons. It was an incredible ride.
DS: There are hundreds (perhaps thousands) of comments underneath your YouTube videos calling you one of most underrated guitarists of the 70s (and one which reads, simply, "Peter Frampton has more talent in his left nut than the entire Top 40 of today's music combined.") Did you feel underrated as a guitarist after Frampton Comes Alive! went stratospheric? How meaningful was David Bowie's invitation to play guitar on his '87 Glass Spider Tour in terms of helping you reclaim that part of your identity?
PF: My credibility as a guitar player came from Humble Pie, and that's where I developed a guitar style that, well, I can recognize as me when I hear it [laughs], and I did a lot of sessions between that period and the period when I recorded Frampton Comes Alive! My audience was very much 50:50 male to female because the guys liked the guitar playing and I guess the girls liked the way I looked, so I sort of had it down. Unfortunately, with the amount of photographs of me, as well as the movie [the poorly-received 1978 musical comedy Sgt. Pepper's Lonely Hearts Club Band] and also the record I'm in You, the teenybopper thing really took over, and I lost my credibility with the guys. It happens a lot with people who are blessed with good looks, which I was. It's very difficult sometimes to take someone really good looking seriously for their art, and this happens over and over again. So, I was in the doldrums. Basically, my career was over by the time I was 30.
Then, in '85, I put out another album [Premonition], my first album in a while, and David [Bowie] heard that and called me up. We'd been friends since school—he's a lifelong friend, almost like my older brother—and he called me up and said, "I love your playing on the new record, can you come and do some of that for me?" So I went to Switzerland and recorded the album with him, and while I was there he asked me if I would go on the road with him to play guitar on the Glass Spider Tour, and that was just a dream come true for me because that's my default good place to be: on stage, being the guitar player behind the singer. Because I write my own songs and I have my own band, I end up doing it all, but I love being in that situation where all I have to do is play guitar. What David did there is give me an incredible gift. He knew I'd lost my credibility as a musician, as a guitar player—which is what he always saw me as—and he grabbed me, stuck me on stage in stadiums and arenas around the world, and reintroduced me as the guitar player. That was the beginning of getting on the ladder again. I wasn't even on the first rung at that point, and then David gave me this wonderful gift.
DS: Speaking of Frampton Comes Alive!, the record turns 45 in February. Listening to it again this week, I'm struck anew by its joyous, thunderous energy. Are there certain gigs or live albums, by other artists, that have stayed with you through the years?
PF: One of my favorite live albums is the Allman Brothers' At Fillmore East. The Fillmore East was a fantastic-sounding room as well as a wonderful theater for people to go and see a concert, and the Beacon Theater in New York is sort of like that now. I love the Beacon. It's the same kind of theater but maybe even nicer, and even nicer-sounding. Those theaters definitely make for great-sounding live records, that's for sure. And then there's The Last Waltz, which was done in Winterland (where I did Comes Alive!) before it was torn down. That's always been a favorite of mine, too. There are so many great performances in The Last Waltz.
DS: In your memoir, you talk about how all you wanted to do with your life was play guitar. If you weren't a musician, what do you think you would have done?
PF: Well I've always been a tech kind of guy. I had my first two tape recorders before I was 12, so I could do sound on sound, go from one machine to the other, which was the earliest form of overdubbing. So I think I would have probably been either a recording engineer or a cinematographer, because that's my other love. Whenever I've been on a movie set, I've always hung out with the cinematographer or the camera operators. It's just such an art form. It's like painting. So many films that I love are like moving paintings. For me, to be a cinematographer would be unbelievable.
DS: It occurs to me that there's probably a whole generation of younger fans who first discovered your music after seeing you appear as (an animated version of) yourself in the (stone cold classic) 1996 "Homerpalooza" episode of The Simpsons, which you mention in the book was one of the most surprising and enjoyable things you were ever asked to do. Do you have a favorite Simpsons character or episode?
PF: I've always liked Apu [laughs], but really I just love Harry [Shearer] and Hank [Azaria]; those two can do every accent under the sun. They're both incredible voice actors as well as being great on-screen actors as well. I love a lot of Simpsons episodes but my own will always be pretty special for me, and I'm so glad that it seems to be a particular favorite with many people. You know, before they animated me I asked them if they could make my hair short, like it is now, rather than the way it is on Frampton Comes Alive!, and they did! I was so surprised, and thrilled, that they did.
__________________________________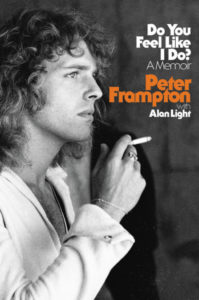 Peter Frampton's Do You Feel Like I Do? is available now from Hachette Books
---