Paul Lisicky's Provincetown: One the Most LGBT-Friendly Place in the US
Reflections on a New England Mecca
If you're lucky in your life, a place, or two, will be offered to you. That place won't be where you were born or grew up. It will be at some distance, and it will never be yours—you'll always be a visitor or guest. The trees will smell like rain. They might stay green all year, or their leaves might start browning in July as cool weather comes soon to these parts. Animals will be nearby, some of them in those trees, or right out in the open yard. The air will taste of ocean, negative ions churned up by the surf, or be so hazy your eyes will tear up and burn on sunny days—and you'll be fine with that.
This place will give you things denied you in your place of growing up. Company when you're in need of it, solitude when you're exhausted by careful, polite conversation without jokes. It will make you feel smarter than you are. It will make you younger, sturdier, more flexible in your joints and muscles. People treat each other better here, all of them, at all levels, and maybe there aren't even any levels, all the old ways we use to divide and rank one another.
The lives of animals are important, too, not for human use but for themselves, in themselves, complex societies that care about their communities and want to stay alive as much as we do. 
You love this place like a person you can't stop making love to—you dream about this person when they're right in front of you. You move through its streets and paths aroused and alert. You can't get that mischievous smile off your face. You want to put your hands on it, that place, that whole place. You have a secret, and isn't it lucky that everyone else on the street shares that secret with you? 
*
In pictures from that time it looks like my body and brain aren't speaking to each other. Certain parts ignore the other parts. And the ribs, lats, obliques, the shallow channel above the tailbone—they don't believe they matter. I expect clothes to do all the work of identity, as does practically everybody. In the era of AIDS, clothes are enormous. They function as armor, or drag. They bestow power, but also swallow up whoever pulls them over their heads. Maybe the greatest taboo involves drawing attention to the body, as so many are losing theirs, waking up to find their wrists thinner, chests marked with spots and scale.
Each person looks on-the-way-to-important but not self-important: they're too confident and wry and full of possible humor.
And yet my longing to stand out—through a pattern or a color—is so strong I can't help but get it wrong. Pent-up desire makes me a little nuts. It makes me porous, warps my perception. Weird words come out when I don't expect them to. Desire flushes me with shame, the kind of shame I want to rub out of my skin until it relaxes. 
The real me is not here but in the future. 
And yet I've done everything possible to prolong childhood and delay adulthood—or to make sure that that future doesn't happen. I've gone from grad school to grad school, slept with three guys before I was 28. And that's all about HIV? The fear of? Too simple. 
"I didn't hold you enough when you were a baby," said my mother the evening before I left. We sat at the kitchen table, shucking corn into a brown shopping bag. Immediately she looked like she wanted to take it back, even though her face also said she was giving me a gift, an act of tenderness she tried to pass on but couldn't. For a second I felt it pour through me (everything is explained), but then the room felt warm, too warm. She'd given me power over her by letting out a deeper secret: She was afraid of me. Even when I was a ten-pound baby, my mother was afraid of me. 
*
Years back, I memorized all the Fellows' names, but the names mean less to me now than the group photo in the old brochure. It's a scrappy bunch. Peacoats and scruff and chapped hands and muddy boots. They stand outside a shambly cedar-shake building officially known as the Fine Arts Work Center in Provincetown, some on steps, some on the landing. Each person looks on-the-way-to-important but not self-important: they're too confident and wry and full of possible humor.
They don't look burdened by their pasts, maybe because they're making work out of those burdens. They're bound by something ineffable, the gut sense that they're transforming their lives, involved in a task that matters. And they have company while they're doing it. 
They're a version of a family, too, though I doubt they even knew this about themselves until the photographer lifted the camera. 
Legs press against legs, arms toss over shoulders. And now I will be in the picture. 
*
The car climbs the hill, and at the top, wild space opens up ahead. And there it is, rising out of the water like a question, an illusion across marsh and platinum lake. The Pilgrim Monument, a 25-five-story replica of a tower in Siena. The curved coast of the harbor, shining. The spray of boxy white cottages along the beachfront. Fishing boats, sailboats, boats of all types pinned to the surface like thumbtacks.
Up Route 6 I've been driving in deepest New England, charming and astringent. Or through a version of my childhood woods, thick with pitch pines. And from here it's a tree-shorn city, stranger because I haven't driven toward a city in hours, not since Fall River. Who would ever tell that it's all of three blocks wide, three miles long? A long, reclining anaconda of a place. 
And maybe that's why every attempt to lay it out comes up short. Every representation stretches out into failure. The temptation is to paint it gold and deep green, because that's what it stirs up in me: safety, connection, expression. But Provincetown is neither warm nor cold, and it's never in-between. A simultaneity of masks, a place constantly shifting like the light and the dunes. What should I expect of a town built on dunes? 
Something singes my eyebrows. Or is it just death grabbing at me, the voice of my mother pulling me down, down?
I make the left turn onto Conwell Street. I pull into the parking lot between two buildings, one long and relaxed, the other stubby. A barn with a blue circular plaque on the shingles. No one's around but for a young woman with hunched shoulders carrying pots and pans from her car to a doorway. I loiter in the car for a minute, head down, moistening my dry lips. Why is my pulse racing? Maybe she'll go away. 
When she leaves, I walk into the office. Friendly, tight handshakes—Michael? Robert? I tell myself I cannot forget their names and then I instantly forget their names. The person in charge passes a key into a tiny manila envelope and offers me a handout of instructions. 
I want them to think they've made the right choice by inviting me here. Maybe if I'm sweet enough, funny enough, they won't know that I'm a fraud, that it takes me hours to put the simplest paragraph together, that I distract myself from my work as soon as the writing goes well, and I'm too flustered to sit down at my desk for more than 20 minutes at a time. 
I pop open the hatchback. Suitcase, duffel bag, boxes of manuscripts, floppy disks, envelopes of positive rejections, which I think of as my hall of shame. I trudge up the stairs, their thin carpeted treads. Running up and down, up and down. Somehow I manage to empty the hatchback in five minutes flat. I sit cross-legged on the floor of my long, narrow space, the second floor of a Cape Cod. One window to the north, the other to the south. Dormer in the living room.
Strip of kitchen fixtures to one side. Narrow bedroom, single twin bed up against the wall. Enough room to fully stand up only within three feet of either side of the ceiling peak. A boxcar, a monk's space. A little disappointing, to be frank, with just a hint of Florida on the air. By Florida I mean mildew. Flat soaps and squat motel glasses trapped inside a waxed sleeve. Not the Florida of the present: my parents' house. 
I lie on the bare mattress, fully dressed, look up at the ceiling. Something singes my eyebrows. Or is it just death grabbing at me, the voice of my mother pulling me down, down? Why has my father run away? I want something that isn't directly in front of me, which translates itself to desire. Desire is a condition I can manage. 
Though the night is quiet (crickets, sitcom laughter from a wide-open window), I can't sit still. There is a town out there, a circus, and I have been dead too long. 
__________________________________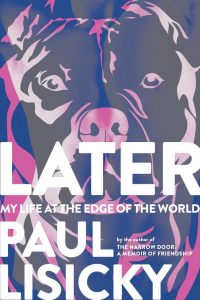 Excerpt from Later. Copyright © 2020 by Paul Lisicky. Used with the permission of Graywolf Press, Minneapolis, Minnesota, www.graywolfpress.org.
---