Patriotism: A Schooling (and Unschooling)
Jessica Holmes on the Unrelenting March of American History
The following appears in the new issue of Blunderbuss (print). 
Children have never been very good at listening to their elders, but they have never failed to imitate them.
–James Baldwin, Nobody Knows My Name
Wednesday, September 8th, 1982. First day of kindergarten.

I am taught the Pledge of Allegiance for the first time. It will become part of my school morning routine, off and on (depending on stringency of teacher), for the next 13 years. At 180 days per school year that makes nearly 2,400 Pledges of Allegiance by the time I graduate high school.
Elementary school, kindergarten through sixth grade, annually.

In October, I learn Christopher Columbus "discovered" America. In November, I learn the pilgrims befriended the "Indians." In the month of February, I learn that being a Northerner means I come from a state that was on the "right" side of the Civil War. New Yorkers did not condone slavery.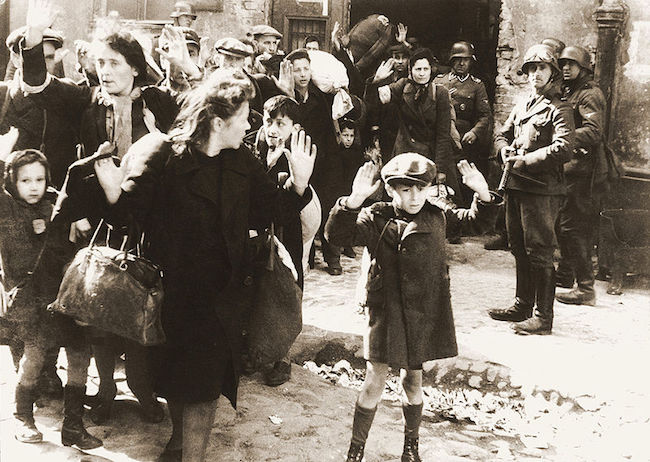 Sixth grade, social studies period, c. 1988-89.

I see for the first time the infamous photograph of the "Warsaw 
Boy" in my social studies textbook. Taken by Franz Konrad, a photographer for the Nazis, the black-and-white image depicts
 the liquidation of the Jewish ghetto in Warsaw in 1943. German soldiers round up a group of Jews—mainly women and children—at gunpoint. Most of the crowd is huddled together at the left side of the photograph, but one small boy, maybe nine years old, stands separated from the rest. The guns seem trained directly on him, as he faces the camera with his back to the soldiers. His disarmingly thin legs poke out from beneath an oversized coat. He wears a newsboy cap, and an expression of terror. My 11-year-old self is completely horrified by the image as I read how six million Jews were killed during the Holocaust. I'll see this photograph reprinted again many more times in the future and always remember the sensation of this moment, sitting by the classroom window, with the sunlight pouring down, bouncing off my desk, making me squint and sweat. I'll remember learning then that the tide of the Second World War turned once the United States entered on the side of the Allies. I remember learning that "we" won the war. I'll know, for the first time distinctly, a feeling that can only be described as a swell of national pride.
Seventh grade, 1990.

We learn nothing at school about Operation Desert Shield, in which our country is currently entangled, sending soldiers and Stealth Bombers to a country named Iraq. But, we are encouraged to support our American troops by tying yellow ribbons somewhere outside of our houses. My brother and I loop a giant, lopsided bow around the big tree in our front yard, where it remains for months, maybe even a year, after the war—Operation Desert Storm—officially begins in January 1991 and ends in February 1991.
Eleventh grade, social studies, 1994.

During a unit on World War II, Mr. O'Connell makes a comment along the lines of the Japanese "deserving what we Americans gave them," in reference to the 1944 bombing of Hiroshima and Nagasaki. The class bristles, the air becomes electric. We are a mixed bag—racially, economically, religiously—and most of us have known each other since elementary school. Our teacher's comment is tinged with xenophobia and we know it, can sense it even if we can't name it. We are dumbfounded by its sudden presence in our classroom. What other prejudices in the name of our country might Mr. O'Connell be repressing? How many others might share this way of thinking? What does he truly think of us, his students?
University of Rochester, 1995-1999.

I spend four years as a history major steeped in the American story. I read James Baldwin. I read the Port Huron Statement. I read that slaves were the first commodities traded on Wall Street and that New York did not abolish slavery until 1827. I am thinking regularly now about colonialism, misogyny, and racism. I learn that I still love my country but cannot wrap my head around a worldview that embraced—and continues to embrace—Manifest Destiny.
September 11, 2001. Second year in New York City.

Impressions from that day:
Emerging from the subway exit at the corner of Lispenard Street and West Broadway, into a cluster of people staring up at the Twin Towers. One building is smoking heavily near the top. "What happened?" I ask someone. "A plane flew into it." These would be the last few minutes of that old life—the crowd still more curious than panicked. Off to the side stands a handsome black man in a suit. "She's up there! Oh my God, she's up there, she's up there!" he sobs. A murmur rustles through the crowd. "Does anyone have a cell phone?" "Can he borrow someone's cell phone to call her?"
Walking down West Broadway towards my office, I turn back once more to have a final look at the burning building. It is the exact moment the other plane crashes through the second tower. The ground shakes beneath me and I gasp as the blooming mushroom cloud erupts. Even up here, ten or so blocks north, the sound rattles my bones.
The small assemblage of coworkers and friends that has gathered in my office. We watch the towers fall on a small, grainy, black-and-white television, as we simultaneously watch the smoke and dust of that destruction billow outside the arched picture windows we sit before. One of us was in the second tower when the plane hit. Another of us is covered head to toe in ash. But we are here—for now, we're alive. I make everyone call their parents.
The following day, the Afghani restaurant around the corner from my apartment has papered itself in American flags.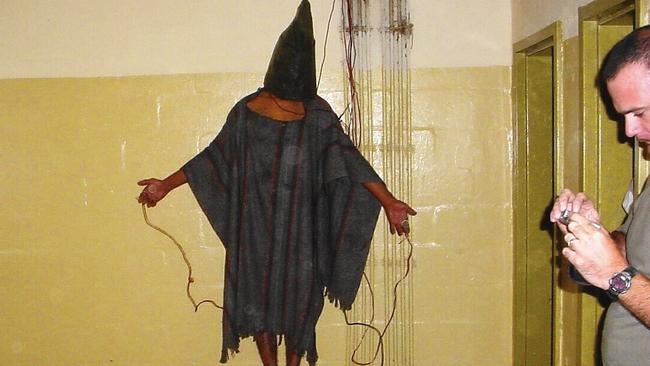 Spring 2004.

Disarmingly thin legs poke out from a raggedy, black blanket, the man's only makeshift article of clothing. A dark hood conceals his entire head as he perches on a small wooden crate, like a seabird 
on a pylon. He stands with arms outstretched, wires clipped to his fingertips. The United States is again entrenched in Iraq and this prisoner, held captive at the United States controlled prison in Abu Ghraib, has been systematically tortured by US military personnel. Digital images, souvenirs of the man's suffering and humiliation taken by American soldiers with their personal cameras, have gone viral. The first time I see the photograph I immediately remember the Warsaw Boy.
2012 to the Present.

My daughter is born, one month to the day after Trayvon Martin, an unarmed, black teenager is shot and killed by a community patrol member of a private community in Florida. As my daughter grows over the next four years, stories of African-American men and women being killed by police under suspect circumstances proliferate in the news—Michael Brown, Eric Garner, Sandra Bland, Philando Castile, and the list goes on. During that same period, 26 children and teachers will be shot to death in their elementary school in Newtown, Connecticut. Fourteen people will be shot to death at a center for the developmentally disabled in San Bernardino, California. Forty-nine people will be shot to death at a nightclub in Orlando. A mass protest will erupt on Standing Rock Sioux Reservation in an attempt to prevent Energy Transfer Projects from building an oil pipeline through their sovereign land. As of this writing a national debate has erupted over whether it's conscionable to sit out during the National Anthem at American sporting events. What does it stand for? What do we stand for? Should we stand at all? In the meantime, my daughter returns home from nursery school, very proud. She has learned to recite the Pledge of Allegiance
---