Patrick Modiano on the Bookshop Owner Who Escaped the Nazis
Françoise Frenkel's No Place to Lay One's Head Belongs in the Company of Literary Giants
Translated by Stephanie Smee.
The copy of Françoise Frenkel's No Place to Lay One's Head that was recently found, I'm told, in Nice, in an Emmaus Companions charity jumble sale, had a curious effect on me. Perhaps because it had been printed in Switzerland in September 1945 for Geneva-based publishers Jeheber. That publishing house, now defunct, had in 1942 published L'aventure vient de la mer, a French translation of Daphne du Maurier's novel Frenchman's Creek, published in London the previous year, one of those English or American novels banned by the Nazi censors but sold covertly and even on the black market in Paris under the Occupation.
We don't know what became of Françoise Frenkel following the publication of No Place to Lay One's Head. At the end of her book, she recounts how in 1943 she smuggled herself across the border into Switzerland from Haute-Savoie. According to the note at the end of the foreword, she wrote No Place to Lay One's Head in Switzerland "on the shores of Lake Lucerne, 1943–1944." Sometimes strange coincidences occur: in a letter sent by Maurice Sachs a few months earlier, in November 1942, from a house in the Orne where he had taken refuge, I happen upon the title of Françoise Frenkel's book in the course of a sentence: "It appears it's rather my path, if not my fate, to have no place to lay my head."
What was Françoise Frenkel's life like after the war? These are the scarce pieces of information I have been able to gather about her thus far: she recalls, in her account, the French bookshop she had established in Berlin in the early 1920s—the only French bookshop in the city—and which she apparently managed until 1939. In July of that year, facing imminent danger, she abandons Berlin in all haste for Paris. But in Corine Defrance's study La "Maison du Livre français" à Berlin (1923–1933) we learn that she ran this bookshop with her husband, a certain Simon Raichenstein, about whom she says not a word in her book. This phantom husband is supposed to have left Berlin for France at the end of 1933 under a Nansen passport. It seems identity papers were denied him by the French authorities, who issued him with a deportation order. But he remained in Paris. He was taken from Drancy to Auschwitz in the convoy of July 24, 1942. He had been born in Russia, in Mogilev, and it appears he lived in the 14th arrondissement.
What makes No Place to Lay One's Head unique is that we cannot precisely identify its author.
We find a trace of Françoise Frenkel among the State Archives of the Canton of Geneva in the list of persons recorded at the Geneva border during the Second World War; that is to say, those who were granted permission to remain in Switzerland after crossing the border. That list provides us with her true full name: Raichenstein-Frenkel, Frymeta, Idesa; her date of birth: July 14, 1889; and her country of origin: Poland.
One last trace of Françoise Frenkel, 15 years later: a compensation claim in her name dated 1958. It refers to a trunk she had left in the Colisée storage repository at 45 Rue du Colisée in Paris in May 1940, and which was confiscated on November 14, 1942, on the grounds it was "Jewish property." In 1960, she is awarded compensation in the sum of 3,500 Deutsch marks for the despoliation of her trunk.
What did it contain? One coypu fur coat. One coat with an opossum collar. Two woolen dresses. A black raincoat. A dressing gown from Grünfeld's. An umbrella. A parasol. Two pairs of shoes. A handbag. An electric heat pad. An Erika portable typewriter. A Universal portable typewriter. Gloves, socks, and handkerchiefs . . .
Do we really need to know more? I don't believe we do. What makes No Place to Lay One's Head unique is that we cannot precisely identify its author. This eyewitness account of the life of a woman hunted through the south of France and Haute-Savoie during the Occupation is all the more striking in that it reads like the testimony of an anonymous woman, much as A Woman in Berlin—also published in Switzerland in the 1950s—was thought to be for a long time.
If we think back to our first readings of works of literature, around the age of 14, we knew nothing of their authors either, whether it was Shakespeare or Stendhal. But that naïve and direct reading left its mark on us forever, as if each book were a sort of meteorite. In this day and age writers appear on television screens and at book fairs; they're constantly interposing themselves between their works and their readers, and turning into traveling salesmen. We miss our childhood years when we would read The Treasure of the Sierra Madre, written under the pseudonym B. Traven, a man whose identity remained unknown even to his publishers.
All you need do, I'm sure, if you want to find a trace of Françoise Frenkel in Berlin, is read Nabokov's Berlin stories and novels.
I prefer not to know what Françoise Frenkel's face looked like, nor the twists and turns of her life after the war, nor the date of her death. Thus, her book will always remain for me that letter from an unknown woman, a letter forgotten poste restante for an eternity, that you've received in error, it seems, but that perhaps was intended for you. That curious impression I had upon reading No Place to Lay One's Head was also the effect of hearing the voice of somebody whose face one can't quite make out in the half-light and who is recounting an episode from their life.
And that reminded me of the overnight trains of my youth, not in the "sleeping cars" but the seated compartments which used to create a great sense of intimacy between passengers, and where somebody, under the night-light, would end up confiding in you or even confessing to you, as if in the privacy of a confessional. It was the feeling that you would no doubt never see each other again that lent weight to this abrupt intimacy. Brief encounters. You retain a suspended memory of them, the memory of somebody who didn't have time to tell you everything. The same can be said of Françoise Frenkel's book, written 70 years ago but in the confusion of the moment, still suffering from shock.
I ended up tracking down the address of the bookshop run by Françoise Frenkel: 39a Passauer Strasse; telephone: Bavaria 20-20, between Schöneberg and Charlottenburg. I imagine them in that bookshop, she and her husband, who is absent from her book. At the time she was writing, she was probably unaware of his fate. Simon Raichenstein had a Nansen passport, since he belonged to that group of émigrés from Russia. There were more than 100,000 of them in Berlin in the early 1920s. They had settled in the Charlottenburg neighborhood, which, as a result, had come to be known as "Charlottengrad."
Many of these White Russians spoke French, and I assume they were the main customers of Mr. and Mrs. Raichenstein's bookshop. Vladimir Nabokov, who used to live in the area, no doubt one evening crossed the threshold of that bookshop. No need to consult archives or study photos. All you need do, I'm sure, if you want to find a trace of Françoise Frenkel in Berlin, is read Nabokov's Berlin stories and novels, which he wrote in Russian and which are the most moving of his works. You can picture her on the crepuscular avenues and in the poorly lit apartments of Nabokov's descriptions.
Leafing through The Gift, Nabokov's last Russian novel and a farewell to his mother tongue, you come across the description of a bookstore which must have resembled that of Françoise Frenkel and the enigmatic Simon Raichenstein. "Crossing Wittenberg Square, where, as if in a color film, roses trembled in the breeze around an old-fashioned stairway that descended into an underground station, he made his way towards the bookshop . . . the lights were still on . . . Books were still being sold to taxi drivers on the nightshift, and he made out, through the yellow opacity of the shop-window, the silhouette of Misha Berezovski . . ."
In the last 50 pages of her book, Françoise Frenkel recounts a first failed attempt to cross the Swiss border. She is taken to the police station in Saint-Julien together with "two girls in tears, a dazed-looking little boy, and a woman worn out from exhaustion and cold." The following day she is transferred by bus, together with other fugitives who had been arrested, to the prison in Annecy.
I find these pages moving, having spent many years in this part of Haute-Savoie. Annecy, Thônes, the Glières Plateau, Megève, Le Grand-Bornand . . . Memories of the war, of resistance fighters, lived on during my childhood and adolescent years. Fingerprints. Handcuffs. She appears before a tribunal of sorts. As luck would have it, she is given a "minimum suspended sentence and pronounced free." The next day she is released from custody. On leaving the prison, she walks in the sunshine through the streets of Annecy. I am familiar with the path she happens to take. She hears the murmur of a fountain that I, too, used to hear in the silent, stiflingly hot early afternoons on the shores of the lake at the end of the Pâquier promenade.
Her second attempt to smuggle herself across the Swiss border is a success. I often used to take a bus to Geneva from the Annecy bus station. I had noticed it would pass through customs with never any inspection whatsoever. Yet, as it approached the border, from the Saint-Julien-en-Genevois side, I would feel a slight tightening within. Perhaps the memory of a sense of menace still hovered in the air.
——————————————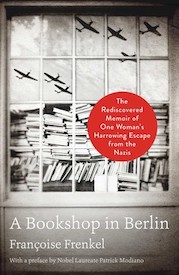 From A Bookshop in Berlin: The Rediscovered Memoir of One Woman's Harrowing Escape from the Nazis by Françoise Frenkel. Reprinted by permission of Atria, a Division of Simon & Schuster, Inc. Copyright © 2019 by Françoise Frenkel.
---