Patricia Engel on The Lover, Edwidge Danticat, and the Rats of NIMH
Book Recommendations from the Author of Infinite Country

Welcome to the Book Marks Questionnaire, where we ask authors questions about the books that have shaped them.
This week, we spoke to the author of Infinite Country (out now in paperback), Patricia Engel.
*
Book Marks: First book you remember loving?
Patricia Engel: The Diary of Anais Nin, which I read in high school. A lot of the content went over my head at the time, but it showed me the power of personal writing and a woman's voice.
BM: Favorite re-read?
PE: Rosario Tijeras by Jorge Franco.
BM: What book do you think your book is most in conversation with?
PE: One Hundred Years of Solitude and The Vortex by José Eustacio Rivera.
BM: A book that blew your mind?
PE: Create Dangerously by Edwidge Danticat.
BM: Last book you read?
PE: The forthcoming memoir by Ingrid Rojas Contreras, titled The Man Who Could Move Clouds, which describes her family's supernatural ancestry.
BM: A book that made you cry?
PE: Secret by Philippe Grimbert.
BM: What book from the past year would you like to give a shout-out to?
PE: Love is an Ex-Country by Randa Jarrar.
BM: A book that actually made you laugh out loud?
PE: Fiebre Tropical by Juli Delgado Lopera.
BM: What's one book you wish you had read during your teenage years?
PE: Any book featuring a US-based Latina protagonist. I didn't come across such a book until I was in my twenties. It was Soledad by Angie Cruz.
BM: Favorite book to give as a gift?
PE: Man's Search for Meaning by Viktor Frankl. My father gave it to me, and his father gave it to him.
BM: Classic book you hate?
PE: Hate is too strong a word but I am not a fan of Jane Eyre.
BM: Classic book on your To Be Read pile?
PE: As I Lay Dying.
BM: What's a book with a really great sex scene?
PE: The Lover by Marguerite Duras.
BM: Favorite book no one has heard of?
PE: I would not say nobody has heard of it, but a book that I think should be more widely read is In the Beginning Was the Sea by Tómas González.
BM: Favorite book of the 21st century?
PE: Too many to choose from but among my tops are Prayers for the Stolen by Jennifer Clement and Say Her Name by Francisco Goldman!
BM: Favorite book you were assigned in high school?
BM: Book(s) you're reading right now?
PE: My Broken Language by Quiara Alegría Hudes and Open Water by Caleb Azumah Nelson.
BM: Favorite children's book?
PE: The Rats of NIMH books.
BM: Book you wish would be adapted for a film/tv show?
PE: Cantoras by Carolina De Robertis would make an incredible TV show.
*
Patricia Engel is the author of Infinite Country, a Reese's Book Club pick, Esquire Book Club pick, Indie Next pick, Amazon Best Book of the Month, and more. Her other books include The Veins of the Ocean, which won the Dayton Literary Peace Prize and was named a New York Times Editors' Choice and a San Francisco Chronicle Best Book of the Year; It's Not Love, It's Just Paris, which won the International Latino Book Award, and of Vida, a finalist for the PEN/Hemingway Fiction Award and the Young Lions Fiction Award; winner of a Florida Book Award, International Latino Book Award and Independent Publisher Book Award, longlisted for the Story Prize and the Dayton Literary Peace Prize, and named a Barnes & Noble Discover Great New Writers selection and a New York Times Notable Book of the Year. For Vida, Patricia was the first woman to be awarded Colombia's national prize in literature, the 2017 Premio Biblioteca de Narrativa Colombiana. She has been awarded fellowships from the Guggenheim Foundation, the National Endowment for the Arts, the Florida Division of Cultural Affairs, Bread Loaf Writers' Conference, Hedgebrook, and Key West Literary Seminar among others, and is the recipient of an O. Henry Award.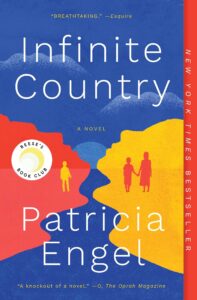 Patricia Engel's Infinite Country is out now in paperback from
*
---