Parents: If You're Letting Your Child Wear a Hat, You're Doing it Wrong
The 18th-Century German Medical Advice You Didn't Know You Needed
Here's a rare example of an 18th‐century physician writing for children, taken from an engaging but eccentric book published in Germany in 1792. Its author, Bernhard Christoph Faust, was personal physician to Countess Juliane of Hesse‐Philippsthal, the aristocratic ruler of a minor principality in Lower Saxony. Faust was a tireless campaigner for public hygiene and did a great deal to promote vaccination against smallpox, but his greatest success was the Catechism of Health, a short work that uses the question-and-answer form of the Christian catechism to teach children about their bodies and how to keep them healthy. He was evangelical in his beliefs (some of them rather odd) and was clearly hoping that his book would eventually be used in every school in Germany. He begins with a preface addressed to schoolmasters:
This book teaches how man from his infancy ought to live, in order to enjoy a perfect state of health, which, as Sirach says, is better than gold. You will, therefore, with pleasure, I hope, instruct your dear little pupils in its principles; and as able and experienced men, convinced that the mere learning of the answers by heart can be of no advantage to children, you will have no objection to instruct them after the following method.
The chapter which is chosen for instruction ought first to be read by the master, and then by two children that read perfectly well and distinct; one of them reading the questions, the other the answers regularly and in order to the end of the chapter; the master, understanding thoroughly what has been read, explains its general import.
The master was also expected to quiz the children at regular intervals to test their understanding of what had been learned.
An hour, at least, twice a week, ought to be devoted to such instruction, in order that the whole Catechism of Health may be gone through twice a year, and the minds of the children impressed with the true spirit of its doctrine.
Two hours a week seems optimistic; but Dr. Faust cannot be faulted for his ambition. And it paid off: The book sold 80,000 copies in the first two years, and was soon translated into several other languages. Faust even sent a copy to George Washington, with an obsequious cover letter recommending its use in the schools of the newly founded United States:
I deemed these books worthy of being laid before you, and through you before the United States of America.
An American edition duly appeared, complete with a foreword by the founding father Benjamin Rush, one of the country's leading physicians. The Catechism in fact contains a good deal of sensible advice, and you can see why the architects of the USA might have been attracted to it: It encourages self‐reliance, virtue and abstinence—just the sort of values a young nation might want to inculcate in its children. Some of Faust's views are decidedly progressive: He is emphatically in favor of equal education for both sexes, and condemns corsets and other forms of female dress that constrict the internal organs.
Article continues after advertisement
That said, Faust obviously had a few hobbyhorses, and sections of the book make amusing reading today. Perhaps the clearest example of his idiosyncratic views is the chapter on clothing: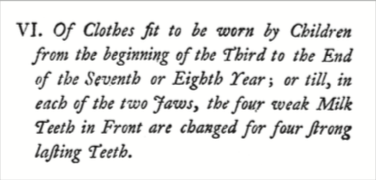 Q. By what means does man preserve, particularly in his infancy, the genial warmth of his body?
A. By good wholesome food and bodily exercise.
Q. Is it necessary to keep children warm, and protect them against the inclemency of the weather, by many garments?
A. No.
Q. Why so?
A. That the body may grow healthy and strong, and be less liable to disease.
Q. How ought the heads of children to be kept?
A. Clean and cool.
Q. Is it good to cover children's heads with caps and hats to keep them warm?
A. No; it is very bad; the hair is a sufficient protection against cold.
Q. Are those artificial coverings dangerous and hurtful?
A. Yes; children are thereby rendered simple and stupid, breed vermin, become scurfy, full of humours, and troubled with aches in their heads, ears, and teeth.
Q. What kind of caps are, therefore, the most dangerous?
A. The woollen, cotton, and fur caps.
Q. How, then, ought the heads of children to be kept?
A. Boys, as well as girls, ought to remain uncovered, winter or summer, by day and by night.
Lower Saxony has a mild climate and the temperature rarely drops much below freezing in winter; one wonders how the children of colder parts of Europe and the US felt about this advice.
Q. How ought children, male as well as female, to be dressed from the beginning of the third to the end of the seventh or eighth year?
A. Their heads and necks must be free and bare, the body clothed with a wide shirt and frock, with short sleeves; the feet covered only with a pair of socks to be worn in the shoes; the shoes ought to be made without heels, and to fit well.
Q. What benefit will be derived from this kind of dress?
A. The body will become healthier, stronger, taller, and more beautiful; children will learn the best and most graceful attitudes; and will feel themselves very well and happy in this simple and free garment.
It was Dr. Faust's passionate belief that a smock was the best form of dress for both boys and girls; but his subsequent campaign to outlaw trousers was sadly unsuccessful. While his views on clothing were often peculiar, there was one aspect of the subject on which he was unambiguously correct:
Stays and stiff jackets are inventions of the most pernicious nature; they disfigure the beautiful and upright shape of a woman, and, instead of rendering her straight, as was formerly supposed, they make her crook-backed; they injure the breasts and bowels; obstruct the breathing and digestion; hurt the breasts and nipples so much that many mothers are prevented by their use from suckling their children; many hence get cancers, and, at last, lose both health and life; they in general destroy health, and render the delivery of women very difficult and dangerous, both to mother and child. It is, therefore, the duty of parents, and especially of mothers, to banish from their houses and families both stays and jackets.
Wise advice; if only those corset‐loving Victorian parents had taken note!
_________________________________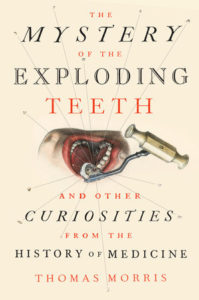 Excerpted from The Mystery of the Exploding Teeth: And Other Curiosities From The History of Medicine by Thomas Morris, published on November 20th, 2018 by Dutton, an imprint of Penguin Publishing Group, a division of Penguin Random House, LLC. Copyright (c) 2018 by Thomas Morris
---