If you pick up the newest edition of Oxford American, the quarterly general-interest literary magazine founded in 1992 and best known for its annual Southern music issues, you'll notice a bold design aesthetic: the conspicuous dearth of cover lines, a prominent masthead, a thick, granular binding that shines at certain angles, and a strikingly-lit cover image by photographer Curran Hatleberg, bursting with pink azaleas—a signature ornamental flower in the American South—and two pairs of befuddled couples, one elderly, the other young.
It's a fitting image for the OA's relaunch issue, the publication's 106th, which hit shelves across the country earlier this month. Editor Eliza Borné, who was introduced to the magazine in 2003 and, a little more than a decade later, would succeed Roger D. Hodge, was pleased with OA's success (it's racked up multiple National Magazine Awards) and wanted to "be intentional in publishing writers and stories more reflective of the South."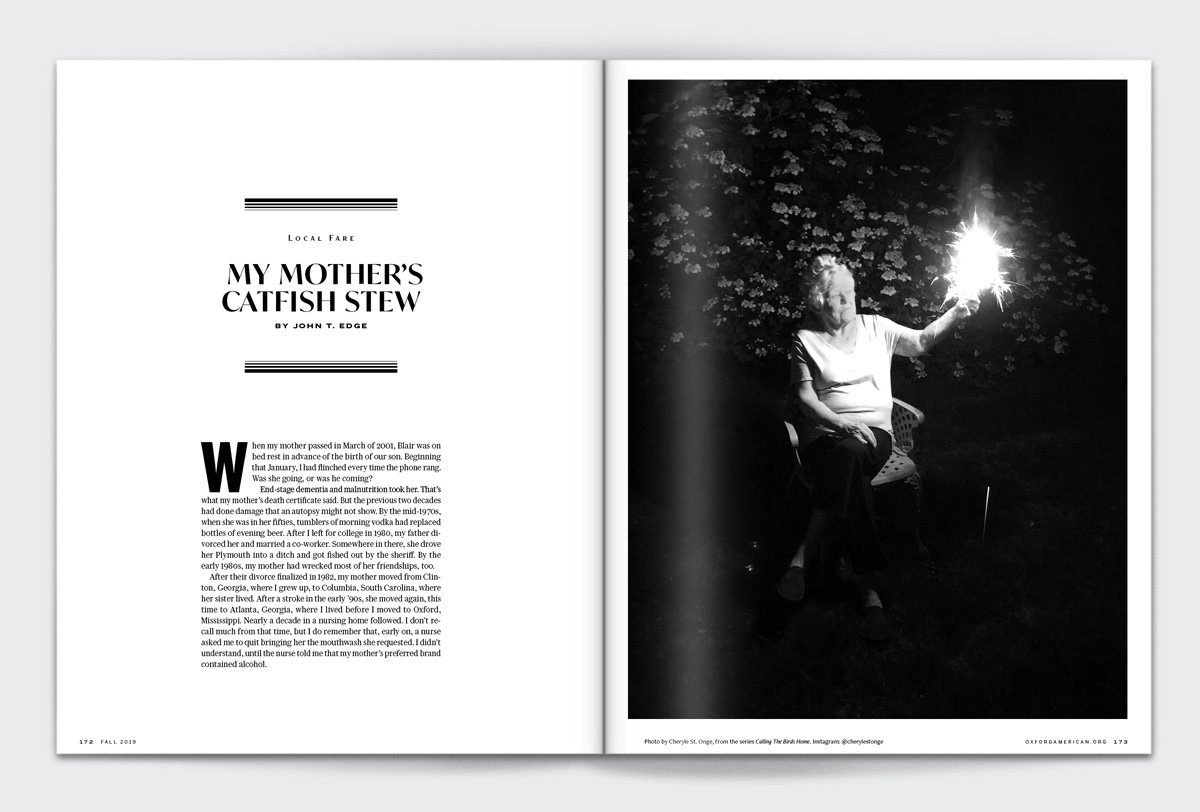 This meant integrating "more women, more writers of color, [and] more representation of diverse communities" in the magazine's overall design. That's true here, and the fall issue boasts an excellent line-up. Among the contributors are Nathaniel Mackey (Splay Anthem), Jami Attenberg (The Middlesteins),  emerging author Sarah Curry, Maurice Carlos Ruffin (We Cast a Shadow), and a strong roster of journalists writing about everything from the embroidery of Mississippi Gulf Coast tapestry artist Ruth Miller to the future of Isle de Jean Charles, a stretch of land in Louisiana that is the traditional home of the region's Biloxi-Chitimacha-Choctaw tribe.
Bolstered by a $25,000 grant from the Windgate Foundation in Arkansas, the team at OA expanded with a new design team, including art directors Milton Carter and Mike Reddy, and last winter began discussing the relaunch.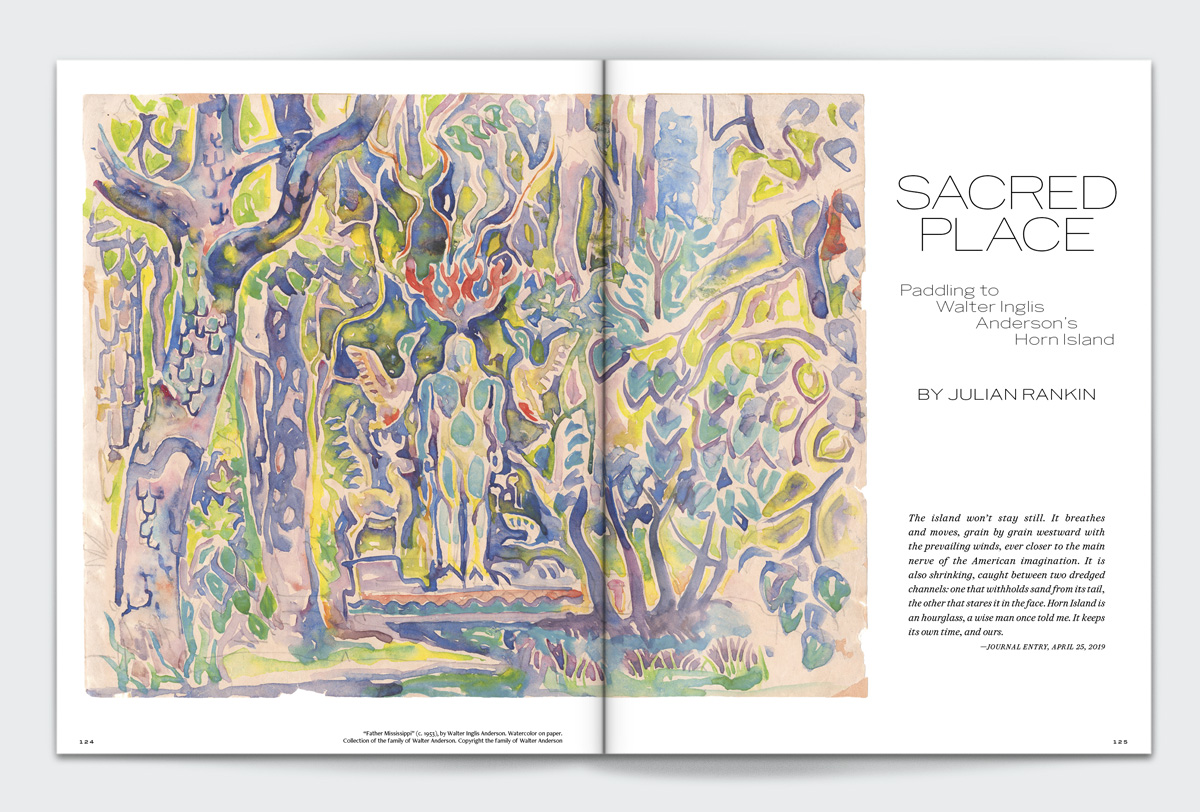 "We landed on this idea that we wanted the magazine to feel fresh and new, and a little bit more contemporary," Borné said. In practice, this meant allowing the text on the pages to "breathe" by giving it wider margins, and clustering most ads in the space of a few pages, minimizing distraction. In addition, the magazine will commission original artwork for future cover pieces.
"Our priority is publishing artists who live in the South, were trained here," Borné emphasized.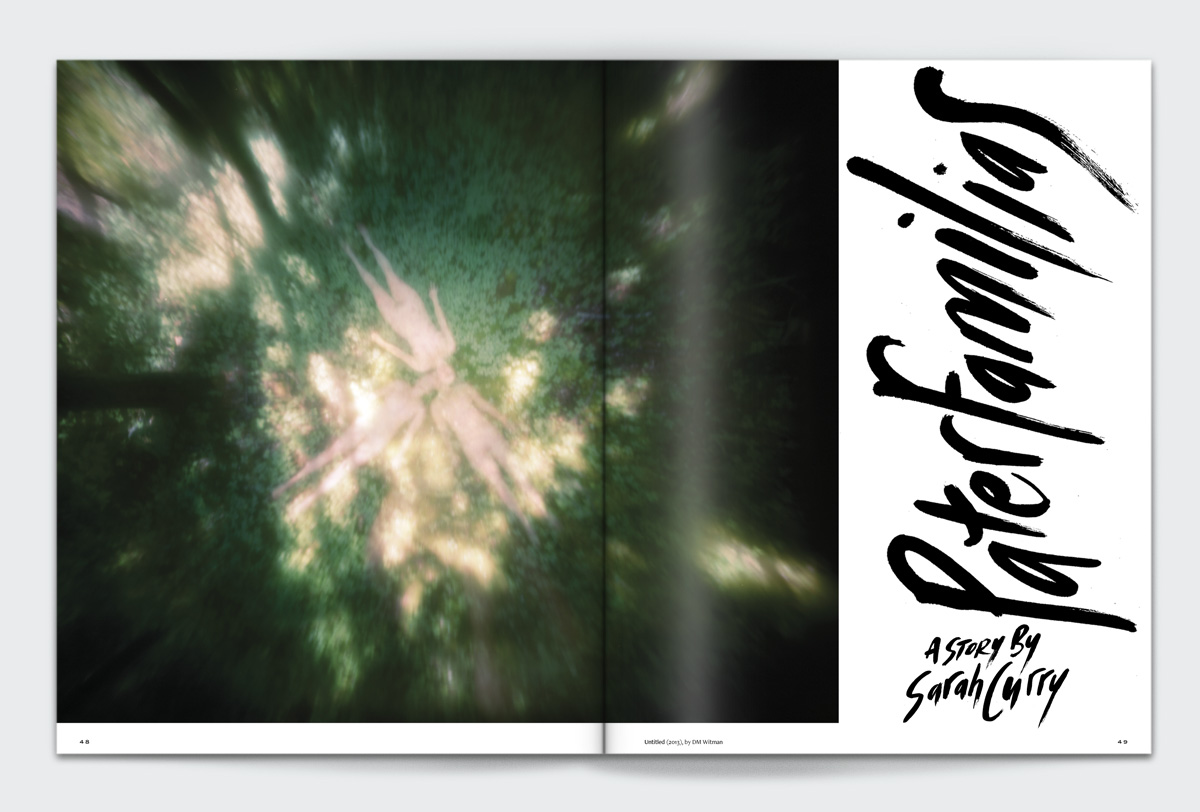 Perhaps the most striking element of OA's redesign is the standalone quality of the featured fiction and poetry. There comes a point about midway through the magazine when the reader turns the page on a gorgeous double-spread introducing poems from Nathaniel Mackey's forthcoming collection, Double Trio. The effect is immediate. You feel like you're opening up a book-within-a-book, and besides the quality of the poetry itself, what catches your eye is the sheer amount of white space—the poems and images aren't cramped and the eye has room to idle.
"[In the old version of OA] we never would've been able to run a feature like Mackey's poem," Borné said. "You need time and space to process a piece like this."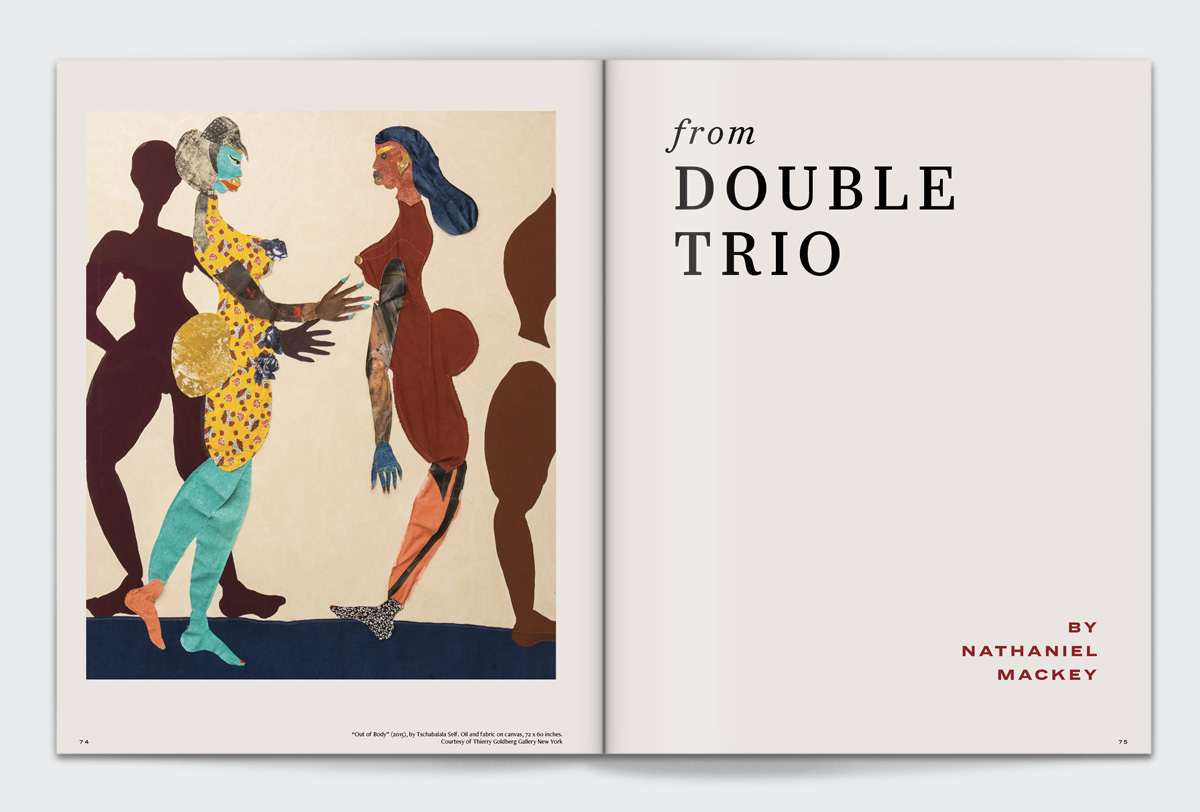 The relaunch is also accompanied by two new initiatives: a podcast called Points South and a reading series, South Words. The first episode of Points South features a performance by folk musician Dom Flemons, as well as a conversation with documentary filmmaker Ken Burns and Rhiannon Gidden's discussion of black country musicians (all you fans of the Carolina Chocolate Drops, rejoice!). The South Words reading series invites past OA contributors to Little Rock, Arkansas for readings and conversations.
You can purchase the Fall 2019 issue of Oxford American here.