Outsiders in Love:
A Reading (and Watching) List
Emily Hashimoto on the Roots of Her Debut Novel
"Everything is copy." That was an Ephron family saying that I've adopted as my own maxim, and it is in that spirit that my debut novel A World Between––a tale of two queer women of color, Eleanor and Leena, who grow away from and towards each other over the course of 13 years––is a web of references to every person I've met, movie I've watched, book I've read, and story I've heard.
Its DNA, though, is the romantic comedies and dramas I watched growing up, whether from the mind of my patron saint Nora Ephron or the rambling, sprawling European-ness of a Richard Linklater Before trilogy installment. The blood in the veins of this book are novels I read about outsiders in love, struggling against the constraints of their circumstances. The organs and muscle of the book are the stories that came later: queer romantic moments between women that made me perk up and understand the value of visibility.
But the core of this book, trembling with exercise and exertion, running this metaphor into the ground, is none of these things: a very academic article on queer women and the "lesbian continuum."
*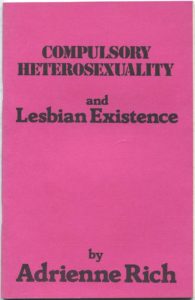 Adrienne Rich, "Compulsory Heterosexuality and Lesbian Existence"
In college I read this essay and it blew my mind, the idea that all women, no matter how they identified orientation-wise, existed on a continuum of intimacy that linked us together. It rejected the limiting notion of heterosexuality and the centering of men. As a young and budding queer woman, I gobbled all of this up. It was enough to make it the central thesis of my novel.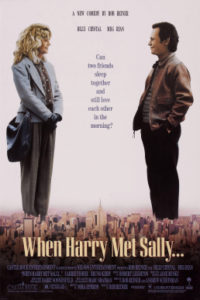 When Harry Met Sally (and all of the other rom-coms)
My friend and I once spent a drive from Boston to New York reciting the dialogue from the movie, line by line, and my bachelorette party was WHMS-themed, which is to say: this is my desert island movie, the one to rule them all. Originally I referred to my book as a "lesbian When Harry Met Sally," because it was (a) a love story that (b) took place over a span of years and (c) wore a weaving path from lovers → friends → more → nothing → something infinitely hard to define. The concepts that make up the film were interesting enough for me to spend years in this universe, remixing it with Asianness and queerness to reflect what I know and something more complicated than the original.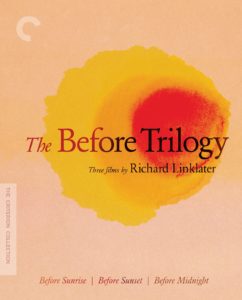 Before Trilogy (Before Sunrise, Before Sunset, and Before Midnight)
One strange thing these movies taught me was this: when you're falling in love, you walk around and talk constantly. You banter, tease, share informative life information, and maybe you linger close, on your way to a kiss, but then the air is let out of the moment––for the moment––only to be turned to triumphantly later on. The movies above have many of these moments, but nobody does it better or had more impact on me than the Before trilogy, featuring Julie Delpy and Ethan Hawke wandering around Vienna, Paris, and a beautiful, coastal Greek town. They talk, ad nauseum, and some of it is cloying or irritating, but it always felt real and balanced. Love isn't easy, love isn't smooth. Love is messy and worth it––and this is what I brought into A World Between.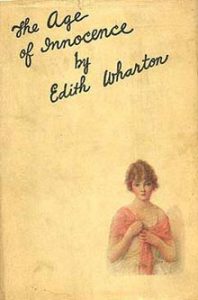 Edith Wharton, The Age of Innocence
Five years of writing this book made me search for great examples of how to capture chemistry on the page, such a different exercise than film. On a recommendation I took up with The Age of Innocence, first yawning at it then reading furiously, devouring its brilliance about societal pressure and constraints against the most natural of feelings around love and passion in Gilded Age New York. I delighted in what Wharton created between the characters: with dialogue, with small shared moments, with how the characters bloomed for the other. I was as much in love with the book as the protagonists were for each other.
And now for something queer: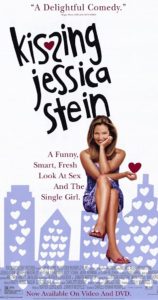 Kissing Jessica Stein
After a childhood spent borrowing rom-coms from Blockbuster, I began to look for other films, real casual-like, no big deal, that maybe had two female protagonists who fall in love. Kissing Jessica Stein, the story of one woman so tired with men that she began dating a woman to feel something again, was one of these films. In an earlier draft, Eleanor and Leena watched it together on one of those movie-watching dates that's really an excuse for making out. While it's a classic disappointment in my community that *spoiler alert for this movie* Jessica doesn't stay with her girlfriend, this was a perfect film for someone reared on rom-coms: walking! New York City! Banter! To think of it now, I know Jessica's mother played some small role in the formation of Eleanor's mother, and one particular post-coital scene in my book drew from a brief moment in this film.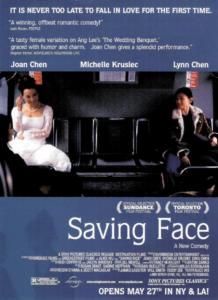 Saving Face
While so much of Kissing Jessica Stein spoke to me, it spoke to the compartmentalized parts of me: a queer woman. Saving Face, on the other hand, is all about intersections. It is a romantic comedy about two women who know each other through the Chinese Queens social community, about who they are apart and together. Movies about queer women can be, by default, pretty cringe-y: often with off-putting, strained dialogue, or chemistry-less romances. But Saving Face escapes all of that, and with writer-director Alice Wu's steady hand, she gave me a path to consider what it was to write about queer Asian women and their lives in full.
I saw Fun Home on Broadway three times . . . Yep. I was a theater kid, and when you combine that with my overabundant love of queer media, there was only one course of action: see it as many times as I could before it closed. I delighted in seeing characters fall in love and was gutted to see the tragedy, but the song that moved me beyond what's reasonable is "Changing My Major to Joan." While not the first love song sung to a woman by a woman, it was one with which I could relate: being in college, having sex with a woman, and feeling affirmation of who you were all along. I played this song over and over as I wrote, whenever I needed to conjure some overwrought college-aged feelings.
And finally: some queer books, for god's sake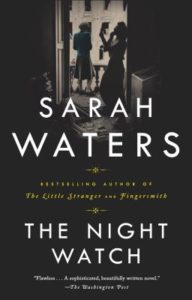 Sarah Waters, The Night Watch
I read The Night Watch by Sarah Waters early on in the drafting process of my novel. The woven blanket of several stories, starting in London after World War II then rewinding back into the thick of it, had me considering the ways one can play with time and revelation.
Carol Anshaw, Aquamarine
Likewise, I enjoyed the hell out of Carol Anshaw's Aquamarine, which plays with these concepts but also alternate universes, for which I was over the moon. Decisions and reactions in our lives can, theoretically, change our trajectories, and exploring this with a queer character––with more choices, and or less––is infinitely interesting.
__________________________________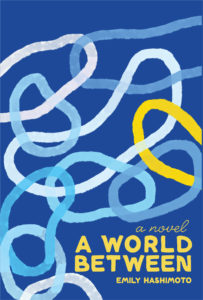 A World Between by Emily Hashimoto is available now from Feminist Press. 
---