Out of the Attic: A Caregiver's Rage and Jane Eyre
Kate Washington on Burnout, Marital Roles, and the Feminine Ideals of Victorian Literature
It was when a dead bat fell out of my ceiling that I thought I might really lose it. It lay, angular gray limbs curled, on the second step down of our wide stairs, six feet from my younger daughter's bedroom and ten feet from mine. My daughters, then ten and six, were in the bath. "Stay there," I yelled.
The bat had definitely not been on the stairs five minutes before, when we had come upstairs for their baths. I looked up at the ceiling. It was April 2016, the first summer-warm night of the year, and I'd turned on the whole-house fan in an attempt to cool off the upstairs bedrooms. The dead bat—at least it was dead—must have fallen from the vent's wide slats, tumbling down like a symbol of repressed rage. Its sudden appearance made me feel, well, batshit crazy, like every cliché of female madness out there.
I might have reread Jane Eyre, Charlotte Brontë's 1847 Victorian Gothic novel of a neglected, "poor, plain and little" orphan who becomes a governess and eventually marries her rakish employer, more often than any other 19th-century novel. In the novel, famously, the attic releases a secret much bigger than one little dead bat: Rochester's mad first wife, whom he has shut up there out of shame and hatred.
That night, though, I was thinking more of the practical problems the bat presented than its symbolic meaning. Tired and on edge, I was worried by rumblings from my husband Brad's doctors that they might send him home soon. At the time of the bat incident, he had been hospitalized for nearly four months in the wake of a stem cell transplant. The transplant saved his life from aggressive lymphoma, but it also nearly killed him with complications. He had lost his ability to eat, as well as his vision, and he would come home (a few weeks later, as it turned out) severely immune compromised and needing round-the-clock care.
By that time, Brad had been severely ill for more than a year. I was exhausted by the rounds of caregiving, of attending at the hospital and shuttling back and forth fuzzy socks and laundry and the homemade broth that was the only thing he could eat. I was also worn out by solo parenting and coordinating everything in our lives.
Coordinating most things wasn't new for me. I didn't realize how much more I was doing in terms of life maintenance until Brad was unable to do anything at all. I had long taken charge of most home improvements, and it had been my bright idea to install the whole-house fan. It works well in Sacramento, where summer days are hot—often above 100 degrees Fahrenheit—but nights can cool off by 40 degrees or so. The whole-house fan vents through the attic and sucks cool air from outside into the entire house when you open a few windows downstairs. It turned out detritus had collected on the wide slats over the winter. In this case, detritus is a nice word for "mummified bat."
So, we had bats in the attic. Shit. If Brad came home he would be on immunosuppressants. What diseases did bats have? Rabies? How many of them were up there? How long had this one been there? Long enough to die and dry out, obviously. What else might be lurking in the attic? How the hell was I going to get rid of this disgusting bat when I couldn't bear to even walk past it? The rational part of my brain knew this tiny, extremely deceased mammal couldn't hurt me, but my body recoiled at approaching it, much less touching it. I told the girls about the bat, and they shrieked.
I would love to be someone who can calmly dispose of a dead bat, but I wasn't a great feminist role model that night. My overwhelming reaction was, fuck all this noise. It was like a twist on the Talking Heads song: not my beautiful house, not my beautiful life. In the life I had built, the life I was living before cancer so rudely interrupted, my husband was there in part to pick up the goddamn bat. If he teased me a little bit about not wanting to pick up various dead vermin, I didn't resent it because I knew he didn't think any less of me. A dead bat on my stairs wasn't the biggest crisis compared to cancer and nearly dying. But it was an immediate one, and that bat wasn't going away by itself.
In the end, my father-in-law got rid of the bat, the girls calmed down enough to go to sleep (in my room), and the next day I called some bat-control specialists. I learned a lot about bat removal. The first thing: it is very expensive to get bats out of your attic, and it doesn't matter whether you are removing a huge colony or just a few bats. (We had the latter.)
To get them out you have to seal every single crack in your entire house larger than a quarter inch, and then the exterminator installs one-way exits. So at night, when the bats go out to hunt insects, they can't come back in. It takes a few weeks. It was good I had called when I did, the bat specialist told me. Pupping season was coming up and you can't get rid of them during it. Okay, I said, wondering why baby bats are called pups. Then he told me how to recognize bat guano. You can tell it's bat guano, he said, because if you crush the little piece it disintegrates into powder, which rat excrement doesn't do.
The reason I wanted to escape my attic was to set fire to my no longer beautiful life.
I joked that maybe the guano was worth something. After all, guano is used for fertilizer—there was even a 19th-century guano rush on some small islands near Peru. Could that offset the cost, maybe? The bat exterminator didn't think that was funny. So I paid the money (it came to about $250 per suspected bat), got the house sealed up tightly, and waited for the bats to leave.
Summer was coming, with its heat; Brad was recovering, bit by tiny bit. Soon he'd be coming home to a house that might be full of bats, to rabies and madness, to my wavering sanity. That hot April night, the bat was the least of what came out of the attic—though I can still picture it curled there, like a tiny gray demon at the top of our wide staircase. That one tiny mummy bore a ridiculous symbolic weight. Somehow the dead bat, the dust, the crumbly guano, felt like the perfect symbol of all the rage and resentment I'd been hiding away. Like the bat, I wanted out of the attic; like another madwoman before me, the reason I wanted to escape my attic was to set fire to my no longer beautiful life.
I first read Jane Eyre at age 12, and I can no longer remember what I got out of it then, but I picked up a tiny copy, with a blue limp-cloth cover, onionskin paper, and teensy print my middle-aged eyes would quail at now, at my grandparents' house. It was inscribed with my grandmother's maiden name on the flyleaf, and when I saw its age and that it opened in a library, with descriptions of books as Jane's most forbidden and reliable friends, I was hooked. Raiding my grandmother's shelves, or really any shelves I chanced upon, had been a habit of mine for a couple of years; until I found Jane Eyre, I had concentrated my efforts on surreptitious readings of Judith Krantz and The Thorn Birds, pulp fiction that was educational in an entirely different way.
When I was an undergraduate, my most beloved English professor said that some readers were Charlotte people and some were Emily people, referring to the Brontë sisters. We were reading Wuthering Heights in that class, and I hated it. I was a Charlotte person, always. I preferred Jane—with her sensible approach, her scruples, her rich inner life hidden by an ordinary exterior—to any ragingly romantic Cathy. I had surely never before identified with Bertha Mason, the rageful, vengeful wife who also comes out of an attic to burn down Jane Eyre's peaceful delusions of wedded happiness with Mr. Rochester, her employer. Later, after undergraduate studies, I would go to graduate school to study Victorian literature. As a baby Victorianist in the take-back-the-night 1990s, I cut my teeth on Sandra Gilbert and Susan Gubar's The Madwoman in the Attic, the foundational feminist critical work that in part looks at Bertha Mason as a symbol of repressed female rage.
Gilbert and Gubar's argument might seem obvious now, after intervening decades of feminist literary criticism, but when it appeared it was groundbreaking. Bertha Mason and Jane Eyre represent the dichotomy of the Victorian feminine, stripped down to its essentialist, patriarchal form: monstrous madwoman on the one hand, angel in the house on the other. Bertha Mason is the grotesque, angry, raging side of the female; Jane learns to tamp down her righteous anger and moments of rebellion as a child, and as an adult exercises utter self-control. More broadly, Gilbert and Gubar contend that the woman writer of the day, too, was limited to this false dichotomy, lending a story like Jane Eyre a feminist subtext.
I felt burned out by life as a caregiver, but that was nothing compared to Bertha Mason's rage: She escapes to burn down all of Thornfield Hall, immolating herself and Jane's hopes, and blinding Rochester along the way. Later, patient Jane tends to Rochester in his blindness and becomes the good caregiver of the novel named for her, the selfless opposite of Bertha's drunken, inattentive caregiver, Grace Poole. Jane is willing, she says, to become his eyes—to sacrifice all she might wish to see in order to privilege his vision—and she is willing to do this whether they marry or not.
Reader, as we all know, Jane married him. When she accepts him she tells him, "I love you better now, when I can really be useful to you, than I did in your state of proud independence." If this is the test of a good helpmeet—or was in the 19th century—I failed it when Brad, too, went blind. One challenge of caregiving in our modern marriage was for us to find a path through Brad's blindness together, and to reframe our ways of seeing each other through a loss we'd never expected. This raised painful questions about both the nature of our marriage and how I could best care for him without losing myself.  In the novel, it's a failure of caregiving that lets Bertha loose. When that bat came tumbling down, I felt like the mad wife and the failed caretaker, all rolled into one. What I didn't know then, but dimly suspected, was that my feelings of burnout and entrapment were only going to get worse.
__________________________________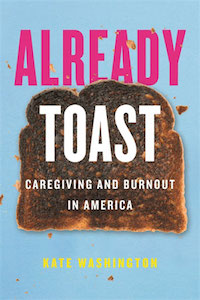 Already Toast: Caregiving and Burnout in America is available from Beacon Press. Copyright © 2021 by Kate Washington.
---