Our Family Stories Are the Bridge Between Nature
and Nurture
Lauren Fox on Writing Her Mother's History, and Passing It
on to Her Daughters
Just before my new novel, Send for Me, was published in February, advance copies arrived at my house. As I opened the box of books, my daughters stood close to me, buzzing with excitement, and before I had even put the scissors down, they each grabbed one. They plunked down next to each other on the loveseat in my office and immediately started reading.
My girls are eighteen and thirteen. They know the outlines of the story on which this novel is based: The letters woven throughout the book were written by my great-grandmother as she and my great-grandfather tried, with mounting desperation, to leave Germany in the late 1930s and early '40s. My grandparents and mother had fled in 1938, and the letters are a chronicle of anguish. The book is fiction, but I drew from our family's true story—the pain of their separation and the powerful current of loss that moves through generations.
I watched for a few minutes as my girls read together. I snapped a picture for Instagram. I contemplated the mess on my desk. And then Molly, my older daughter, started sobbing.
I turned to her and froze. She had dropped the book into her lap and was holding her head in her hands. After a while, she looked up at me and choked out, "You mean, she never saw her mother again?"
"That's right," I said gently.
"And Grandma never saw her grandma again?"
"Yes."
My hilarious, sarcastic, eye-rolling teenager wept. She was inconsolable.
You know all of this, I wanted to say. This is not news to you. In fact, my younger daughter, Tess, was staring at her big sister, completely baffled. I could tell she was thinking the same thing. Why is this just hitting you now?
Later that night, I overheard Molly talking to my mom on the phone, her querulous voice and my mother's soothing murmurs on the other end. Molly may have known our family's history before, but this was the moment she owned it.
I had discovered those family letters two decades ago, among my grandparents' belongings. Although I couldn't read them, as soon as I saw the letters I had the distinct feeling that I had stumbled upon a treasure. I still remember the moment, alone in my parents' basement—the wood grain of the box they were stored in, the pink ribbon that bound the pages. The musty smell, the delicate, flaking onionskin paper. I couldn't predict the extent to which these letters would inform my writing life, would slowly expand to tell me a story I needed to know, but I was enveloped in that moment of discovery by something strange and magical.
We tell our stories, and our stories tell us. They're a bridge between nature and nurture, the answers to questions we might not even know we had.
I remember asking my grandparents when I was very young if they ever wanted to go back to Germany, before I fully understood what they had escaped from. A little electrical current passed between them, and my grandfather's quiet no, mein kind carried a charge that I've never forgotten. Years later, when I got the letters translated, I heard my great-grandmother Frieda's voice and the profound echoes of her syntax and her sorrow. Her voice sank into me, and I understood her desperate longing to see her family again, and the torment of trying to survive something that was beyond her control.
We tell our stories, and our stories tell us. They're a bridge between nature and nurture, the answers to questions we might not even know we had. For me, that question took the form of the nebulous sadness and anxiety that hovered over my family. For my daughter, maybe the story that suddenly clicked for her was a clue to the fierce bond she and I share, the way it can morph, sometimes, from delight and adoration into tears and fury and then, just as quickly, back again. Or maybe it was something else, something that will come to light as she leaves home and figures out who she is.
When I was in my twenties and living in Minneapolis, I used to joke with my friends that all I wanted was to move home to Milwaukee, pop out a couple of babies, and hand them directly over to my mother. But of course I wasn't joking. Deep in my bones I felt that I could heal our family this way, that my hypothetical children might cure an old sorrow and write a new story.
In the end, it's exactly what I did. My husband got a job here and we moved back, and we had our girls, and except for some travels, my parents have seen their grandchildren every single day of their lives. Even in the midst of the pandemic, before the vaccines were even a dream, they would drive over to our house, park in our driveway for a few minutes and wave. "We just want to see your faces," they said. Sometimes Tess would stand in the driveway and play her clarinet for them, squeaky notes rising through the perilous air.
As much as they burrow in, our stories also reach out. I thought about those letters for years. I finally returned to them in 2017, when it came to light that the Trump administration was separating families at the border, locking children in cages. The history of my own ruptured family had become a part of my emotional DNA, and that fusion brought the need to amplify it, in whatever way I could.
My daughter's connection to our family story changed her. I'm not completely sure how yet, but I had a front row seat to the moment it happened. When you understand where you come from, when you grasp it as deeply as she did that day on the couch in my office, you are rearranged. She gets it now: we're made up of pieces of one another. She will see herself in every story of a family torn apart by a vicious political regime or an indifferent bureaucracy.
Family stories can't change policies or reunite families, but they can connect us. They're weapons against apathy. Our stories of loss and heartache reach toward us from the past and offer protection against future harm. All we can do is tell them over and over, to make them huge, loud, and impossible to ignore.
________________________________________________________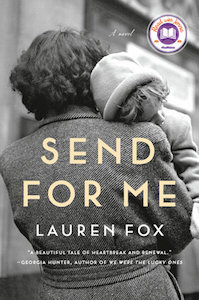 Lauren Fox's Send for Me is available now via Knopf. 
---