Oral Histories: What is the All-Time Cringiest Episode of The Office?
The Cast and Creators of the Beloved Show Have Some Opinions
The following is from Welcome to Dunder Mifflin: The Ultimate Oral History of The Office.
*
Jenna Fischer ("Pam Beesly"): In some ways The Office was ahead of its time, but we couldn't have existed without shows like The Larry Sanders Show, Freaks and Geeks, Arrested Development. These were all shows that helped develop a trust in the single-camera comedy. And all of the Christopher Guest mockumentary movies. There were things conspiring in our favor before we came along.
Brian Baumgartner ("Kevin Malone"): I always felt like our deepest roots were with Cheers. The only difference was our show was about people who had to show up every day, whereas on Cheers, they chose to show up at this particular place. But we both had the familiarity and constant interaction.
Greg Daniels (Co-Creator Of The Us Office): I agree with you. I also used to compare us to Hogan's Heroes in the beginning. 'Cause the staff were like prisoners, all trying to outwit the boss. I don't think that's the main influence at all, but it's fun to think about it.
All of those shows and movies had one thing in common, which was also one critical element of The Office: cringe comedy. A guy who knows a lot about that is Ed Helms.
Ed Helms ("Andy Bernard"): Testing, testing, testing. This is why I like headphones. 'Cause I can get really intimate.
Ed joined the show in our third season as Andy Bernard, the Nard Dog, a graduate of Cornell (ever heard of it?) and a man known to break into unsolicited a cappella.
Ed Helms: For some reason, our generation embraced the comedy of failure and awkwardness and poor communication. My parents never got The Office. They were mortified by it, all of the awkwardness and the tension that we think is so funny. For our parents, especially southern parents—repression is a very powerful force in southern families—awkwardness is so intolerable that they weren't able to see the humor in it.
Ed Helms: On the Daily Show, especially with the correspondent field pieces, it was all about finding extremely tense moments. We would revel in the awkwardness because that tension is funny.
In one of Ed's most infamous Daily Show segments, from 2004, he gets drunk at a firing range and argues with the owner of a biker bar in Arizona about whether patrons should be allowed to drink while armed. "Logic tells you that alcohol and firearms don't mix," the heavily tattooed bar owner tells him. "Yeah," Ed responds, "if you're a pussy."
Ed Helms: We would try to make the bad guy squirm, whoever the villain of a field piece might be. I don't know why that's funny.
Paul Feig (Director): To me, the most awful, embarrassing moments in your life are so hellish when you're going through them, but to watch somebody else go through the same thing is so liberating.
Paul Feig directed some of The Office's biggest episodes ("Office Olympics," "Halloween," "Dinner Party") and later became an executive producer on the show. He's one of the most influential producers and directors in comedy today. But before all that, he was involved in bringing a new wave of American cringe to TV with Freaks and Geeks.
Paul Feig: On Freaks and Geeks, I recreated this car accident I got into when I was sixteen years old. Lindsay [played by Linda Cardellini] is driving and she gets distracted and this car hits her. I remember when we were shooting it, I couldn't stop laughing. It was just this release of all the angst I'd kept ever since I was a teenager, by making somebody else have the same terrible experience. So there's maybe a cruelty to it, but to me at least, I find it very cathartic. I thought, "Who wouldn't love to watch the most embarrassing, cringey moments of their teen years recreated for them?" And the answer was nobody wanted that, at least back then.
Freaks and Geeks, which averaged less than seven million viewers (compared with eighteen million for its time slot competitor Who Wants to Be a Millionaire), was canceled in 2000 after just twelve of the first season's eighteen episodes had aired. Garth Ancier, the NBC exec who canceled the show, called it "an awful decision that has haunted me forever."
Paul Feig: Every time I'm going through something horrible, I'm like, "You're going to have the greatest story to tell later." All this terrible stuff happened to me in high school, with bullies and embarrassing moments. But in my twenties, when I would hang with friends, I would bring down the house every time with my stories, because they were so much worse than everybody else's stories. And that was the moment when you go, "There's something in this."
Emily Vanderwerff (TV critic for Vox): Really this tradition comes from the Brits. Fawlty Towers is a show that kind of plays in that vein. And people didn't really want to see that on American television in the eighties.
American TV at the time was more hopeful. Even M*A*S*H, a show about military surgeons during the Korean War, was full of unironic optimism. We started to get hints of cringe in the U.S. during the '90s with shows like Seinfeld.
ELAINE [TO THE BLACK WAITRESS]: Long day?
WAITRESS: Yeah, I just worked a triple shift.
ELAINE: I hear ya, sister.
WAITRESS: Sister?
ELAINE: Yeah. It's okay, my boyfriend's Black.
(From the 1998 Seinfeld episode "The Wizard")
Emily Vanderwerff: Seinfeld is a big breakthrough for a show that had cringe elements and you were supposed to fundamentally find those four people . . . I won't say likable, but relatable. And then the British Office is the big breakthrough for what we think of as modern cringe comedy.
Stephen Merchant (co-star and writer of the UK Office): It was not our intention to make people squirm. It was just that, for us, it was so much funnier when someone who was trying to be funny, for instance, said a joke and then you just sat in silence. I don't know why, Ricky and I just found that so funny. It was only when we started hearing from people, "Oh, that made me feel really uncomfortable," or "I had to watch it through my fingers," only then did it occur to us, oh, maybe this is not always as enjoyable for other people as it is for us.
They weren't even aware of how realistic all of these cringey moments felt.
Stephen Merchant: I think maybe it was like, if you work on a horror movie and the blood is fake and the knife is not real, you can just keep adding more violence and more bloodshed. And you go, "Ha, this is great." And then when you watch it with an audience, they're like, "Oh, this is horrible." I think for us, it was a bit like that. It was so funny to us to just keep turning the screw and making this world uncomfortable. I don't think it occurred to us that people would find it cringe-worthy until they started telling us. And then of course we just doubled down and were like, "Oh, well now we're going to really lay it on."
The center of cringe on the British Office was the boss, David Brent. Ricky Gervais says that the cringey aspects of Brent came from the wide gap between who Brent wanted to be and who he actually was.
Ricky Gervais: David Brent wanted to be a philosopher and a teacher, he wanted to be cool. He wanted to be sexy. He wanted to be funny. He wanted to be all those things that he wasn't quite, and that is comedy at its most basic, particularly in a sitcom. A sitcom is about an average guy or gal trying to do something that they're not equipped to do. That's what we're laughing at, the blind spot. So I just made David Brent all about the blind spot.
Which brings us to David Brent's descendant, Michael Scott, who had to be different from Brent in some key ways. Michael couldn't completely alienate himself from his employees, for instance. That would end the show.
PAUL LIEBERSTEIN: I think one of the biggest changes was Steve's performance. To the extent that Ricky's character could just straight-out insult someone and not care, that would never happen with Michael. He could insult someone thinking he was complimenting them. He could be unaware, but he could never be mean.
EMILY VANDERWERFF: Because we simultaneously identify with him and with all the people working under him. We're getting both sides of this relationship, which is where cringe comedy lives. Michael is frequently awful. His employees have to work under him and we watch how that relationship shifts and changes, how they negotiate the spaces between them, and the ways that social contract is broken in tiny little ways.
Like when Michael replaces his girlfriend's ex-husband with himself in a family photo.
MICHAEL: That is my Christmas card. It's a picture of you and me and your kids on a ski trip, having a blast. Ski-son's greetings.
CAROL: No, see, we never went on a ski trip.
MICHAEL: I know, I know.
CAROL: I went on a ski trip, two years ago, with my kids and my ex-husband.
Or when Michael insists on hoisting a new, larger employee onto a conference table as part of a welcoming ceremony.
MICHAEL: Bend at the knees. Okay. Here we go! Here we go! I'm under this. I'm under this hock here. I don't know what I'm grabbing here!
Or when Michael, under oath during a deposition for Jan's lawsuit against the company, describes his girlfriend's . . . assets.
JAN'S LAWYER: Did Ms. Levinson ever say why she thought she was being fired?
MICHAEL: She thought it had to do with the twins. That's what I call them.
JAN'S LAWYER: Can you be more specific? Who are the twins?
MICHAEL: Um, to be delicate, they hang off milady's chest. They make milk.
Sometimes the cringe factor wasn't something we could so easily separate from as a viewer. Greg wasn't just about singling out Michael for ridicule, but finding the ways in which we all, embarrassingly, behave like Michael.
Melora Hardin: They would take things that we would say and turn them into jokes. The whole breastfeeding-at-the-office scene happened because I was breastfeeding my daughter at a brunch with Greg and his wife and Steve and his wife at Greg's house. I think it made Steve uncomfortable, and I was just like, "Dude, my child needs to drink." I felt very feminist about that. We can carry guns in this country, but you can't breastfeed a baby? That's what our boobs are for, you know? I think I even said that at the brunch. And Greg was like, "Oh my God, this is amazing. We're doing this."
A breastfeeding scene was shot for the season five episode "Baby Shower," in which Jan breastfeeds her daughter in the office, while Kevin (and eventually Creed) watches a little too creepily, but it was eventually cut. And then there's the season six classic, an episode that's become a classic for being unwatchable, even among die-hard fans: "Scott's Tots." It took cringe to the extreme, with Michael unable to keep a promise he made years ago to some third graders.
MICHAEL: I didn't want to see them fall victim to the system. So I made them a promise. I told them if they graduated from high school, I would pay for their college education. I have made some empty promises in my life, but hands down that was the most generous.
There's even a subreddit called "CannotWatchScottsTots," with (as of this writing) almost seventeen thousand subscribers, where Office fans bond over their inability to sit through the cringiest of all cringey episodes. "I'm only around 9 minutes in the episode," one person wrote, "and can I just say how excruciating this is to watch?" Another noted that despite their "super-strong stomach" and love of horror films, they couldn't sit through the entire thing.
Brian Baumgartner: There are so many people who come up to me and they're like, "I'm the biggest fan of The Office, but I can't watch 'Scott's Tots.'" "Dinner Party" is straddling the line, but "Scott's Tots" is the one where people are like, "No."
Greg Daniels: I think Ricky and Stephen put it in the bones of the show, right? Michael does the wrong thing. The show knows what the right thing is, but he doesn't and he's always doing the wrong thing. Michael intended to be successful and to be a hero and a philanthropist and to make a big, positive impact in these kids' lives. That was his intention. It was a good intention. If you get that right, you can get all your jokes but still protect the character. It really hurt Michael that he wasn't able to be the guy he thought he was going to be when he made those promises. So you got all your "he's a jerk" jokes, but you were also like, "Aww."
"Scott's Tots" was written by Lee Eisenberg and Gene Stupnitsky, who also wrote "Dinner Party," the other Office episode considered among the most cringey in the series' entire run. That can't be a coincidence.
Lee Eisenberg: Gene and I really liked the cringe comedy of the British Office. That's a comedy engine that we really dug, trying to make it as grounded as possible, but also sitting in a moment for a really long time after a character says the wrong thing. And then you can't get out of it. Both of those episodes are very claustrophobic, because you're in a condo ["Dinner Party"] or you're in the classroom ["Scott's Tots"].
Brian Baumgartner: "Scott's Tots" is considered the most difficult to watch by a lot of fans. Are you proud of that?
Lee Eisenberg: Incredibly, yeah. Nothing makes me happier. I mean, other things make me happier, but I'm very pleased.
Brian Baumgartner: No one wants to watch it, and you're pleased about that?
Lee Eisenberg: Well, I think that the comic premise is so strong and it's like, what can you do to keep turning the screw and make it feel worse and worse? Like when they start dancing. Michael was just sitting there and he also loves performance and he loves dance, but he also knows that he can't get out of this. It was incredible.
___________________________________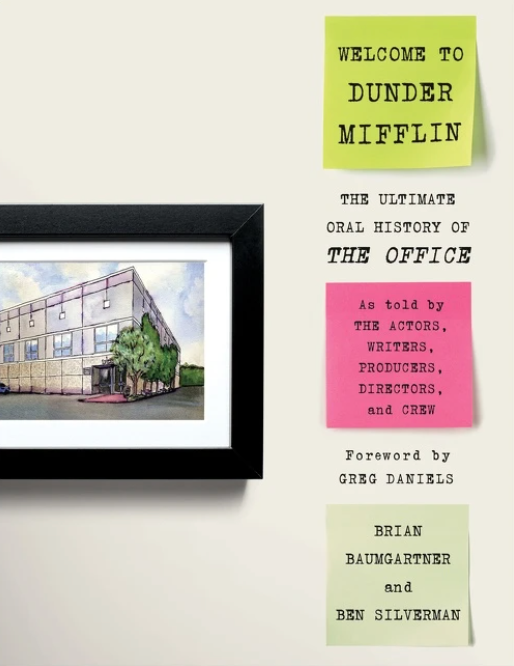 From the book, Welcome to Dunder Mifflin: The Ultimate Oral History of The Office. Copyright ©2021 by Brian Baumgartner and Ben Silverman. Reprinted by permission of Custom House, an imprint of HarperCollins Publishers.
---