One Utah County's Decades-Long Struggle for the Native American Vote
David Daley on Voter Suppression in Big Sky Country
"There will be a lot more Native voices to hear from."
The driver's license office in Rolla, North Dakota, is open on the first Wednesday of every month, from 10:20 am until 2:35 pm, except from noon until 1 pm, when it's closed for lunch. This is about as north as you can go in North Dakota, the last town along Route 30 before you reach the Canadian border, just 14 miles and one right turn away. The DMV is a small stand inside the combined city hall and public library. Downtown Rolla, dusty and low against a wide western sky, population 1,280, looks much as it did when it was first laid out in 1888. These days, you don't miss the homemade caramel rolls or the malted waffle at North 40. The fashions at the Golden Rule remain flannels, fleeces and flags. There's been one movie a week at Curt's Theatre for the past 103 years.
But something has changed in North Dakota that's made the three hours and fifteen minutes each month that this office is open for nearby residents to get a driver's license quite important. North Dakota is such a small state that it doesn't bother with voter registration. Precincts are small; everyone knows everyone. The method has worked so well that the nonpartisan Pew Charitable Trusts ranked the state best in the nation in its Elections Performance Index in 2008, 2010 and 2012. Voter fraud, according to the secretary of state, was "virtually nonexistent." There was one apparent instance in 2012, a teenager who appeared to have voted twice, once at college and then at home via absentee ballot. Officials gave him a stern talking-​to and declared him "scared straight."
In 2012, Heidi Heitkamp, a Democrat, captured one of North Dakota's U.S. Senate seats by just 2,996 votes, aided by particularly enthusiastic support from Native Americans, the state's largest minority group. The state legislature responded swiftly. In April 2013, and again in three consecutive sessions, the Republican-​dominated body tightened North Dakota's voter ID law into the toughest in America. The new law, written by state representative Randy Boehning of Fargo, required a valid state identification card complete with a street address. A passport, an expired out-​of-​state license, a utility bill, a military ID—​all of these forms of ID, which had been perfectly acceptable to this point, were no longer good enough.
Legislators also eliminated what had been called "fail-​safe" backups that allowed poll workers in tiny towns to vouch for a resident they'd likely known their entire life. These new barriers—​expensive, time-​consuming and requiring long weekday trips during an extraordinarily limited window—​struck Native Americans the hardest. Republicans said they were necessary to prevent fraud; Native Americans said they would prevent them from voting.
And that's what happened. Lucille Vivier, a member of the Turtle Mountain Band of Chippewa Indians, arrived at the polls in November 2014 with her tribal ID. It had always been sufficient, but not this year. Vivier had tried her hardest to meet the requirements, but the voter ID law set a standard that was impossible for her to meet. The reservation doesn't have street addresses, or even mail delivery. Nevertheless, she spent $120 for a ride to the nearest Social Security office to try get the paperwork she needed, as well as another $40 for childcare for her five kids, including three with special needs. But that Social Security office wouldn't accept her tribal ID. On election day, the poll workers wouldn't either, turning her away even though one of them had known her since kindergarten.
Only in 1957 did Utah allow Native Americans to vote, under court order.
Navy veteran Richard Brakebill, another member of the Turtle Mountain Band, proudly voted in nearly every election before he, too, was refused a ballot at the Rolla City Hall. His license had expired days earlier and his efforts to get a new one failed when he couldn't produce his Arkansas birth certificate. His possessions and paperwork had been destroyed in a house fire. Meanwhile, at the local Knights of Columbus hall where Elvis Norquay had voted for decades, save Novembers spent serving his country in Vietnam, another Native American left the polls frustrated and sad. The address on his ID did not match the homeless shelter where he'd been living. "It kind of brought me down, you know?" Norquay says, his Presleyesque jet-​black hair pulled back into a long ponytail.
More than 5.2 million Native Americans currently live in the United States, and they call some of the most remote and difficult-​to-​access parts of the country home. Their road to the ballot box has always been a challenging one: Congress only granted America's original residents citizenship in 1924. Their voting rights, however, had to be won state by state. It was not an easy fight; it took another three decades for some states to extend the franchise to Native Americans. New Mexico held out until 1962. Since then, voting hasn't gotten much easier. Indeed, throughout the mid-​2010s, without the protections of the Voting Rights Act, intentional voter suppression techniques targeting Native Americans that might have been commonplace, if still shocking, fifty years ago have proliferated rapidly across North Dakota, Utah, Arizona and many other states. As William Faulkner once wrote, "The past isn't dead. In fact, it's not even past."
The tactics have only become more surgical and disingenuous: demands for street addresses which legislators know Natives lack, or shuttering voting precincts on tribal land ostensibly for noncompliance with the Americans with Disabilities Act. Some western states have moved to voting by mail—​well aware that many Native Americans might not be able to translate the language of ballot questions, for instance, or that Natives might receive mail at a post office box an hour away—​accompanied by "ballot harvesting" laws that make it a felony for a fellow tribal member to drive a completed ballot back to town on behalf of an elder or someone without a car.
These purposeful barriers, however, have been met with determined resistance from optimistic tribal members and dedicated attorneys. In December 2017, a federal court in Utah would end a brutal racial gerrymander that had endured for decades, corralling a Navajo majority in San Juan County into one district and ensuring that the white minority controlled the other two seats. Nevada, under court order in 2017, added early voting locations on the Walker River Paiute and Pyramid Lake Paiute reservations after local election boards had closed polling stations and forced Natives to drive more than 100 miles to vote.
Meanwhile, Richard Brakebill, Lucille Vivier and Elvis Norquay were among the lead plaintiffs challenging the North Dakota voter ID law, which unleashed some of the most unexpected political aftershocks of 2018. Voting "means to make our country better," says Norquay, a lifelong Turtle Mountain resident who speaks inclusively and optimistically, and demands nothing more—​or less—​than to have his voice heard. "If you don't vote," he says, "you don't get to look forward to anything."
For decades here in Utah's vast San Juan County, along the state's southeastern border, members of the Navajo Nation could look forward to only one of the three seats on the county commission, no matter how many of them cast ballots. The county is majority Navajo, but more than 90 percent of the Navajo have been packed into one of three wildly gerrymandered districts. That guarantees the white minority the other two seats and control of the board.
San Juan County is Utah's largest county; in terms of square miles, it's larger than New Jersey and Massachusetts, and nearly the size of Connecticut, Delaware and Rhode Island combined. This is stunning country. Everywhere you look are breathtaking canyons and red-​rock formations so awe-​inspiring they might drop you to your knees (or make you pull over every few miles to take a photo). The desert captures the majesty and transcendent allure of the wide-​open American West, yet feels so otherworldly, more Martian than earthly, that it could be another planet altogether. Appropriately, it provided the backdrop for classic John Ford westerns like The Searchers and Stagecoach, but also the ethereal vistas of Stanley Kubrick's 2001: A Space Odyssey.
It's very much two worlds. To the south, San Juan County is impoverished and majority Navajo. Nearly 72 percent of the residents are unemployed, and the only roads between far-​off towns become impassable in rain or snow. Most homes lack running water and electricity, there are just three post offices over all these miles and you might drive hours without seeing gas or food, save for the small roadside stands selling jewelry and fry bread.
In the north of the county sit Blanding and Monticello, its two most populous towns, settled by Mormon missionaries in the late 1880s. Blanding's broad streets, as legend has it, were designed by Brigham Young to be wide enough for a driver to turn around his team of oxen without cursing. When the Mormons arrived, they forcibly removed the Navajo and other native tribes, pushing those who weren't killed far south, into the desert beyond the San Juan River. They took the Natives' land, then they claimed all the power.
Only in 1957 did Utah allow Native Americans to vote, under court order. It was another three decades before the first Navajo won elected office. Until the mid-​1980s, San Juan County's white voters took advantage of the oldest trick in the book: at-​large elections. By allowing the entire county to vote for all three seats on the county commission, at-​large elections assured that the powerful white voting bloc won all three. Mormon candidates from Blanding and Monticello received a further assist from county clerks who refused to register Navajo voters, knocked Navajo candidates off the ballot, and printed ballots only in English so that most Native Americans would find them impossible to navigate. The Department of Justice finally took notice in 198311 and forced the county to scrap the patently discriminatory at-​large system and replace it with three districts, assuring the Navajo of a voice in county affairs.
The districts the white minority drew, however, guaranteed themselves the largest voice. Blanding and Monticello were placed in separate districts, with 93 percent of the Navajo majority in the third—​enforcing power through gerrymandering. Little changed for the Navajo. "We've been lied to and we've been messed with for years and years," Leonard Gorman, executive director of the Navajo Nation Human Rights Commission, tells me. New schools and libraries opened in the north, along with a publicly-​funded community center with a golf course. Meanwhile, even into the 1990s, county officials denied they had any responsibility to educate Navajo students. When the US Department of Justice examined the disparities, horrified investigators concluded that they "hadn't seen anything so bad since the '60s in the South."
As I drive to meet Kenneth Maryboy, one of the Navajo county commissioners, who lives only about a mile off the main road, my rented SUV feels like a roller coaster as it bounces through potholes more like small trenches. I can't imagine what a school bus ride feels like. "It's like living in a hellhole," Kenneth tells me at his home outside Bluff, with rolling red mesas and green sage as far as you can see. The only noise is the sound of barking dogs. His tiny yellow ranch-​style house is decorated with plastic pumpkins and cobwebs for Halloween; bloody handprints on the front door spell out "Help us," as if zombies have gotten to everyone inside. Only help doesn't come regularly to the Navajo in San Juan County.
County officials didn't bother redistricting after the 1990, 2000 or 2010 censuses. They claimed that the consent agreement with the Department of Justice prevented them from altering the lines, but really they wanted to preserve a permanent two-​to-​one edge and hoped that no one would notice. The county commission even pulled an ugly bait-​and-​switch on Gorman in 2011. He and the county had reached a deal, under which both the Navajo and the commission would draw a set of maps, then both proposals would be sent to a judge for consideration. The commission agreed, then simply acted as if their maps were the only ones, ignoring the Navajo proposal altogether and denying that the deal meant what it said. Later, the commission told Gorman that the 1980s arrangement with the federal government was in perpetuity. "Instituted forever and ever," says Gorman. "On one side," he says, with amazing equanimity, "the story is forever changing. On our side, we're forever baffled."
"We have to fight for everything. Everything. This is the only way we do things in San Juan County."
In 2016, the Navajo Nation sued the county, alleging that the districts violated the voting protections in the Fourteenth and Fifteenth Amendments. County officials railed against "predatory attorneys" preying on "one of the poorest counties in the nation" and imagining a "racial divide that simply doesn't exist in San Juan County." But a federal judge decided enough was enough. "Keeping an election district in place for decades without regular reconsideration is unusual in any context," wrote US district judge Robert Shelby. In the context of San Juan County, however, "it offends basic democratic principles."
He ordered the county commission districts, as well as those of the school board, redrawn by a neutral "special master," in the name of "binding precedent, common sense and the interest of justice." When this was done, two of the three new districts had a Navajo majority. Maryboy, whose older brother was the first Native American elected to the county commission after the districts were installed in 1986, announced his candidacy for one of them. Suddenly no one from Monticello or Blanding even wanted to stand against him. Maryboy ran unopposed.
"There's nothing easy for the Native American in San Juan County," says Maryboy, his eyes fixed on the far horizon. "But nevertheless, we won. They fight us all the way to the end. We have to fight for everything. Everything. This is the only way we do things in San Juan County."
So, perhaps unsurprisingly, the next battle was just beginning.
__________________________________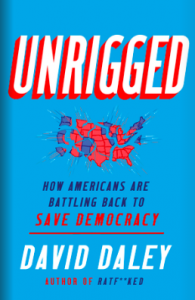 From Unrigged: How Americans Are Battling Back to Save Democracy by David Daley. Used with the permission of Liveright. Copyright © 2020 by David Daley.
---