On Writing Flawed, Inconsistent, Forgivable, Inspiring, and Damaged Afghan Characters
Nadia Hashimi Writes the Book She Would Have Liked to Read
Above: University students, Kabul, mid-1970s. Hulton Archive.
In a Facebook book club for physicians, a member asked for historical fiction recommendations to better understand the history of the US-Afghanistan relations. As an Afghan American writer, the post caught my eye. One person suggested Ken Follett's Lie Down with Lions. I was unfamiliar but intrigued, so I downloaded the audiobook.
Published in the 80s, the book took me back in time to my childhood. No, I was not transported to a remote village set against jagged mountains; rather, Follett's tale of espionage and Cold War tensions took me back to our wood-paneled living room in suburban New Jersey, with the television aglow in the corner.
In that room, I'd taken in the only images of Afghanistan that were available at the time. Afghanistan graced the screen so rarely that my father made every effort to record those occasions on VHS tapes. More times than I can count, we watched Rambo thunder across Afghanistan's plains on the back of a black stallion to come to the mujahideen's aid. We had that one MacGyver episode as well, though he used more invention than ammunition. Peter Jennings and the other evening news anchors reported over similar but hazier images of a country swirled in dust, people's faces obscured by clouds of artillery smoke.
In Follett's story, among many cringeworthy moments were his repeated references to the way "all Afghans" dressed or behaved. Just like the suburban television screen of my childhood, the book portrayed Afghans as bearded warriors fighting off the Russians from mountain perches. The women were exotic when they weren't invisible. These narratives relied heavily on stereotypes about tribal (in their gaze, "primitive") cultures. In other words, these stories were not really about Afghans. They were a canvas upon which a white reader or viewer could project their own ideas about Afghans onto the screen.
In the wake of September 11th, the world's collective gazed turned to Afghanistan and, in particular, Afghan women. The image of the burqa was everywhere and it reduced generations of stories into one oppressed narrative. Women were flattened. At the same time, I was surrounded by Afghan women with personalities and histories that breathed life into holidays and parties.
In the wake of September 11th, the world's collective gazed turned to Afghanistan and, in particular, Afghan women.
In 2009, I began writing the kinds of stories that I'd once longed to encounter in bookstores and libraries. I set out to reflect a universal point of friction—women struggling for agency within a home, for free will within her own head, for a place within history—but within an Afghan context.
To write these stories with any authenticity is to write with abandon. I write characters who bear traits I've seen in vivo: flawed, inconsistent, forgivable, inspiring, damaged, human. I summon the granular stories told and re-told in our family, the spectrum of glorious and devastating experiences. The time my mischievous uncle swiped the best pieces of meat from the serving dish. The day my aunt walked away from medical school to study the humanities. The bright taste of oranges from Jalalabad in winter. The time several family members were lost in a round of political arrests and murders. The hours hungry women spent cooking delicacies in the month of Ramadan.
But it was not until my books reached an audience that I understood the pitfalls of being a writer of color and pushing against inaccurate narratives about my culture.
At times, my stories have become hooks from which readers hang their preconceived notions. In my first novel, a wife of a warlord held a seat in parliament, taking advantage of the female quota requirements and turned into a puppet by her husband. She meets other female parliamentarians, characters I modeled on real women, who are some of the most fiery and brave politicians to walk the earth. I wrote these women into the story deliberately, as they are largely unseen. And yet, in more book club discussions than I can count, people have shaken their heads at how horrible it is that women politicians are controlled by male puppet-masters.
There is no way for a single character to represent a body of people and yet much is extracted from individual characters. (I doubt Paula Hawkins worried about the assumptions people would make about women commuters while she was writing The Girl on the Train.)
I have been asked surprising questions. No, my marriage was not arranged. My mother-in-law does not terrorize me. And, no, I have not received threats from angry Afghan men. I don't mind the questions. I glean from them where the gaps are and how I can start to fill them in with another story.
Sparks Like Stars was partly inspired by the surprise that meets me when I talk about my mother graduating from Kabul University with an engineering degree or when I talk about the American presence in Afghanistan in the 60s and 70s.
In 2009, I came upon a newspaper article about the coup of 1978 and the mystery of where the president and his family's remains were buried. I kept the articled pinned to an idea board, returning to it two years ago.  In the late 1970s, Kabul hosted visitors from around the world. The home of my parents' youth, the city that thrummed with music and fashion shows.
In 2009, I began writing the kinds of stories that I'd once longed to encounter in bookstores and libraries.
The details were mesmerizing. In interviews, American foreign service officers stationed in Kabul in the late 70s called it a party post. They hosted cocktail parties with an international crowd. Travel guides for hippies expending their wanderlust energies described how to avoid the camel scam when crossing the desert and gave other priceless bits of advice like, "Get stoned but don't make a public affair of it."
I started plucking away at characters. My first draft of Sparks Like Stars had two narrators: Sitara, an Afghan girl who survived a brutal coup, and an American foreign service officer who saw events in Kabul through her American lens.Like the reader in the Facebook group, I'd been wanting to see a book that explored the history of the relationship between the United States and Afghanistan. I wanted to expand the narrative not only of Afghan women, but of the relationship between Americans and Afghanistan. There was much to dissect—colonialism, plundered antiquities, and the creation of the Third World by the Cold War.
Several chapters in, I realized I wasn't just trying to dismantle stereotypes about Afghan women. Rambo epitomized the American savior trope. At a time when the United States has been planning an exit from its longest war, it felt important to revisit the early days of the US-Afghanistan relationship. Sparks Like Stars is meant to echo that complex dynamic in miniature form.
Stereotypes aren't dismantled by a single book. But expanding the corpus of Afghan stories and including authentic voices moves us closer to restoring Afghan women to their full height and decolonizes Afghan history.
__________________________________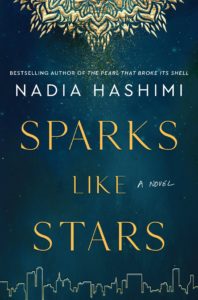 Sparks Like Stars by Nadia Hashimi is available now via William Morrow & Company.
---