On Writing a Collective Poem in Response to Chicago Gun Violence
Thousands of Shootings. 100 Poets. 1 Poem.
"According to the Chicago Police Department, 2,611 people were shot in Chicago in 2019. By contrast, NYC and LA totaled just over 1,800 shooting victims combined, far fewer than Chicago by itself." (Chicago Tribune, January 2nd, 2020). The Chicago Tribune's crime team tracks shootings by day and month. There are various graphs; for instance, you can toggle to "Fatal" in red circles or "Non-fatal" in blue circles.
There's also a section titled, "The 50 most recent victims of shootings":
12:30 PM, Dec 31, 20-Year-Old Male
2:11 AM, Dec 31, 22-Year-Old Male
1:04 AM, Dec 31, 44-Year-Old Male
9:55 PM, Dec 30, 34-Year-Old Male
5:15 PM, Dec 30, 6-Year-Old Male
5:55 PM, Dec 30, 24-Year-Old Male
11:23 AM, Dec 30, 45-Year-Old Male
11:23 AM, Dec 30, 23-Year-Old Male
3:22 PM, Dec 30, 29-Year-Old Male
7:26 AM, Dec 30, 28-Year-Old Male
11:15 PM, Dec 29, 41-Year-Old Male
6:50 PM, Dec 29, 23-Year-Old Male
This list goes on and on, and is a stark poem itself. In just these few days, victims range from a 45-year-old to a 6-year-old.
American Gun: A Poem by 100 Chicagoans is a collective response to the individual suffering behind the statistics. I asked 100 poets from across the city to take turns writing a communal poem about Chicago's gun violence.
The poets range in age, gender, race, ethnicity, and poetic experience. Such well-known poets as Ed Hirsch, Haki Madhubuti, Ed Roberson, Marc Smith, Ana Castillo, and Kevin Covalwrite with teen poets from the South and West sides. Many from the group Young Chicago Authors, but also young poets from Chicago's alternative high schools, where statistically, students experience the most gun violence in the city.
Article continues after advertisement
The poem is a pantoum, a poetic form where every line is repeated twice. I chose this form because its structure of repeating lines mirrors the semi-automatic firing of a weapon and also the seemingly endless cycle of shootings in Chicago.
This poem is much more than the anonymous news bites that feature only the most superficial facts about gun deaths. At times, the poem personalizes what might otherwise feel distant:
look over yo shoulder
takya(s) deep dimple(s) disappear in de plush & pink of her casket
yes     dis really happen(d)
her classmate(s) unravelin in pew(s) confirm(s) her absence on monday mornin
[ & ever mo(re) ]
(33-avery r. young)
Takya's deep dimples disappear in the plush, pink casket,
satin bright as the girlhood lost before it fully began.
Classmates unraveled confirm her absence on Monday & ever more,
a loose thread torn from the rest of their fabric.
(34-Tara Betts)
In general, the poem feels unearthed, like a slab of marble memorializing an important battle. It harkens back to poetry's ancient role—to give voice to a civilization's living and dying:
the silence of the dead continues, eerily accurate
insisting that poets, the freest of creative artists recognize
there is the will to fight and the written will of death
is refused, revised life-messages for children, insects; the planet
(74-Haki Madhubuti)
Poets, the freest of creative artists     recognize
guns are not creative nor art   and pollute the hand from its devise of all it can.
Death is refused, revising life     messages for children, insects; the planet
stilling its bullets     will hear the living     chorus from that silence.
(75-Ed Roberson)
The last quarter of the poem relies on the voices of its youngest poets. In these final lines, we hear violence embodied in their lives on the South and West sides. And, as in the poem's final stanza, there is a clear picture of despair:
Tried to go to the police and start singing
Dropped out of school start slinging
He went to jail and turned to the beast
There are guns in the streets, there will never be peace
(100-James Lofton)
In 2019, Chicago police seized over 10,000 guns—an average of one gun every 48 minutes, which gives you a sense of how many weapons are on the streets. However, the main title of this poem, American Gun, points to the gun epidemic as not simply a Chicago problem, but an American one.
Despite the rhetoric of conservative political and corporate interests, most Americans (including NRA members) want more sensible gun laws. Our country needs more truth, more collaboration—something like this poem where diverse people sing together in sanity and beauty. When politics fails us, poetry tells us we are not alone in our outrage and hope.
__________________________________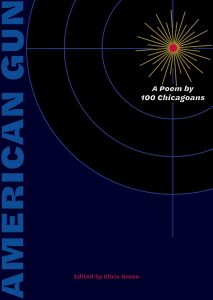 American Gun: A Poem by 100 Chicagoans is available free of charge upon request (once it can be safely shipped) at bigshouldersbooks.com
---