On the Working Women of the West, from Settlers to Suffragists
Winifred Gallagher on a Workforce Revolution for the History Books
Wanted: Young women 18 to 30 years of age, of good moral character, attractive and intelligent, to waitress in Harvey Eating Houses on the Santa Fe Railroad in the West. Wages, $17.50 per month with room and board.
–Fred Harvey, employer of the "Harvey Girls"
*
As the century unfolded, the number of western women the workforce increased sharply. Between 1870 and 1910, both Dakotas went from having 160 employed women to 19,363 in North Dakota and 29,045 in South Dakota; in Montana, from 171 to 159,896; in Wyoming, from 300 to 6,013. As members of what suffragists soon conceptualized as an unofficial labor union of women workers—whether paid on the job or unpaid at home—they played an increasingly powerful role in the fight for women's full citizenship.
By the 1870s, more than a quarter of all American women had been employed as teachers—testimony to the magnitude of their first major professional breakthrough. Before its land-grant colleges and normal schools could produce the West's own educators, however, staffing its schools was a huge challenge. Her Board of National Popular Education to Send Women West was a stop-gap solution that benefited students and single women looking for respectable work, and likely husbands, but Catharine Beecher also had strong religious and political motives for launching her zealous pedagogical crusade. As a fervent supporter of colonization and the pious daughter and half sister of America's most celebrated clergymen, she wanted to civilize the West not only with education but also with Protestant Christianity.
From this perspective, widely shared by the WASP establishment back East, the developing West was spiritually endangered not only by its Native "heathens" and long-resident Catholic Hispanics but also by the influxes of immigrants from Europe, including many more Catholics and some Jews, as well as Mormons. To counter these allegedly dark forces, she wrote, in each "new settlement, the Christian female teacher will quietly take her station, collecting the ignorant children around her . . . opening the book of knowledge, inspiring the principles of morality."
Eastern teachers soon found that frontier education was hard work. Their students needed ample time for agricultural and domestic chores at home, so they had to cram as much information as possible into two short terms summer and winter. In order to provide instruction for grades one through eight, they had to focus on 15-minute sessions of the basics—reading, penmanship, arithmetic, and history—and relied heavily on memorization, drills, and sometimes corporal punishment. Their obligations extended well beyond the three Rs to include cleaning and filling the school's lamps, carrying the day's water and coal, and sharpening their students' pens. Often their greatest practical challenge was finding even the most basic educational materials. Almanacs, catalogs, and Bibles often did duty for Webster's blue-black spellers, Smith's and Smiley's arithmetic primers, and the McGuffey's readers that Beecher helped to compose.
Even when off duty, teachers were expected to practice the Protestant faith they professed and were forbidden to use tobacco, drink alcohol, or attend public balls. (Male teachers, who were fewer in number, had to restrict courting to one night per week—two for churchgoers; they were prohibited from getting a shave in a barbershop, lest it raise questions regarding their "worth, intention, integrity, and honesty.") In exchange for their dedication, the women received only modest monthly salaries and free room and board with local families, not all of whom were gracious hosts. Yet their work was important, rewarding, and highly valued by their communities, and the region's gender imbalance enabled many to marry. Very few returned to the East.
Unlike Beecher's teachers, Susan "Sue" McBeth was a professional missionary as well as an educator, and her students were not White settlers' children but devout Presbyterian men of the Nez Perce Reservation, located in north-central Idaho. In 1873, she became the first unaccompanied female missionary to arrive in the territory, where she served as a foot soldier in President U. S. Grant's "Peace Policy" campaign to salvage what was left of the West's Native American population. Like many well-intentioned, liberal-minded Whites of the era, including academics, she believed that cultures existed on a scale from savagery to haute civilization, and that "inferior" peoples could ascend the ladder by striving to become like the respectable WASPs at the top. From this perspective, the best chance of survival for those Grant recognized in 1869 in his first inaugural address as "the original occupants of this land" was assimilation into mainstream society—a tactic also long employed by Europe's colonial powers to suppress dissidence.
In his second inaugural address, given in 1873, President Grant underscored his hopes for Native Americans' inevitable assimilation.
According to Grant's Peace Policy—devised by General Ely S. Parker, a former aide of Seneca ancestry whom he appointed as Commissioner of Indian Affairs—Native Americans were to be confined on reservations, weaned from their benighted old ways, and reeducated to become monogamous, sedentary farmers and housewives. Corrupt Indian agents were to be replaced by presumably upright military officers and missionaries, many of whom were women such as McBeth; she was later joined by Kate McBeth, her sister, who taught literacy and domestic skills to women. In his second inaugural address, given in 1873, when Sue McBeth arrived in Idaho, Grant underscored his hopes for Native Americans' inevitable assimilation and his intention to follow "a humane course, to bring the aborigines of the country under the benign influences of education and civilization. . . . Wars of extermination . . . are demoralizing and wicked."
The western Natives' crisis created rare professional opportunities for aspirational women such as Sue McBeth. She could not be ordained herself, of course, but she trained Nez Perce men for leadership in the Presbyterian church, including at least ten for the ministry—an elevated duty normally reserved for clergymen who had doctorates in theology. To that end, she mastered her pupils' difficult language, which "facilitates their studies very much & helped my influence with them." In the process, she also produced the 2,000-word Dictionary and Grammar of the Nez Perce Language, a prodigious, much-needed lexicographical resource and an outstanding scholarly achievement, particularly for a woman of the era. When the boat carrying her manuscript on the first leg of its trip to the Smithsonian Institution exploded on the Columbia River, the priceless document was blown overboard into the water. In a seemingly divine intervention, a man found the pages floating in the river, recognized McBeth's handwriting, and dutifully dried and reposted the document to Washington, DC.
The McBeths were widely admired, at least by their White peers, for their attempts to transform nomadic Native Americans into pious Victorian farmers, but Chief Joseph, their legendary leader, must have wondered at the sisters' maternalistic condescension in describing the Nez Perce as "children." As he and some other prescient critics foresaw, the idea of assimilation resonated with Whites, and even many Natives, but it deeply conflicted with their own fundamental traditions, including the communal ownership of land; migratory patterns of hunting, fishing, and foraging; and extended kinship networks.
In addition to Protestant missionary-teachers such as the McBeths, the West's employed women included between 6,000 and 9,000 Catholic missionary nuns, who provided the first nonsectarian social services in many areas. They supported their schools, hospitals, and orphanages through not only charitable donations but also wages from legislatures otherwise hard-pressed to provide help to the poor, sick, and unlettered. Often stationed in remote locations far from clerical authority, the nuns were able to operate with considerable autonomy and faced less anti-Catholic prejudice than in the more sectarian East. Mother Joseph, a Sister of Providence later hailed as the Pacific Northwest's first architect, established some 30 hospitals and schools in the region and, being a skilled carpenter, wore a hammer beside the rosary hung on her belt.
A concerned public worried about the housing, health, and morals of single women living and working in big cities.
Like their Protestant missionary peers, the nuns parlayed their genuine concern about the West's oppressed peoples into adventurous lives and ambitious careers then unusual for persons of either sex. Sister Mary Baptist Russell, a 25-year-old member of the Sisters of Mercy, left Ireland on a bold quest to become a missionary not in Africa or Asia but in California. In 1863, she and her colleagues left the order's motherhouse in San Francisco for Grass Valley, where they fed the hungry; tended victims of cholera, diphtheria, and smallpox; and taught 120 students at Mount St. Mary's Convent and Academy.
Many children in the mining community had lost their parents from accidents as well as illness, so the "Mercies" next built a large home for 69 orphans as well as 20 nuns. In 1872, they added a Day School for Young Ladies, whose modest fees helped pay the expenses at their two charitable institutions. The rough community was proud of the local girls' mastery of French, German, and music, and the newspaper praised their graduation celebration that year, held in a fine hall adorned with the obligatory lace curtains, as one of the best special events "ever given in this city."
That same year, Sister Blandina Segale, a pretty 22-year-old Italian emigrant and member of the Sisters of Charity, in Cincinnati, first assumed she was headed for the Caribbean when she was assigned to teach in Trinidad. Upon arrival in the small Colorado coal-mining town occupied by many poor Hispanics and immigrants, she was dismayed to find facilities that she compared to "kennels for dogs." She soon hitched up her skirts, climbed onto the schoolhouse's roof, and began dismantling its adobe tiles, until one horrified matron returned with six workers to take over the demolition. Within two months, she and her nuns were running the renovated parish school and the public one, too.
Segale was a jack-of-all-trades and functioned as a nurse as well as a teacher and an administrator. On one occasion, she met the teenage leader of an outlaw gang while treating one of its wounded members. En route to her later posting at Santa Fe—where she shared the dilapidated quarters of Jean-Baptiste Lamy, the cleric who inspired Willa Cather's Death Comes for the Archbishop—her stagecoach was surrounded by armed bandits. While her fellow passengers quaked in dread, the nun pushed back her bonnet and stared into the eyes of Billy the Kid. Then, she wrote, "he raised his large-brimmed hat with a wave and a bow," and before riding off, "stopped to give us some of his wonderful antics on bronco maneuvers."
Much of the sisters' work in the Southwest involved the region's oppressed Hispanic population, but Segale was appalled by the injustice of what was increasingly called the "Indian question." She met with Apache and Comanche leaders to support their peoples' civil rights and vocally opposed the common practices of lynching and defrauding Native Americans of their land. "Poor wild hearts," she wrote, "how they feel full of anger and treated unfairly."
Whatever their personal shortcomings and cultural biases, the West's teachers were valued not only as educators but as personifications of women's moral authority and exemplars of civilization on the frontier. These professionals, many of them single, also modeled the resourceful modern woman who supported herself, contributed to her community, and, having assumed more of citizenship's burdens, could reasonably expect to enjoy more of its privileges.
Many educated western women became teachers, but those less advantaged also found new ways to enjoy more prosperous, independent lives. As the Industrial Revolution accelerated throughout the West, agrarian women, like their sisters back East, wanted to make more money doing easier work and have more choices than were afforded by rural life, which for most meant a teenage marriage and years of childbearing and backbreaking chores in outmoded homes. These urban frontierswomen migrated in droves to Denver, Portland, Los Angeles, and other booming cities, where by the 1880s, populations averaged 25 women for every 22 men.
Many women became domestic servants, but others found new kinds of jobs in factories, mills, canneries, and offices that had not existed before. The better educated qualified for pink-collar positions as secretaries, salesclerks, printers, and photographers. Some stayed with relatives, but others learned to live independently, perhaps at a YWCA or a boardinghouse, manage their own money, and look after their own affairs. A concerned public worried about the housing, health, and morals of single women living and working in big cities, and especially about the risk of sexual assault, but that danger was probably no greater and perhaps less likely than in the isolated outback.
They began family life not as inexperienced girls but as self-reliant adults with a nest egg to put toward their next enterprise.
Some hardworking, adventurous young women found employment in the West's new tourism industry. The railroads' expansion allowed for more travel to and within the region, which now boasted more of its own capitals. Visitors flocked to see the sights in towns such as Pocatello, Idaho, the "Gilded City of the Interior West," which offered theaters, opera houses, and sophisticated shops. In 1878, Fred Harvey, an English-born entrepreneur, saw an opportunity in the West's lack of amenities for tourists that created an opportunity for a new category of respectable female workers. Appalled by a cuisine symbolized by a can of beans, perhaps embellished with some salt pork or bacon, washed down with scalding coffee or rot-gut whiskey, Harvey collaborated with the Atchison, Topeka & Santa Fe Railway to create America's first restaurant chain. A decade after he opened a spotless dining room at the train depot in Florence, Kansas, there was a Harvey House every hundred miles along the tracks, largely staffed by the soon celebrated "Harvey Girls."
Up until then, waitressing had not been considered respectable employment. Indeed, much of America still considered dining out unconventional if not risqué. A young single woman who not only waited on male diners but served them alcohol was regarded as little better than a prostitute. Undaunted, Harvey ran Help Wanted advertisements for intelligent women of good character, aged eighteen to thirty, then carefully trained successful applicants at a monthlong boot camp. They removed their jewelry and makeup, donned black, ankle-length dresses and white bib aprons, and learned about good food and how to serve it. By the end of their training, they could deliver a four-course meal—including delicacies carried in special refrigerated railcars, such as fresh fruit, fish, ice cream, and cheeses—during a thirty-minute train stop.
Known for their propriety as well as their professionalism, Harvey Girls slept in company dormitories supervised by matrons, which protected their good reputations and also allowed them to save their salaries of $17.50 a month, plus room and board, laundry, and travel money. (Male waiters made $48 per month, but much of that went to their living expenses.) They traveled widely, mixed with all strata of society, attracted many suitors, and quickly captured America's heart. According to one popular song, after Katie Casey was unjustly fired from the Harvey House in Winslow, Arizona, her admirer, who ran the town's railyard, simply stopped the trains until she was reinstated:
Oh, who would think that Katie Casey owned the Santa Fe?
But it really looks that way . . .
She can hold the freight from Albuquerq' to Needles any day . . .
Almost seven decades after the first of these waitresses tied on their aprons, Judy Garland starred in The Harvey Girls, a hit movie musical based on a popular novel of the same name.
Whether they were teachers or waitresses, women's improved economic position had far-reaching social consequences. A higher percentage of them remained single. Most still married, but they did so later, often in their twenties, and for love and companionship instead of mere support. They began family life not as inexperienced girls but as self-reliant adults with a nest egg to put toward their next enterprise—more education, a business, or some means of enhancing home production, such as livestock or a sewing machine. The national suffrage movement, long a domain of the prosperous class, began to take notice of this new constituency.
___________________________________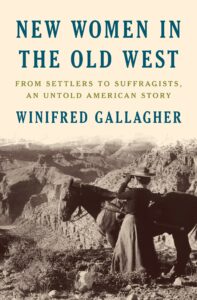 From New Women in the Old West by Winifred Gallagher. Reprinted by arrangement with Penguin Press, a member of Penguin Group (USA) LLC, A Penguin Random House Company. Copyright © Winifred Gallagher, 2021.
---