On the Unlikely Extremes of Maoist Influence on the West
Left-Wing Rebels, Civil Rights Fighters, and the Cult of Mao
in the 1960s and 70s
In the mid-1970s, a Kerala-born Singaporean called Aravindan Balakrishnan—leader of the Workers' Institute of Marxism–Leninism–Mao Zedong Thought in London—made a bold prediction. By the close of 1977, the People's Liberation Army of China would move swiftly to free the world—they would be in London and Washington before the imperialists there had even realized they were coming. When nothing seemed to have changed by the close of that year, the prophet quickly covered himself. First, he deferred the prophecy's fulfillment to 1980. Second, he explained that the timing was immaterial anyway, for the Chinese under Mao were so advanced that they would liberate us through a different kind of warfare: by taking over our brains without us realizing it.
Balakrishnan's institute was a fraction of a fraction; a splinter. In 1974, "Comrade Bala" marched out of the minuscule Communist Party of England (Marxist–Leninist)—later expanded to the Communist Party of Britain (Marxist–Leninist), membership around 300-400—to found his own sect. The reason for the schism, according to Comrade Bala, was that their former CPE-ML comrades had turned their backs on the "great glorious, and correct Communist Party of China," in favor of the "International Fascist Bourgeoisie." At the peak of his authority, he commanded the loyalty of some 25 individuals, living commune-style at the Mao Zedong Memorial Centre, at 140 Acre Lane, Brixton, London. It was an intense existence.
Every day, members of the commune attended meetings, handed out leaflets, tended the bookshop—always adorned by Mao badges, always ready to back up an argument by "upholding the authority of the Communist party of China and Chairman Mao as the leaders of the world revolution," often under a huge banner of Mao. Any income earned by members was donated to the organization. The group's mission, when it was not awaiting liberation by the Chinese Army, was to create a "stable revolutionary base in and around Brixton," thus selected "because it is the worst place in the world." No cooperation was tolerated with any other part of the British left or the trade unions ("organs of fascism"). Any perceived transgressions against group-think resulted in expulsion.
In 1978, the commune was raided by the police and subsequently disappeared from view. The only trace left in public perception was a folk memory that Balakrishnan's sect had inspired the late-1970s sitcom Citizen Smith, in which the would-be revolutionary, Afghan-coated loafer Wolfie Smith plots to steal a Scorpion tank to invade the Houses of Parliament but ends up only obliterating a suburban garden full of gnomes. The commune dwindled, first to five and then to four women (the fifth died in mysterious circumstances, following a fall from a window). Twenty-six years passed since Bala's first prophecy failed to come true; on he went, preparing for Maoist world revolution and emancipation by the PLA.
Article continues after advertisement
Then in October 2013, Freedom—a charity dedicated to helping women in forced marriages—received a telephone call from a woman, with a horrifying story to tell. She and two other women had been held as captives for decades by Balakrishnan and his wife; one, now aged 30, had been born into captivity. With the help of the police, the three women were freed and guided to a safe place while Balakrishnan and his wife were out of the house. Two years later, when the Crown Prosecution Service brought charges against Balakrishnan, the full extent of decades of abuse was revealed: 16 charges of sexual and physical assault, including rape, wrongful imprisonment and child cruelty.
The intensity of psychological control that Comrade Bala had achieved—through criticizing or beating the women for "bourgeois tendencies"—was frightening. One woman testified that she had lost any "right to question . . . [He had] a sense of absolute power and control." After demanding sex from her, Balakrishnan forced her to keep a diary of their encounters, which he then used to humiliate her in self-criticism meetings. "It is like he takes a wire brush to your brain. That pain. There is no secret, no element of your self that he has left unexplored and that isn't open at all times to being humiliated and criticized . . . He was the leader. He had the right over your mind and body. He would say he had the right to make you breathe because he could put a finger on your throat and make you die." When they went out, they walked in Khmer Rouge–style single file, so that no one needed to "look right or left, but . . . just follow the shoulder in front."
Mao and his ideas of continuous, peasant revolution appealed to both left-wing rebels, and civil rights campaigners.
This episode encapsulates the potency, sectarian parochialism and horror of Maoism's travels in Western Europe and the United States. Admittedly, the Workers' Institute of Marxism–Leninism–Mao Zedong Thought was on the extreme millenarian fringe of this scene. Its adulation of Mao and the CCP went far beyond doctrinal respect. In the eyes of Balakrishnan and his followers, Mao's CCP had achieved a kind of scientific-occult mastery over the world. It had developed electronic weapons (called "Jackie") to prevent its enemies' nuclear missiles from taking off; it could remotely sabotage American press conferences. Balakrishnan told his daughter that Mao had once zapped him with a death ray from a London taxi meter. But this lunacy marks a difference of degree, rather than of kind, with other Maoist parties across Western Europe and North America, many of which developed a secular-religious zeal for Mao and for the policies of the CCP.
Like many admirers of Mao in Western Europe, neither Balakrishnan nor his disciples were uneducated farmers or proletarians: all had completed at least undergraduate study. The Brixton Maoists also illuminated the special attraction that Maoism had to ethnic minorities ("internal colonies," to borrow the American usage) within white-dominated societies. Over two-thirds of the group was made up of those from non-European, mostly Asian origins. Balakrishnan himself had become politically radicalized after moving from India to Singapore, aged eight, in 1949—the year of the Chinese revolution, and the high point of the Malayan Emergency and the battle between the MCP and the British colonial government.
The numbers of Maoist adherents in Western Europe and North America look insignificant to us today. In Norway—which could boast the greatest number of Maoists per capita—the Security Police (POT) counted only 20,000 Maoist sympathizers left at the end of the 1990s. Until 1984 (when the Revolutionary Internationalist Movement was founded in France, on which more later), there was no international organization—analogous to the Soviet-sponsored Comintern—for coordinating Maoist activities; China never hosted such a body. Yet the influence of Maoism in Western Europe and North America during the 1960s and beyond was greater than the numbers of its supporters suggest. The reach of its appeal was striking: it attracted students, oppressed ethnic minorities (African, Asian, Hispanic Americans), urban terrorists, cultural celebrities, philosophers—and Shirley MacLaine, who in 1975 wrote an adulatory account of a six-week visit to China during which she found her way out of a midlife crisis.
While the culture and politics of Cultural Revolution China permeated Western radicalism during the 1960s and 70s, this remains one of the significantly under-told stories of this epochal moment of cultural revolution. Mao and his ideas of continuous, peasant revolution appealed to both left-wing rebels, and civil rights campaigners. Within Europe, Mao's Cultural Revolution galvanized Dadaist student protest, nurtured feminist and gay rights activism, and legitimized urban guerrilla terrorism. In the United States, it bolstered a broad program of anti-racist civil rights campaigns, as well as sectarian Marxist-Leninist party-building. Much of this Maoist activism was powered by enthusiasm for, not by expectation of material aid from, China.
The best that most of these groups could hope for was that some organization in Beijing would buy a few hundred copies of their magazine. "You'd put it in a box and you'd send it over there, and I don't know they'd try to teach kids English with it or something, the poor fucks," remembered one such activist-editor. "And you'd get a wad of ready that you'd use to run your publication."
The instability of the late 1960s in the US and parts of Europe was the gradual shifting of consensus in favor of order and established power on the right.
The historian Frank Dikötter has argued that several of the domestic results of the Cultural Revolution were unintended, or even the reverse of what had been planned. (By the early 1970s, for instance, some rural officials—exhausted by the caprices of central party directives—allowed local farmers to distance themselves from the tyrannies of central socialist planning and carve off private plots.) A similar argument can be advanced for the spread of Cultural Revolution Maoism in Western Europe and North America. Mao and his supporters envisioned the Cultural Revolution as launching a global, grass-roots movement that would destroy "Yankee imperialism" and the governments allied with the US. Yet over the long term, enthusiasm for the Cultural Revolution splintered the radical left and assisted neo-liberals in consolidating power from the 1980s. One outcome of the instability of the late 1960s in the US and parts of Europe was the gradual shifting of consensus in favor of order and established power on the right—paving the road to Ronald Reagan and Margaret Thatcher—a trend that has not significantly reversed itself since.
It would be inaccurate, however, to argue that the legacy of the global Cultural Revolution was obliterated by, or indeed wholly responsible for, the rallying of right-wing politics. In central and eastern India the currently resurgent Maoist Naxalite movement, whose beginnings in 1967 were inspired by the Cultural Revolution, is considered by some the government's biggest security challenge. And although I have no intention of muting the tragedies, absurdities and misapprehensions of the Cultural Revolution's global travels, I also want to consider some of the positive legacies of far-left politics in Western Europe and the US, such as the encouragement of civil activism.
There is perhaps a story to be told about the expansion of Maoism that also led to the dissemination of ideas such as "serving the people," "consciousness-raising," and "cultural revolution" in education, which have had an impact on feminist, gay rights, racial equality, environmental and academic movements outside China. In West Germany, for example, former militants in Maoist parties migrated into the Green movement of the 1980s, significantly shaping the political landscape of a united Germany over the next decades.
Some historians of contemporary Germany argue that Maoist-infused urban terrorist groups such as the Red Army Faction (also known as the Baader-Meinhof Gang) have received attention disproportionate to their activities. (The intensity of the state's response to this organization also made it loom larger in popular perception.) But these groups seem more significant when considered as part of a bigger picture: they shared an enthusiasm that raged across Western Europe and the US, that provided an infrastructure of solidarity across disparate countries and ethnic groups, and that—theoretically and sometimes practically—linked rebels in the West with political defiance all over the world: black liberation in Africa, war in Indochina, resistance in the Middle East, peasant struggle in India.
Looked at individually today, these groups—like Comrade Bala's institute—seem like Cold War relics; in some cases, even jokes. If we put them together, however, they become a networked political phenomenon that tells us much about radical politics, the troubled history of post–Second World War democracy, and the global translations and mistranslations of China.
______________________________________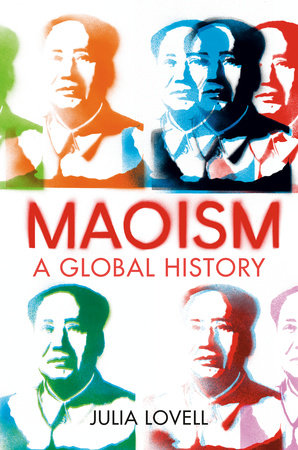 Excerpted from Maoism: A Global History by Julia Lovell. Copyright © 2019 by Julia Lovell. Published by arrangement with Alfred A. Knopf, an imprint of The Knopf Doubleday Publishing Group, a division of Penguin Random House LLC.
---