On the Unique Artistic Sensibility of Magda Nachman
Dr. Lina Bernstein Revisits the Art World of
Early 20th-Century St. Petersburg
The spring of the 20th century is catching us in uncharted waters of artistic currents. Much has thawed under the sun's hot rays; much has been destroyed. The warm air is enshrouded in fog and teeming with new life, with sparkling fragile wings. They may be destined to live but a day. … New directions, new schools are growing with amazing speed.
–Léon Bakst
*
At the beginning of the 20th century, art education in St. Petersburg was dominated by the conservative pedagogical methods employed at the Imperial Academy of Arts. Exhibitions of student works, according to the prominent art critic Alexander Rostislavov, produced "a strange impression … [they lacked] the true, original artistry." After visiting a show in the Baron Stieglitz School, that critic wrote:
It is strange that a student art exhibition should leave the impression that the true goal of the school is not art but the development of such respectable qualities as assiduity, diligence, and precision.
Even the once progressive splinter group the Wanderers—realist artists whose work was inspired by social concerns and moral responsibility both in the subject matter of their paintings and in the way art was disseminated—who themselves had left the Academy in the 1860s in protest of its conservatism, had become ossified, and some of its members had become teachers at the Academy.
Aside from the Imperial Academy, there were numerous private art academies in the capital, but most of them hired their teachers from among the graduates of the Academy, who simply perpetuated its methodology. Later, in 1926, this is how Magda's closest friend and colleague, Julia Obolenskaya, described art education in St. Petersburg in the first decade of the 20th century:
By that time, the Academy of Arts had lost its prestige. And the teachers, who had been themselves trained in the Academy, dissuaded students from entering it. They brought the same haphazardness to their teaching that they had inherited from the Academy. Their instruction consisted in pointing out some particular errors in drawing and in supplying small recipes in painting, which were different for each teacher. Young people stumbled in the dark, despaired, and tried different schools.
Such was the situation at the Mutual Aid Society of Russian Artists in 1907, where Magda and Julia had been taking classes since their high school graduation the previous year. As Julia notes in her memoirs, certain teachers were better than others, and so a group of students (including Julia, Magda, and Natalia Grekova) petitioned the administration to allow them to study with only those teachers. The administration refused. In protest, Magda and a group of other like-minded students decided to leave the Mutual Aid Society at the end of the 1907 spring term and invite one of the better teachers, Dmitry Kardovsky, to conduct classes that they would fund themselves. Calling their endeavor the New School, they rented a space and planned on opening after the summer recess.
But when autumn arrived, the remodeling of the space had not been completed, and so there was some delay in the opening of the New School. Julia, Magda, and Natalia decided to use this delay to investigate other opportunities. They began attending classes at the Zvantseva Art Academy, which had opened in 1906 and for which, at the time, they had not considered themselves sufficiently developed artistically. They were in awe of the principal instructor, Léon Bakst (1866–1924), who a decade earlier had been a founding member of the powerful and influential association of artists Mir Iskusstva (World of Art). The three young women were so taken with Bakst and his academy that they were unhappy when later that fall, the New School finally opened and they were obliged by their previous agreement to return. But the unhappiness of the young women was so palpable that after a month, their friends released them from their obligation, and they happily transferred to Zvantseva.
Thus in the fall of 1907, Magda, together with Julia Obolenskaya and Natalia Grekova, began her artistic career at the Zvantseva Art Academy. They found a congenial atmosphere among other young artists, some of whom would become close friends. They also found a teacher, Bakst, who became a pivotal figure in their development as artists.
The founder of the academy, Elizaveta Nikolaevna Zvantseva (1864–1921), was an art educator and herself an artist, who had studied at several Russian and French art academies. She attended the Moscow School of Painting, Sculpture, and Architecture (1885–1888) and then the Imperial Academy of Arts, in St. Petersburg, where she was a student of the preeminent realist painter Ilya Repin, a member of the Wanderers group. Strong, willful, and at the same time mild and kind, Zvantseva attracted Repin by her charm and independence. He fell in love with her, and in 1889, while visiting her estate Tartaley near Nizhny Novgorod, he painted five portraits of her. Repin pleaded with her, sent numerous letters, and suffered:
How I love you! Good God, God, I never imagined that my feeling toward you would grow to such a passion. I am beginning to be afraid for myself. … Indeed, not once in my life, never, no one did I love so transgressively, with such self-abandonment . . . Even art has receded somewhere and you, you are in my mind and in my heart every second. Your image is everywhere.
The letter is signed "your slave." Zvantseva did not reciprocate his love, although she remained his devoted friend. (Zvantseva never married, and later—at least from 1906—established a relationship with a woman, Elena Karmin, with whom she spent the rest of her life.)
In 1897, Zvantseva left the Imperial Academy and traveled with a friend, the artist Konstantin Somov (1869–1939), to Paris, where she attended classes at the Académie Colarossi and at the Académie Julian, schools that boasted liberal training, in opposition to the conservative École des Beaux Arts. Not only did Zvantseva have the experience of a more progressive method of art instruction, she was also able to see some of the art created by graduates of the studios she attended, such as Pierre Bonnard and Édouard Vuillard. Unlike many Russian artists and the Russian public, she was therefore well acquainted with Impressionism and Post-Impressionism. Her own artistic tastes had begun to shift slowly from the realist work of the Wanderers (even in 1898, Somov called her "My dear Wanderess") to more abstract approaches.
A number of women artists who came from abroad at this time to study in Paris would return to their home countries and open art studios or schools. Zvantseva returned to Moscow in 1899 and opened her own art academy. But her school failed to thrive, and in 1906 she closed the academy, and at the urging of Somov, who suggested that "there was a strong need for a good school in Petersburg," moved herself and her academy to the capital. Somov suggested that she invite as teachers his close friends and colleagues Bakst and Mstislav Dobuzhinsky (1875–1957). Zvantseva took this advice as well, and both Bakst and Dobuzhinsky accepted her offer. Bakst, in fact, had long been thinking about how to reform art education, and he enthusiastically took on the artistic direction of the academy. As he wrote that autumn in a letter to his wife, "The instruction system has been changed according to my plan. We shall see what will come of it."
The teachers at Zvantseva's academy—Bakst, Dobuzhinsky, and later Kuzma Petrov-Vodkin (1878–1939)—occupy an important place in the history of art. From its inception in 1898, Somov, Bakst, and Dobuzhinsky had belonged to Mir Iskusstva, an association of artists and art and literary critics who expressed their views in a journal of the same name, whose editor-in-chief was Sergei Diaghilev, later famous as the founder and artistic director of the Ballets Russes in Paris. The founding members of the association aspired to supersede the tired academism through greater experimentation, motivated in part by the artistic ferment in Western Europe, and like their colleagues they were frustrated that in contrast to Russian literature, Russian art was almost unknown in the West.
In 1898, to remedy the situation, Diaghilev took an exhibition of works by Russian and Finnish artists from St. Petersburg to Munich, Düsseldorf, Cologne, and Berlin. And again, in 1906, he brought the exhibition Two Centuries of Russian Painting and Sculpture from St. Petersburg to the Salon d'Automne in Paris, and from there to Berlin and Venice. More importantly, Mir Iskusstva was prominent in introducing Western art to Russia, hastening the end of Russian provincialism and putting St. Petersburg on the map as a center of contemporary art. In an 1899 exhibition in St. Petersburg, Diaghilev included works by 42 European artists, among them the Swiss symbolist Arnold Böcklin, the American proponent of "art for art's sake" James McNeill Whistler, and the French impressionist Edgar Degas.
The journal Mir Iskusstva aimed to promote and defend the ideas of contemporary European art and new tendencies in Russian art by publishing articles on current trends and particular artists, expansive theoretical essays by Diaghilev in support of artistic experimentation, and high-quality reproductions of works by contemporary European and Russian artists. Its readers could learn about and see reproductions of paintings by such figures as Cézanne, Degas, and Matisse, whose works and even names might have been previously inaccessible to those unable to travel abroad. It introduced its readers to Japanese art, which had become very popular in Europe but was just making its appearance in Russia.
The journal also discussed many aspects of Russian art, both old and new. Its literary section presented Russian symbolist writers, poets, and theoreticians. Highly critical of the previous generation of writers and artists who had insisted on the supremacy of social engagement in artistic pursuits, they argued that art should develop organically without any constraints from the outside, social or otherwise. The journal was published in what the miriskusniki—as the artists associated with Mir Iskusstva were known—called Style Moderne, a local adaptation of Art Nouveau, the Viennese Secession, and  German Jugendstil, as exemplified in a 1902 magazine cover by Bakst.
Magda's artistic sensibility developed under the influence of her teachers and in reaction to a host of competing movements that were raging around her. As Bakst put it, "The spring of the 20th century is catching us in uncharted waters of artistic currents." He navigated his students through those currents, sharing with them his views on what was valuable in contemporary art and how they might find a place for themselves within it, taking them far away from both Russian academism and Style Moderne.
__________________________________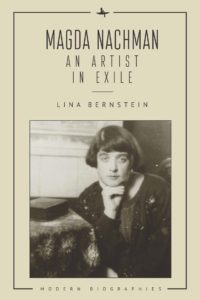 Excerpted from Magda Nachman: An Artist in Exile by Dr. Lina Bernstein. Copyright © 2020. Reprinted with permission of the publisher, Academic Studies Press. 
---