On the Sacred Bard of the 1960s Chicago Jazz Scene
Thulani Davis on Joseph Jarman and the Rediscovery of
a Musical Avant-Garde Classic
I am grateful to see Joseph Jarman's Black Case Volume I & II: Return from Exile returned from its own absence to readers who may want to explore the work of this uniquely gifted artist. This seems a propitious time for the collection to appear, as it is a moment when the Association for the Advancement of Creative Musicians (AACM), a group he helped build and that helped build him, is over 50 years old; and the Art Ensemble of Chicago, with which he did his most well known and perhaps most profound work, is now celebrating its 50th year; and a time also when Hip Hop, which has made poetry performance a world-wide passion, is now at least 40 years old. 
Before Joseph died this past January, 2019, I had been working on reprinting Return from Exile as part of After: Still, an interdisciplinary producing and publishing project McArthur Binion and I were getting off the ground. Neither Joseph nor I even owned a copy anymore, so I thought this really should be done. I borrowed Douglas Ewart's copy so that I could reproduce the layout Joseph did for its second edition. After Joseph's death I was elated to get a call from Lawrence Kumpf of Blank Forms Editions about doing a new version, closely replicating the text, but with the additional perspective of looking back at it as a foundational work.
Given the book's scarcity, I am also very impressed with the lengths to which Kumpf went to reproduce the work. Brent Hayes Edwards was also extremely generous to lend his copy to this project. Here, I want only to add my own recollections of the making of the original and Joseph's later work with poetry. 
I first met Joseph and the other members of the Art Ensemble on July 5th, 1973, at the Newport Jazz Festival when they played in Central Park as the third band on a bill with groups led by Archie Shepp and Sam Rivers. It was a glorious day to be out taking photos and hearing bands I had never seen in person. I had just moved back to New York from San Francisco where I had first discovered one or two recordings of the Art Ensemble and heard them on NPR discussing their recent return from three years in France.
Lester Bowie laughingly said the band would be "on radio silence" for a while (but of course they toured the US). I went in search of the rest of the European recordings and became a big fan of how they spoke about their "ancient to the future" conception of "great black music." Of course, I met Jarman that day in Central Park. His appearance wearing Java cloths, woven dashikis, feathers, and bells, and his performances on horns, gongs, drums, and spoken word are iconic moments from that time. 
Seeing them was a landmark in what was not yet known to me to be an extraordinary time in music and particularly in all facets of what one really must call great black music—Aretha Franklin, Miles Davis, Marvin Gaye, Fela Kuti, Ornette Coleman, Curtis Mayfield, LaBelle, Pharoah Sanders, Bob Marley, Leontyne Price, Wayne Shorter, Stevie Wonder, Burning Spear, Salif Keita, and dozens more. Jon Pareles, then acting music editor at The Village Voice, where I was a copy editor, asked me to review music but not the new music because I knew too many of the people, which was in fact not yet true.
There was some inference there that definitely did not apply to men, but he sent me to hear and interview the likes of Linton Kwesi Johnson, Sweet Honey in the Rock, Marley, and Gil Scott-Heron, so no suffering was involved. I mention this to emphasize the richness of the great black music landscape at the time and the diasporic discourse going on around what we were all hearing. 
The first time I visited Joseph he was listening to Jimmy Cliff and Sidney Bechet. He played me 78s of Charlie Parker. Just life as it should be, it seemed.
One of the aspects of the performances of the Art Ensemble that was richly enjoyed by live audiences was the spontaneous integration of spoken words in their collaboration. A touch from the whimsy of Louis Armstrong, and moving past the specific gratification of hearing of Charles Mingus's "Fables of Faubus." Well, the 1960s happened in between. There was Lester Bowie's mock self-important query, "Is there a doctor in the house?"; Malachi Favors's messages on megaphone sliding the audience somewhere between the garbled calling of a track meet and that of a misplaced muezzin, present and ancient colliding or convening, laughter erupting from each and all on stage.
There were planned moments—Jarman's poem in conversation with Roscoe Mitchell's composition, invited "Odwalla": into the "grey haze of the ghost worlds." A plan might seem to be abandoned as they relaxed into the new sounds that emerged vocally, and yet all would land later on a single note. 
Five years after the Art Ensemble first played in New York I witnessed Cecil Taylor shift from singing in a baritone rumble while he played to singing long wordless melodic phrases in response to my own spoken words on stage. Even later he would enter a solo performance simply singing his own poems, approach the piano and touch it playfully, move away, and then let the singing lead him to full engagement with the keyboard. I always associated Cecil's integration of spoken word with the influence of the Art Ensemble's orations and the voicing of Joseph's some-times enigmatic, warrior-like poems.
Cecil's comments about what I did with his music were confined to similarities with singers. But I link my idea of what to do when working with him as a jump from the more predictable choices to Joseph's oft-quoted "there is no wrong note" freedom. (Joseph attributed the quote to Eric Dolphy.) Only in the work he was writing in the 1990s, where he began to experiment with close rhymes and placed poems into an ensemble piece, did he make pacing notations on the poems—strictly meant for other voices—unnecessary for himself. 
The first time I visited Joseph he was listening to Jimmy Cliff and Sidney Bechet. He played me 78s of Charlie Parker. Just life as it should be, it seemed. Also in those days, we poets all printed our own poetry. We literally made books. I knew as many people then who made books as I now know who write blogs. Learning that I did such things, Joseph sent me his spiral bound, 8½ x 11" first edition of Black Case Volume I & II: Return from Exile. He was 37 years old, had the sense that the time had come when their music would find its American audience, and he seemed to have shaken something rather like a shadow that hung over photos of him in Europe that he would not let me hang on my walls.
Black Case was a collection of poems and sheet music with lyrics that are now well known, such as "As If It Were the Seasons," and some that continue to represent his ethos regarding the new music, like "What's to Say is Nothing." There were photos of his Chicago neighborhood, and of playing with other musicians in the AACM. It was fierce, longing, ecstatic, lonely, haunted, and evoked war and the black movements in the streets. I told him he should print more copies of the book. 
I sent him a new book of poems that had just come out, the late Henry Dumas's Play Ebony, Play Ivory. A man three years his senior, also from Arkansas, Dumas spoke deeply to Joseph. Though Joseph did not remember Arkansas, Dumas's evocation of rural black culture spoke of the familiar, as did his death, shot by a New York transit cop who claimed the poet was going to attack him. Joseph memorized passages of Dumas's book. He also spoke lines from Amus Mor, whom I did not know, and was, unsurprisingly, a fan of Baraka's Dead Lecturer.
I, in turn, learned to do my own version of "Odwalla." Joseph spun tales of the Dogon, mysterious myth makers and scientists, about which I knew nothing. I was thrilled in 2001 when he told me that he had been to Mali and at last visited Dogon country and then ancient Buddhist shrines in India—journeys that were prompted back in the 1970s' return from exile. 
A sense of the "oneness" of the universe, or as we Buddhists call it, the "suchness," is on the horizon in Black Case as well.
On a visit to my East Village place that day in 1973 he asked for a print of a photo on the wall that I had taken of George Jackson in 1970 during an interview in San Quentin. Joseph put it in the second edition of the book, published in 1977, in a new blue and white, square format. It was not a great print because I had printed it myself while learning my way around a darkroom, but it is the only publication of any of those images and I remain pleased to be part of his only book. 
I would later realize that he was studying Aikido and in so doing, introduced to zazen, sitting meditation. He started sitting in earnest in 1981, and for four or five years he sat every night trying to get his legs that had been damaged by jumping out of military planes, to fold down into at least a half-lotus posture. A sense of the "oneness" of the universe, or as we Buddhists call it, the "suchness," is on the horizon in Black Case as well. Over time, Joseph's understanding of the oneness, like his knees, settled close to the ground. This shaped his later work. 
Joseph continued to write until the early 2000s, mostly lyrics for what I call his sacred songs. His poem "Lifetime Visions for the Magnificent Human" begins with the sinuous line, "as we float throughout the universe we go" opening four couplets, then breaks to an uplifted stanza reading: 
There is no sorrow that cannot be cleared
There is no passion that cannot be seared
There is no bondage that cannot be free
There is no pain that we cannot let go 
These lines are an accurate voicing of where Joseph "landed" after finding in years of meditation, chanting, and talk therapy, the means to release terrors, regrets, and resentments he carried around in a battered briefcase of writings, in his nightmares, and in outbursts when he was a drinker. "Lifetime" became a song which, in turn, gave birth to the Lifetime Visions Orchestra (LVO). Luckily, the LVO recorded the celebratory anthems "Hail We Now Sing Joy," "Blues for Zazen," and "Lifetime Visions." 
He started writing a memoir in the late '90s and continued to try to work on the book until about 2008. I never saw any of it, though pages of it may yet turn up. I imagine the tales of his journey to be a wild ride. Joseph Jarman loved this world and came to have an abiding sense of wonder and amazement at life that one could envy. When, at his memorial, Douglas Ewart did a call and response reading of "Non-Cognitive Aspects of the City," I was startled by hearing the voices of white-haired folk behind me who knew the poem.
As Ewart said, "Could have spirits," they chanted "among stones," and after "the church / pronouncing" there was a resounding chorus of "the hell / of where we are." That poem and so many others printed in Black Case, and some recorded as well, became works with which people have lived. For a poet, that is what it means to be heard even as we "move on down the line," to live on "in the sweet by and by." The inscription Joseph wrote in my copy of Black Case says, "cause I gotta put it out there." Many of us are glad. 
__________________________________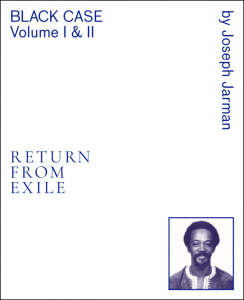 This piece originally appeared as the foreword to Blank Forms and After : Still's republication of Joseph Jarman'sBlack Case Volume I & II: Return From Exile. Find out more about Blank Forms at blankforms.org/publications/
---