On the Origins of the Gospel of Trump
Getting to Know Norman Vincent Peale, "Missionary to American Business"
The following is excerpted from The Money Cult, by Chris Lehmann. Lehmann recently took over as editor of  The Baffler.
Works of inspirational self-help and business self-help have long been virtually interchangeable in America's marketplace of religious ideas. The ideals of individual market conquest and spiritual transcendence seem to intertwine spontaneously in our political culture—going back to the days when it was common practice for successful industrialists and politicians to hire Protestant ministers to ghostwrite their autobiographies and success manuals.
Still, the modern incarnation of this spiritual romance has its own pastor-prophet, the great middlebrow champion of positive-thinking, Norman Vincent Peale. Peale's singular genius was to harness the antinomian mysticism of the early 20th-century "New Thought" movement to a robust gospel of self-engineered business success. In his vast preaching, radio, and publishing empire, Peale presented himself as a "missionary to American business"—and like all good missionaries, he preached an urgent faith of immediate spiritual deliverance. The model high-achieving believer, Peale wrote in his landmark 1948 mega-bestseller The Power of Positive Thinking, is a "thoroughly well-organized individual with no energy leaks in his make-up"—a tellingly mechanistic account of salvation's inner workings for a thinker who liked to describe psychic self-help as a matter of "hydraulics."
In this excerpt from Chapter Eight of The Money Cult, "A New Spirit of Capitalism," we see Peale emerge as a central culture-hero of 20th-century American business life, spinning fables of mystic personal transport to a new corps of distressed and conformist corporate middle managers. This vision of anxiously self-administered spiritual heroism is still very much with us today, in the similar New Thought nostrums of Joel Osteen's prosperity gospel. Indeed, it should startle no close students of contemporary politics to learn that Norman Vincent Peale is Donald Trump's favorite religious thinker. This portrait of Peale's fiercely reactionary life and times should make the deeper affinities between Peale's genial self-help empire and Trump's rougher-hewn gospel of success all too painfully clear.
* * * *
By the end of the 30s, Peale was a name-brand success preacher with a national audience; he published his first two self-help books, The Art of Living (1937) and You Can Win (1938), to wide acclaim, and in 1941, he began to publish a syndicated newspaper column, "The American Way." But what set Peale's message apart from standard New Thought invocations of the Higher Self and its abundant earthly reward was his clear allegiance to a reactionary brand of business conservatism. Past New Thought preachers of prosperity were still notionally aligned with New England tradition of postmillennial social reform. Not so in Peale's case: He was a harsh and early spiritual critic of FDR's New Deal, on the grounds that it sapped the individual's work ethic and obstructed the divinely ordained operations of the free market. "A sinister shadow is being thrown over our liberties," he preached from his Marble pulpit in 1936—an unmistakable reference to FDR's runaway executive power at the time of the president's notorious court-packing scheme to strong-arm the Supreme Court into following the party line on the New Deal. In sounding such alarms, Peale was merely picking up the broader pro-business themes he'd already trumpeted from his Syracuse pulpit after the 1929 market crash: "The supreme test of [Christianity's] influence is to be found in the business and commercial life of our great urban centers," he proclaimed.
Indeed, for Peale, the question of Christianity's power in the economic sphere and its impact upon the lives of striving individuals were all of a piece. It all began with the believer's invitation to Jesus to enter into their innermost hearts, and from there, Peale explained, the faith was set on a course of "world conquest":
Emotion breeds enthusiasm, and enthusiasm is that which is necessary to Christian world conquest. The need of the church today is for mystic or emotional contact with Jesus. This will create enthusiasm for world conquest . . . The real need is a consciousness that Jesus is a living personality in the twentieth century. [283]
Peale's own enthusiastic path of conquest involved a slew of political partnerships on the economic right. He was on the advisory board of Spiritual Mobilization, a lobbying group founded by a fellow positive-thinking Protestant divine in Southern California with another successful radio ministry, the Congregationalist pastor James Fifield. The group was dedicated to the defeat of "pagan stateism" as practiced by the brain trust in FDR's Washington, and was closely aligned with ambitious libertarian initiatives such as Leonard Read's Economic Freedom Forum, which would later oversee the widespread disbursal of libertarian textbooks and teaching curricula in California public schools. Peale also briefly chaired the Christian Freedom Foundation, a sister group founded by Fifield and largely underwritten by the evangelical oil tycoon J. Howard Pew, which published a laissez-faire journal called Christian Economics. Both of these groups had galvanized much of their support on the right behind efforts to beat back the New Deal's steady expansion of the public sector's influence in the American economy.
But Peale also lent his pulpit to right-wing causes pursuing far more ambitious agendas. From 1942 to 1945, he chaired the Committee on Constitutional Government, a controversial group that came under frequent congressional investigation thanks to the far-right political sympathies of its lead organizer Edward Rumely, a deputy of the conservative newspaper mogul Frank Gannett and a close political adviser to Henry Ford. Rumely had been convicted in 1918 on charges of using money from an agent of the German government—America's wartime enemy—to purchase a daily newspaper called the New York Mail. (Calvin Coolidge issued a full pardon for Rumely in 1925, reportedly at Ford's request.) Rumely had faced similar charges of trading with the Nazis during World War II, but they had resulted in acquittal. During Congress's investigations into the Constitu- tional Government Committee's standing as a nonpartisan tax-deductible nonprofit, Rumely repeatedly refused to disclose the names of the group's major donors. This resulted in another criminal conviction, this time for contempt, which was remitted on grounds of ill health. [284]
Whatever the sources of the committee's funding, it got expended in a burst of raw right-wing propaganda. From the moment of its inception, the committee embarked on an ambitious public-relations initiative to promote robustly libertarian and anticommunist talking points in American political discourse. In reviewing the group's expenses, Congress found that it spent $10 million to distribute 82 million pieces of literature, including vast numbers of books; advertisements in 536 daily newspapers with a combined circulation topping 20 million readers; 10,000 radio transcriptions; and some 350,000 personal telegrams. The committee's book-distribution network was especially aggressive. In a move that clearly presaged the bulk purchase of ideological books within the contemporary conservative movement, the committee contracted with politically sympathetic business leaders to buy preselected titles on a mass scale, and distribute them among their employees. In a total rejection of the group's laissez-faire ideology, these titles were marked up more than 100 percent above production costs, with books that cost the committee, say, 20 cents a copy to issue being sold at a price between 50 cents and a dollar. The tiles on offer were some of the day's most hard-line reactionary fare, such as John T. Flynn's red-scare manifesto The Road Ahead, Monsanto CEO Edgar Queeny's libertarian broadside The Spirit of Enterprise, and former Democratic Congressman Franklin Pettengill's anti–New Deal jeremiad Jefferson the Forgotten Man. The committee distributed a staggering 760,000 books on this lucrative basis. [285] The same rock-ribbed, markets-first, communism-everywhere outlook informed the group's main legislative goal—a constitutional amendment to cap the federal income tax at 25 percent. In the words of Texas Democratic Congressman Wright Patman—who had launched the congressional inquiry into the committee's activities after he'd been led to suspect that it was funneling money to his Republican opponent—the measure would transform America into "a paradise for millionaires." [286]
Not surprisingly, Congress's review of its activities resulted in the stripping of the Committee on Constitutional Government's tax-exempt status. Rumely—who had already scrubbed his own name from the group's letterhead and stationery in anticipation of the congressional investigation—swiftly reorganized the committee as an educational trust, and named his daughter as the new group's sales manager. [287]
Peale, for his part, resigned from the group just ahead of its reorganization. He was immersed at the time in promoting Guideposts, which began publication in 1945. He apologized to Rumely in his resignation letter, explaining that if he kept up his affiliation with the committee, "I might as well drop Guideposts."
But the break with Rumely and the committee's activities was anything but definitive. It's true that Guideposts was aimed squarely at the same audience that thronged to Peale's burgeoning radio, publishing, and therapeutic ministries, and that it favored the same reassuringly personalized, live-life-fully apothegms of his resolutely practical, New Thought–inflected version of the Christian message. At the same time, however, Peale clearly envisioned the publication as an extension of the same laissez- faire propaganda work that he oversaw at the Committee on Constitutional Government. He leaned heavily on the committee's mailing lists and donor roster, and continued to consult Rumely on how best to shape the magazine's content and marketing stratagems; Rumely's best-known catchphrase, "Freedom is the child of religion," was a frequent refrain in Peale's fund-raising rounds. And Peale initially built up the circulation base for Guideposts by enlisting major business donors to take out bulk subscriptions and distribute copies among their workforce—the same model, in other words, that had turned the Committee on Constitutional Government into such an effective clearinghouse of propaganda for the economic right. The magazine's initial group of major donors read like a Who's Who of postwar business reaction, from the old Peale stalwarts J. Howard Pew and Frank Gannett to investment banker E. F. Hutton, retail mogul S. S. Kresge, and Eastern Airlines president Eddie Rickenbacker. [288] Still, Peale was presumably still mindful of all the trouble that the Committee on Constitutional Government had weathered on his watch, and so took pains to reiterate to his liberal detractors in the Protestant world that "there is absolutely nothing political about Guideposts." In communiqués with his funders and right-wing allies, however, Peale sounded a very different, and much more urgent, note of political engagement. Guideposts could be counted on to "refertilize the soil of American life by widely spreading religious ideas, [so] we can counteract the communistic virus . . . and defeat left-wing influences such as communism," he wrote to George E. Stringfellow, grand potentate of the Shriners. In correspondence with one of his chief financial angels, Frank Gannett, Peale stressed that the Protestant clergy in America was being undermined by "left-wing CIO-PAC forces," which made it especially critical "to get our project [Guideposts] under way [so] we can exert a constant and widening influence in the right direction." [289]
Peale's remarkable ideological fealty to the business right was, it bears reminding, not particularly exceptional among the ranks of American clergy, despite his complaints about their rapidly spreading left-wing indoctrination. One 1936 poll of more than 20,000 Protestant and Catholic clergy found that more than 70 percent of respondents opposed the New Deal; among national religious publications, only the liberal Christian Century was a consistent backer of FDR. Even at the height of Roosevelt's wartime popularity, this general trend held; in 1944, Thomas E. Dewey won a plurality of the Protestant vote despite FDR's comfortable overall winning margin. This background consensus within the Protestant establishment helps explain how, even in the aftermath of the Committee on Constitutional Freedom debacle, Peale's popularity as a spiritual therapist and generic champion of American individualism continued to grow—right up through the release of the great self-help tract that both reinvented the genre and launched him into a global celebrity that in many ways surpassed that of his great spiritual and ideological ally Billy Graham. [290]
* * * *
283. See Carol B. George, God's Salesman: Norman Vincent Peale and the Power of Positive Thinking (New York: Oxford University Press, 1993), pp. 169-70.
284. Ibid., pp. 179–80.
285. Ibid., p. 179.
286. Ibid., p. 180.
287. Ibid., p. 108.
288. Ibid., pp. 108–109.
289. Ibid., p. 167; on Peale's ongoing friendship, and occasional collaboration with Graham, see ibid., pp. 147–49, 200, and 209.
290. Ibid., p. 174.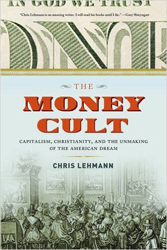 From THE MONEY CULT. Used with Permission of Melville House. Copyright © 2016 by Chris Lehmann.
---