On the Opioid Crisis and
the Grief of Ohio
David Giffels Considers Rural Addiction and the Need
for a Multitude of Voices
When my son Evan began working at the firehouse in 2016, Ohio was in the throes of an opioid epidemic, among the worst in the nation in its onslaught of overdoses. The southern part of the state, joined by its contiguous neighbors West Virginia and Kentucky, represented a larger Appalachian region ravaged by prescription and street drugs, with overdose rates at the highest levels in the United States.
The term opioid had become inseparable from its new suffix, crisis. The following year, 2017, Ohio posted the second-highest rate in the United States of opioid overdose deaths—4,293 died that year—well over twice the national average. Prescription drugs were the most common killer, but synthetic narcotics, most notably fentanyl, were on the rampage.
It was all over the streets. Public health workers, statisticians, journalists, and government officials scrambled along with first responders to keep up with this runaway new phenomenon in crime, public health, and civic worry. The target kept moving—first oxycodone, then heroin, then carfentanil. Users were warned not to trust what they were buying; the dose they thought would get them high might be enough to kill an elephant.
Obituaries with photographs of young men and women—smiling, beautiful, yearbook faces—began appearing with unnerving frequency in the newspaper, along with a frank new kind of death-notice rhetoric addressing the illness of addiction, some tinged with hurt, others with warning.
A close friend had to compose the obituary for his 25-year-old son, a smart, bighearted kid who'd played with Evan as a child, and who, my friend wrote, "tried hard to break away from the chains of opiate use, but the drugs, as they too often do, ultimately killed him."
In 2017 Ohio posted the second-highest rate in the United States of opioid overdose deaths: 4,293 died that year.
It was, in every way, close to home. Gina and I lost three generations from a single branch of her family tree to overdoses—her sister, that sister's son, and that son's son—within six years of each other. The genealogical order of the deaths is as devastating as the struggle to understand a disease that could hold such power over them: the mother died last, having first lost a son, then a grandson, then finally the battle to kill her own pain.
Everyone in Ohio, it seemed, knew someone who had been affected. And everyone in the country, it seemed, knew Ohio as the epicenter of this new epidemic. Much of that public association derived from J. D. Vance's 2016 book Hillbilly Elegy, which dropped into the national consciousness and onto the bestseller lists just as a previously overlooked demographic—disaffected poor people—were lumped together into what was becoming known as "Trump country."
Vance's memoir tells the story of his upbringing in Middletown, Ohio, a rural community in the state's southwestern corner, a place that had sunk into hard times after the loss of a steel mill, a common narrative across the region. He recounts his mother's ongoing struggle with addiction, a story line that culminates in a particularly desolating passage, in which Vance returns to his hometown to put up the money for his homeless mother's stay in a seedy motel.
As he approaches the building in the dark, "The streetlight revealed the silhouette of a man sitting halfway in his truck—the door open, his feet dangling to the side—with the unmistakable form of a hypodermic needle sticking from his arm."
In his book, as well as in his ongoing public discussion, Vance draws a linear connection between economic hardship, personal and communal hopelessness, and addiction. The book's subtitle—A Memoir of a Family and Culture in Crisis—drives home the point that his own firsthand case study can help place the larger phenomenon in context.
In a 2016 interview with The Rumpus, he said, "The more I wrote, the more I realized that the most powerful way to look at the issues was to talk about what I knew, both in terms of family history and personal experience. So, what started as an effort to explain Middletown, Ohio, to the world evolved into a very personal reckoning."
Such personal narratives hold great cultural value. They invite empathy; they allow insight into experiences otherwise shrouded by shame, fear, suppression, ignorance, or apathy. The first line of Pantsuit Nation's vision statement, outlining its purpose in showcasing women's stories, reads as a socially conscious memoirist's manifesto: "We believe that stories are an essential part of activism. The empathetic potential of first person narrative to create social change is widely recognized and yet often dismissed as less effective than data driven approaches. The power of emotion, authentic connection, and socially reinforced empathy to shift our understanding of how abstract policy affects individual lives and to create a sense of urgency to engage with our democracy is at our fingertips."
When Ohio congressman and presidential candidate Tim Ryan described his home state as a place where people go unheard and unseen, he was speaking of Middletown as much as the Mahoning Valley. More broadly, he was speaking of Flint, and Fargo, and Gary, and Buffalo, the unconsidered and marginalized places. Too often, these places are known only for a single facet of their personality, and too often for their worst moments or their most cartoonish quirks, so that Flint is associated with its lead-tainted water, Fargo with its exaggerated movie dialect, Gary with its murder rate, and Buffalo with its chicken wings. Cleveland has spent decades trying to overcome the national specter of its burning river.
It is vitally important, then, for the story of a place to be told in native voices, by people who understand truth and its nuances, and who can offset the superficial narratives too often applied to places like Vance's and mine, which I believe are like most places.
Vance's book, with its honest illumination of his Ohio family and neighbors, advances the narrative; its value is that it was told from within. Vance has been criticized for the fact that he wrote from his perspective as someone who got out, having begun the manuscript while a law student at Yale and completed it in San Francisco, where he'd taken a job with an investment capital firm. He moved back to Ohio in 2017 and started a nonprofit intended to fight the opioid crisis. But for once, at least, the story was told by someone who was from here, who was of here, rather than by someone who had come from elsewhere to try to explain us. We get enough of that every election cycle.
But one story can only carry so far. Many Ohioans worry that the only image some Americans have of our region comes from Vance's high-profile account. More than once as I traveled around Ohio, people implored me to balance that image, to visit places like Yellow Springs, a bucolic college town not far from Middletown where, among other anomalous things, comedian Dave Chappelle lives with his family, or to balance the Rust Belt stereotype with narratives of postindustrial revival and success. A varied chorus is needed. And across Ohio, a varied chorus repeated that need to me.
__________________________________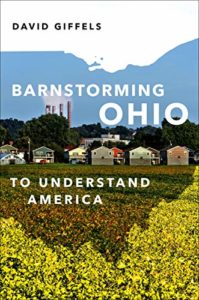 Excerpted from Barnstorming Ohio: To Understand America by David Giffels. Copyright © 2020. Reprinted with permission of the publisher, Hachette Books. 
---