On the Movie That Sparked the Birth of the Formidable Wu-Tang Clan
S.H. Fernando Looks at the Origins of a Hip-Hop Super Group
On May 2, 1981, WNEW Channel Five in New York inaugurated its Drive-In Movie series, which aired on Saturday afternoons at three o'clock, with Bruce Lee: His Last Days, His Last Nights (1976). For a program promising the best in B-movies, that particular selection was a strange choice, since Bruce Lee was not even in it. Instead, Betty Ting Pei, the last person to see him alive, talked about what kind of person he was while actors dramatized fight scenes from his movies. But the film definitely qualified as exploitation because anything with Bruce Lee's name in the title was guaranteed viewers.
Thankfully, Channel Five redeemed themselves a few weeks later on June 6th, when they showed Master Killer, originally titled The 36th Chamber of Shaolin (1977), which, Fanon Che Wilkins says, "ranks as one of the all-time classics of Asian martial arts films and was at the forefront of a new form of martial arts moviemaking that showcased the skill and practice of Shaolin kung fu." Somehow this movie had managed to evade Bobby at the Deuce, but when he saw it for the first time on TV that day, he was blown away. "The 36 Chambers movie was the one that—after seeing the Bruce Lee genre and all the spinoffs, and The Mystery of Chess Boxing, all the amazing fantastical ones—this movie for some reason resonated as a reality story to me," he recalls. "I felt like I was watching a piece of history in a period of time that kind of was shielded from us in America." In his memoir he wrote, "I had knowledge of self, had mastered the 120 faster than anyone my age, and was teaching Mathematics to others. When I saw The 36th Chamber, I felt like I was living it."
Period pieces were nothing new to Hong Kong cinema, but The 36th Chamber of Shaolin proved to be a groundbreaking production on many levels. For one, its director, Lau Kar-leung, a martial arts practitioner, actor, and choreographer, "became part of a new wave of martial artists who brought true fighting skills to film and successfully explored the spiritual and philosophical dimensions of Chan [Zen] Buddhism that endowed many of their protagonists with a sense of moral cause and ethical justice, a device used to good effect in The 36th Chamber of Shaolin." So, in addition to the reality of the fighting and its historical accuracy, eternal truths lay embedded in the story's core, which sent Bobby searching for books on Eastern philosophy.
The film is divided into three acts that, together, represent the epic journey of protagonist San Te, as played by Gordon Liu, a character based on a real 18th-century disciple of the Shaolin Temple. When we are introduced to San Te, he is just a naïve student, Liu Yude, who stumbles into the resistance movement against the Manchu invaders from the north. In the course of suppressing the rebellion, this powerful enemy wipes out his family and school, leaving San Te with no recourse but revenge. After seeing one of his friends use kung fu to break open a box, San Te asks him where he learned it, and decides to journey to the prestigious martial arts academy, the Shaolin Temple, to acquire these skills for himself. At first, he is rejected because he is not a monk, but the abbott of the temple sees something in him and allows him to train there, which is where act two picks up.
Located in the mountains of Henan province in central China, Shaolin is a place steeped in a rich history that often blurs the lines with mythology. Founded in 495 CE by an Indian monk Bodhidharma, or "Damo" in Chinese, the monastery is one of the oldest and most respected kung fu schools in the country, combining martial arts training with the spiritual practices of Chan (Zen) Buddhism. Akin to modern day Five Percenters, Damo placed the goal of reaching enlightenment on the individual and "advocated that seekers of the dharma (the way) be self-motivated and practice self-awareness and self-recognition in their daily lives."
Shaolin kung fu supposedly developed out of the yoga-based movements that Damo taught the monks to deal with the rigors of meditation. In feudal times, it was also a means of protecting themselves from invaders. But the monks' approach was never about violence for violence's sake. According to their philosophy, "If a person studied Shaolin and learned little more than kung-fu, he was not Shaolin. All the arts of the temple were aimed at leading one close to enlightenment by providing tools to make a person whole."
Unfortunately, San Te embarks on his training with the wrong intention—revenge. But he has plenty of time to think about it, as he spends his first year confined to cleaning and sweeping the temple grounds. Only when demonstrating humility and showing respect for the other monks at the temple is he given the opportunity to go through the temple's thirty-five chambers, each of which showcase a different style or technique of martial arts. So act two finds him, like Rocky Balboa, struggling through various physical tasks designed to bolster his discipline, stamina, and strength, both mental and physical. After getting off to a rough start, he starts practicing after-hours, eventually finding his groove and becoming the temple's star pupil.
"So, that journey of that character really resonated with me," says Bobby. "That really inspired me—started me doing push-ups, punching walls, going to Chinatown to buy kung-fu books. But it also confirmed the path I was already on. It was like an echo of the Lessons [of the Five Percent] from another world, a reflection that made my situation clear."
Eternal truths lay embedded in the story's core, which sent Bobby searching for books on Eastern philosophy.
Finally, after mastering all 35 chambers, which takes seven years, the abbott bestows upon San Te the honor of teaching the chamber of his choice. But the newly minted Shaolin monk counters with a proposal of his own—to start a 36th chamber to teach lay people kung fu. Of course, the elders view such plans as sacrilegious, but with a nod and a wink, they kick him out of the temple, allowing him the freedom to carry out his intended plans. The third act finds him returning to his village, where he starts recruiting followers to help him defeat the Manchus. After attaining victory, the final shot of the film takes place back at the Shaolin Temple, where San Te's dream of teaching lay people kung fu is finally realized, as he establishes a 36th chamber. Of course, as soon as the credits rolled at five o'clock, everyone in the neighborhood was outside sparring with each other, trying to recreate the amazing moves they had just witnessed on TV. But for Bobby, already a seasoned connoisseur of martial arts cinema, the physicality of the fighting was only one part of the attraction.
"I noticed, having the brain that I had, the chivalry of the martial arts; the discipline of training to become the best; the honor, you know, if you say my brother. And those energies started to resonate," he says.
He adds, "If 36 Chambers never had a fight in it, it's still a great drama; it's still a great story of discipline, of struggle through oppression, shall we say. It inspires you." The film motivated him enough to go to Chinatown in Manhattan to buy his first karate manual, Tiger-Crane Style, which, coincidentally, happened to be one of the main styles used in the movie. Channel Five's Drive-In Movie continued to provide New York City youths with the best of grind house kung fu until the summer of 1988, when the show was canceled. But Bobby's obsession only grew stronger.
*
Even though he could now watch the flicks from the comfort and safety of his own home, Bobby's fascination with the Deuce persisted through high school—one could even say in lieu of school, since he cut class so many times to see films there. But in the 80s, when 42nd Street was really going downhill and 24-hour porn theaters started taking over, he says, "To see kung-fu you had to go to the bummiest theaters, where a homeless guy lived, and those theaters were a funky, motherfuckin' place."
Early one morning in 1981, after a night of carousing and rabble-rousing in Times Square, he and Rusty were looking for a warm place to crash. They found shelter in a scummy theater on the corner of 42nd Street and Seventh Avenue. On the verge of passing out, Bobby caught the tail end of a movie that woke him right up. He was so determined to see it in its entirety that he waited through the whole next feature until it was screened again. Of that film, Shaolin vs. Wu Tang (1983), he says, "At that point, I'd have to say this was the best kung-fu movie I'd ever seen. The sword fighting alone was from another planet. Then there was the attitude of the Wu Tang themselves. The Wu Tang were defectors from the Shaolin Temple, warriors that had trained at Shaolin then developed a sword style that was invincible. In a lot of kung-fu films—like Fist of the White Lotus or even Kill Bill—the Wu Tang are actually the bad guys."
Shaolin vs. Wu Tang, directed by Gordon Liu, star of The 36th Chamber of Shaolin, who also plays one of the lead characters in this film, presents another epic period piece with all its convoluted side stories and dramatic plot twists but also some of the best fight scenes, including those involving the jian, or Chinese straight sword. The story revolves around an evil feudal lord who pits two rival kung fu academies in competition in order to learn their secrets and make them destroy each other. His plan is foiled at the end, however, when the Shaolin Temple's Chao Fung-Wu and Hung Jun-Kit of the Wu Tang Academy, who happen to be best friends, join forces against their common enemy. In the process, they create a new fusion of their traditional styles.
From a philosophical perspective, the real Shaolin and Wu Tang actually did represent the yin and the yang, inhabiting opposite ends of the martial arts spectrum. Developed in the Taoist monasteries of the Wudang Mountains in Hubei Province, Wudangquan referred to a branch known as nèijia, which represented the internal or "soft" arts such as tai chi. Here, emphasis was placed on awareness of the mind, the spirit, the breath, and the use of relaxed leverage over brute strength, as opposed to the quick, explosive movements of the external style. But Wudangquan also involved weapons training—including the sword, which had a special resonance for Bobby.
"I kind of took the analogy from the Bible, where it says in the book of Revelations, 'When the Son of Man comes, out of his mouth will be a double-edged sword and he will change the nations with it,'" he says. "And I don't think a sword could come out a man's mouth, but I kinda reasoned that his sword was his tongue, which is symbolic to a sword, which could save you or kill you." Echoing his cousin, Genius says, "Wu Tang is a sword style of kung fu. Our tongue is a sword, and we use it verbally and keep it sharp, and that's the whole point about it. We liked them flicks, so we applied that to the hip-hop shit."
"If you go back to the flicks, usually there was always someone who was skilled trying to challenge someone else who was skilled. That's kinda what hip-hop is—that's what it was for us back then," Genius continues, connecting it all back to the artform of MCing. After seeing kung fu films at the Deuce or on TV, he and his cousins, or sometimes his friend Walter Reed (a.k.a. Killah Priest) combed the city looking for a rhyme battle. "We used to travel from borough to borough, neighborhood to neighborhood, town to town, and we would just look for whoever was said to be the best in that town, and we would just challenge them, yunno, pull out our sword, and challenge 'em and that's usually what a lot of kung fu and martial arts flicks is about, yunno, challenging— friendly battles, though, not to the death," he adds.
The real Shaolin and Wu Tang actually did represent the yin and the yang, inhabiting opposite ends of the martial arts spectrum.
Since moving back to Brooklyn, he had settled in at 719 Munroe Avenue in Bed-Stuy, which was not far from Ason. Once the cousins battled a local crew called the Dissmasters, who lived around the corner. Mike Ski and Raven T., who had just released a 12-inch called Small Time Hustler, were feeling themselves and ready to rumble.
"They was coming with all kinds of foul profanity, 'Your mother' this, 'Your mother' that," Genius recalls. "And we damn near got into a fight. But we never used to come like that. But after we went home and we started writing rhymes like that just to have, but that wasn't what we was really about. We were about keepin' it lyrical, keepin' that flow and keepin' it sharp."
Speaking of memorable battles, Genius and Ason also ended up going toe to toe with a guy named Q-Tip (Kamaal Ibn John Fareed), then a student at Murry Bergtraum High School for Business Careers in Manhattan, who went on to form A Tribe Called Quest with his three friends from Queens, Ali Shaheed Muhammad, Phife Dawg (Malik Taylor, RIP), and Jarobi White. In a similar fashion, they crossed paths with another young MC from Brooklyn's Marcy projects named Jay-Z (Sean Carter). The incident occurred at the Ansaaru Allah Community center on Bushwick Avenue, where they served wheat pizzas and sponsored youth talent shows.
"We wasn't performing against each other, but we just happened to run into him out there and we like, 'Yeah, we're MCs.' And then we went back and forth with a couple of darts, yunno, and that was that," says Genius. "Yunno, he was very arrogant at the time, and he still is. He was very cocky. But he was rhyming much, much faster. He was super fast back then, but, yunno, he's a clever MC. He's always been, and he's still nice. I give it to him," he adds.
__________________________________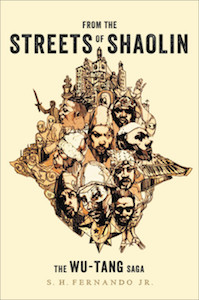 Excerpted from FROM THE STREETS OF SHAOLIN: The Wu-Tang Saga. Used with the permission of the publisher, Hachette Books, an imprint of Hachette Book Group, Inc. Copyright © 2021 by S. H. Fernando Jr.
---